Most Innovative Meetings 2017: #2 Airbnb Open
The company that reinvented hospitality is now demonstrating a new model of meeting design.
October 31, 2017
As Airbnb global head of alternative marketing Sarah Goodnow and her team began making plans for the 2016 Airbnb Open event, they took design inspiration from the content: The company would be unveiling a new product at the event, Airbnb Trips, which provides locally operated experiences and tours.
"Knowing that would be the news coming out of Open, we wanted the event to reflect that wonder and awe and exploration of the soul of a city," Goodnow said.
To do that, Airbnb worked with Civic Entertainment Group to design an event that spanned four blocks of downtown Los Angeles for three days of programming in 17 venues. Keynotes, panel discussions, and "fireside chats" involving 150 thought leaders such as Frank Gehry and Brian Grazer, Airbnb employees, and hosts took place in five historic theaters lining Broadway. Local restaurants, coffee shops, and retail sites housed smaller workshops, and parking lots became networking and partner marketing spaces.
"It really did feel like a great mix of what comes to mind when you think of Los Angeles," Goodnow said. "You had the Old Hollywood theme with the Art Deco theaters, you had the sunny optimism of Los Angeles with the outdoor environments and palm trees, and then there was this downtown L.A. cool-kid, chic feeling with our breakout sessions hosted in coffee shops and retail storefronts."
Goodnow said planners adopted the festival-style design as the next generation of Open, which began with just 1,500 people in 2014 in San Francisco, grew to 5,000 in 2015 in Paris, and in 2016 attracted more than 7,000 people to Los Angeles. "In Paris we had one massive keynote tent … but it felt busy and crowded and impersonal. It also felt old and a little staid. So we wanted to switch it up," she said.
To get buy-in from the local community, Goodnow and her staff attended neighborhood meetings to share details of the event and to invite residents and business owners to participate. "We wanted to make sure we were incorporating the community and spotlighting them, and not just coming in and running our own event for our community and then leaving," she said.
And in that spirit of connecting with the local community, organizers created a new closing-night event that was open to anyone, not just those who had attended the daytime sessions. Dubbed Open Spotlight, it attracted more than 20,000 people for a night of entertainment spanning the five theaters that included a market with local artisans, an award program hosted by James Corden, a pre-screening of the film La La Land with a question-and-answer session with some of the cast, and a concert by Maroon 5 with a surprise appearance from Lady Gaga.
"It was a fantastic celebratory moment for us," Goodnow said.
Communal dinners are also an integral part of the Open experience. During registration, attendees could indicate if they wanted to dine with fellow guests; organizers then assigned them to one of the hundreds of partner restaurants. "When you are meeting people from different cultures and potentially who have a different language, what better way than sitting down to share a meal to foster a relationship," she said.
Tastemade, a digital network for food and travel videos, also hosted a large dinner event at its Santa Monica headquarters with small plates prepared by chefs from around the area.
In addition to Civic Entertainment Group, partners included Authentic Agency and Koto.
Previous: #1 C2 Montréal
Next: #3 South by Southwest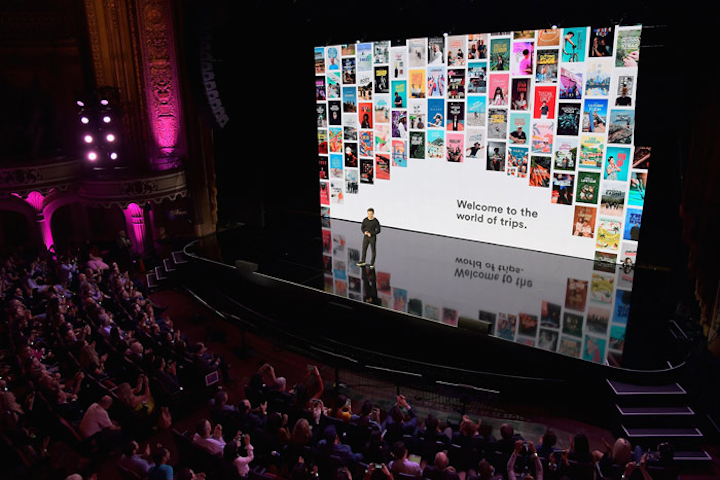 Photo: Charley Gallay/Getty Images for Airbnb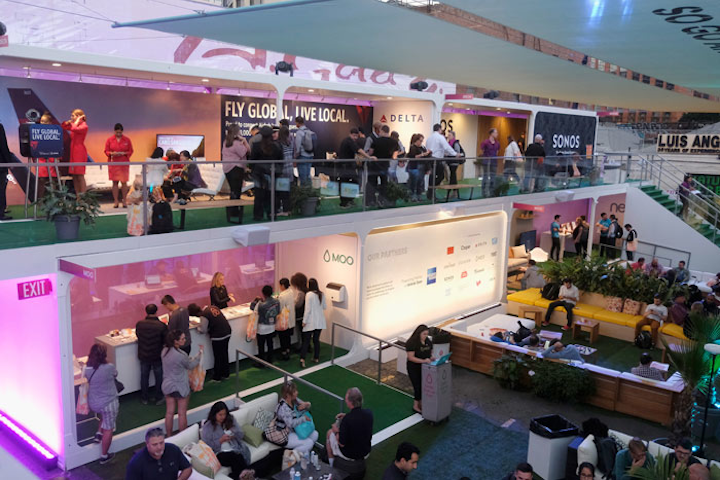 Photo: Frazer Harrison/Getty Images for Airbnb
Featured Venues/Suppliers: