This Week in Canada: a Concert for Long-Term Care Reform, a Class-Action Lawsuit on Behalf of Hotels, and More
BizBash's new Canada-focused column covers the week's biggest event news.
July 30, 2020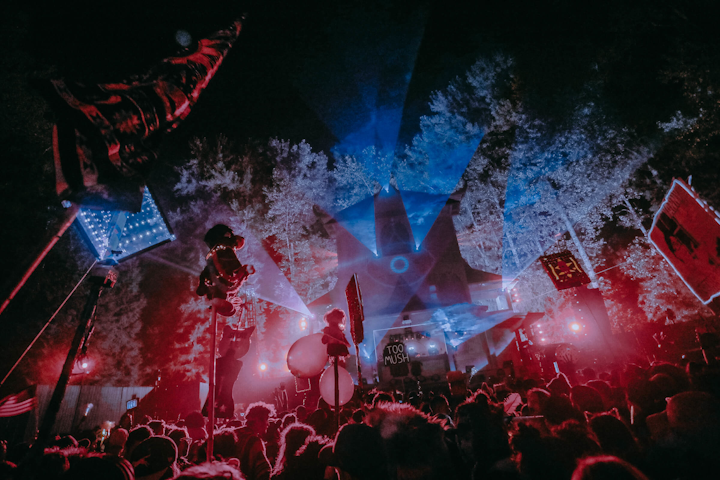 Photo: Courtesy of Shambhala Music Festival
Welcome to BizBash's newest column, covering Canada's biggest event news from coast to coast. Got a tip? Get in touch!
In Case You Missed It
This week, BizBash took a look inside Toronto's Immersive van Gogh art exhibition, which used drive-in elements, social distancing circles, and other smart measures to keep guests safe. 
Provincial News
British Columbia: The Shambhala Music Festival, which was set to take place virtually this week, has been postponed after multiple allegations of sexual assault perpetrated by reoccurring performer Billy Kenny emerged. On July 13, the organization announced that Kenny had been removed from the 2020 lineup and followed up with a statement that future events are on hold while it implements new harm-reduction policies. These measures include performing more extensive artist background checks, training staff to respond to sexual harassment and violence reports, and providing consent education for all attendees.
Alberta: The Banff Centre announced that the International String Quartet Festival will happen online from Sept. 1-5. Canadian and international musicians, including string quartets Attacca, New Orford, PUBLIQuartet, and Viano, will participate in the free concert series; the full lineup will be announced next month. Barry Shiffman, associate dean and director of chamber music at The Glenn Gould School, will be hosting talks with Grammy-winner David Harrington and Order of Canada inductee James Ehnes.
Ontario: Burlington-born singer-songwriter Sarah Harmer is giving a concert via Facebook Live to support provincial long-term care reform. After multiple severe COVID-19 outbreaks occurred at facilities this year, SEIU Healthcare, which represents 60,000 frontline healthcare workers, launched the "Care Not Profits" petition calling for the province to address under-staffing, as well as standardize wage increases and paid sick leave for nurses and personal support workers. Viewers can access the concert by filling out the petition. 
Quebec: A new mural on Montreal's Mont-Royal street pays tribute to the whale seen making its way through the province via the St. Lawrence River in the spring, and was later found dead in Varennes. According to the artist Omar Bernal Benítez, the visual landscape changed once he got started. "The moon was an element that wasn't in the original sketch, but I imagined how that whale that filled us with hope at a certain moment fulfilled its objective and left us with a reflection: She came back where she came from, but transformed," he told MTL Blog. 
Nova Scotia: The AfterWords Literary Festival, which launched in Halifax last year, announced the lineup for its 2020 edition. Bad Feminist author Roxane Gay is headlining the event, which features 16 writers including science-fiction novelist and journalist Cory Doctorow and Scotiabank Giller Prize shortlist finalist Thea Lim. Workshops, readings, and conversations will take place online from Sept. 30 to Oct. 4.
Coast-to-Coast
As local tourism across the country gradually reopens, Lerners LLP filed a proposed class-action lawsuit against Aviva Insurance Canada on behalf of Canadian hotels denied insurance claims on the grounds of loss of business income due to COVID-19. Best Western, Home 2 by Hilton, and Hampton Inn are among the groups affected, and any business with a commercial insurance policy issued under Aviva's Hotel Program is invited to join. Learners LPP is seeking $150 million in damages. 
Although the 2020 Formula One Canadian Grand Prix—which was scheduled to take place at Montreal's Circuit Gilles Villeneuve June 12-14—was canceled, the 27th Canadian Grand Prix New Product Awards Gala will take place virtually this afternoon. Last month, the Retail Council of Canada-run event, which recognizes food and consumer packaged products launched across the country, announced 112 finalists to be judged by a jury of 34. Colin Asuncion, a finalist from season 3 of The Great Canadian Baking Show, will host the show.

Overheard
"The upside is I'd always thought about taking this across Canada, and now this may be an easier way to do it, as opposed to doing it in large groups. We can have virtual running across Canada or across North America if we want, but then also have groups outside again. I think virtual running is here to stay. I think people are starting to understand the value of it."
—Run For the Cure race director Brenda Tirrell, speaking to CBC about reshaping charity running events after COVID-19.
On the Scene
The Cultus Lake Flower Fest, which takes place annually in Yarrow, B.C., opened on July 20.