This Week in Canada: An Interview with the Founder of The Pop-Up Chapel Co., Plus the Latest Event News From Across the Country
BizBash's new Canada-focused column covers the week's biggest event news.
July 23, 2020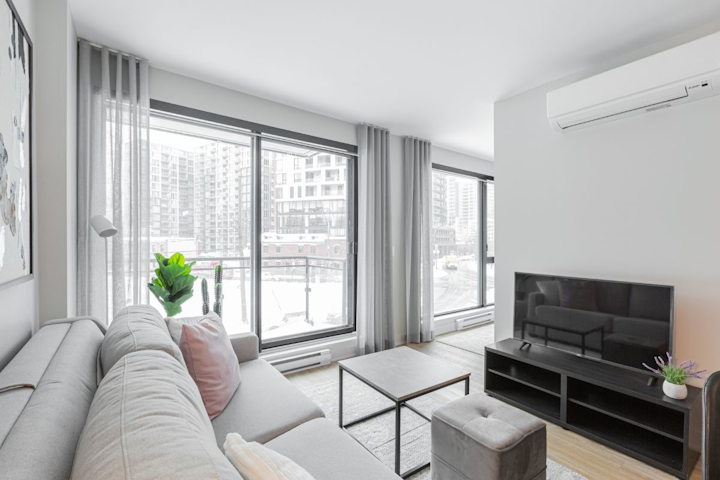 Photo: Courtesy of Griffintown Hotel
Welcome to BizBash's newest column, covering Canada's biggest event news from coast to coast. Got a tip? Get in touch!
Event Industry Voices
The rise of micro-weddings offers valuable insight into how planners can downsize events without compromising on warmth or style. In 2017, Lynzie Kent launched The Pop-Up Chapel Co.—a shared-wedding concept designed for couples looking to skip the high stress and costs that often come with large, traditional ceremonies. Here, BizBash spoke to Kent about how small weddings can enhance attendee safety in the current climate—and can fit into the future of the industry. 
Are couples able to host more than 20 guests? 
The Pop-Up Chapel Co. was always designed to be small and intimate before COVID made that trendy. We give couples the option to upgrade to an additional 10 guests for a total of 30, but not all couples choose this option. Even though restrictions are now lifted, we won't be raising our allotted guest counts. Small groups are what give the chapels their intimate feeling, their warmth, and it's what works for the business. 
In the current climate, what health and safety precautions are necessary to ensure that groups sharing a space for back-to-back ceremonies feel comfortable attending?
We're very conscious of the fact that not everyone is going to feel comfortable gathering. Because of this, we've completely reworked our process to ensure couples and their guests feel like we are taking their health and safety seriously. We are providing hand sanitizations upon entry to the venue and to the chapel, we have two additional staff on site whose only jobs will be disinfecting high-touch spaces like tables and chairs, and we've changed the flow of the chapel in each venue to allow for cleaning of the spaces after each use. Vendors will always be wearing masks and operating from a distance, and we've moved to pre-packaged foods and drink where we can to, again, limit touch on surfaces or products.
What are the most innovative ways you and your vendor partners have helped couples and their guests experience closeness to one another while social distancing responsibly? 
We're making the socially distanced floor plans part of the design. Even though it's far apart, we're bringing warmth through floral and decor that makes people feel that this look is still warm and intentional. Plus, since our groups are small, many guests will naturally be from the same social bubbles, meaning there won't be so much apprehension around being in a space together. We're also moving some of our programming outdoors and providing larger photo ops too, so guests can remember the moment but maintain space. 
Many Canadians have long-distance loved ones who are hesitant to travel. Will virtual wedding attendance options continue to be in demand for the foreseeable future?
Absolutely. I believe that hybrid events in weddings and corporate will undoubtedly be the future of events. At The Pop-Up Chapel Co., we're offering live virtual streaming of the ceremonies with some of our favourite AV partners like EpiQ Vision, where couples will be able to share their wedding with many who cannot attend for a multitude of reasons. I don't see this offering changing any time soon. I think we'll have couples opting for virtual streaming often, going forward.
Are you planning to launch in any more Canadian markets next?
We now have active dates in four Canadian cities: Toronto, Vancouver, Ottawa, and Winnipeg. Hamilton dates will be announced very soon. We're very excited to be partnering with brand ambassadors in these markets, including Elope with Us (Vancouver), Forward Event Design (Hamilton), Alli Mae Events (Winnipeg), Frid Events (Ottawa) and Love by Lynzie (Toronto). Our goal will now be to sell in these markets well and expand to more. We're hoping Calgary or a Maritime tour next!
Cityscape
VANCOUVER: This year's virtual Pride event lineup includes Symphonic Pride, a livestreamed concert featuring local queer and queer-allied musicians accompanied by Vancouver Symphony Orchestra players on July 31. Broadcast from the Cultch Historic Theatre, the evening features music by Handel, Schubert, ABBA, Nina Simone, Freddie Mercury, Janelle Monáe, and Lizzo, along with a medley celebrating queer composers throughout the ages. 
EDMONTON: Although Pride events wrapped up in June, Edmonton has a new rainbow attraction. Local artist and urban planner Amos Kajner-Nonnekes unveiled the new "Rainbow Roads" mural in Spur Line Alley in Old Strathcona—but the installation is a tribute to the classic Mario Kart racing level. Kajner-Nonnekes currently heads Design, Et cetera, a multidisciplinary studio focused on vivifying under-utilized local spaces through contemporary urban design, placemaking, and public art. 
CALGARY: The Great YYC Staycation is encouraging locals to rediscover their home in a city-wide scavenger hunt touring Calgary's landmarks from July 24 to Aug. 23. With new challenges added weekly, the free event features socially distanced activities designed to support local businesses, with thousands in prizes available. Participants can join by downloading Let's Roam, an app designed to facilitate virtual and in-person scavenger events, team building activities, and game nights.   
TORONTO: Following the cancellation of CNE, Ontario Place is receiving $2 million in provincial funding to run art and culture events on the grounds for the remainder of the summer—beginning with the drive-in Lavazza Italian film festival, which opened on Monday. The Toronto Undergraduate Jazz Festival will run Sept. 5-6, and the Toronto International Film Festival (TIFF) will host in-person and online screenings, as well as cast and filmmaker panels from Sept. 10-19. Toronto Shine—a music, comedy, and film pop-up series—will be announcing shows through Oct. 31.  
MONTREAL: For the third year in a row, Montreal was named the top city in the Americas for hosting international events, according to the International Meetings Statistics Report for 2019. Last year, Montreal held 129 international events—compared to the 79 held in New York, which took the second spot. In Canada, according to Tourisme Montréal and the Palais des congrès de Montréal, the city accounts for 58% of international events held between Toronto, Vancouver, and Montreal. 
Overheard
"We felt there was a demand for short-term accommodation in the neighborhood. Montreal hasn't stopped; it's just resting. We've had people book an apartment with their families because they had to undergo medical treatment here and wanted space. We think we can fill a niche. Let's assume the pandemic is around for several years. We thought, what can we do to adapt ourselves quickly and offer a product that's safe? Zero-risk doesn't exist, but we're doing everything to limit risk as much as possible by making people autonomous and letting them live like locals."
—Laura-Michèle Grenier Martin, general manager of the Griffintown Hotel, speaking to Montreal Gazette. The hotel opened last month with 114 condo-style apartments available for short-, medium- and long-term stays.
On the Scene
Carnaval Del Sol, a Vancouver-based Latin American festival, featured an "Art Experience & Blockchain" event hosted by Colombian-born artist Jessica Angel.