This Week in Canada: A Mask-querade Party, a Virtual Drum Circle, Canada's Best Bathroom, and More
BizBash's new Canada-focused column covers the week's biggest event news.
July 16, 2020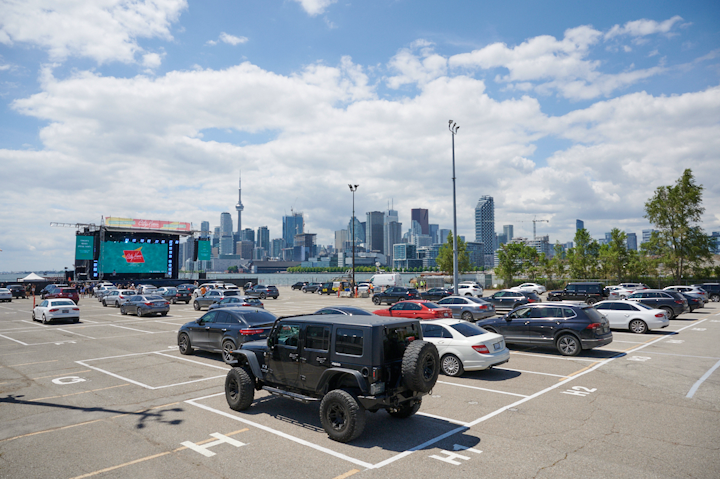 Photo: Courtesy of CityView Drive-in Theatre
Welcome to BizBash's newest column, covering Canada's biggest event news from coast to coast. Got a tip? Get in touch!
Cityscape
VANCOUVER: The African Descent Festival, an arts and culture celebration of British Columbia's African descendant communities, will take place from July 18-19. While the event's parade won't happen, attendees can take a socially distanced walking tour of Vancouver's historic Hogan's Alley and virtually enjoy an interactive drum circle as well as a lineup of musicians—including Juno-winning R&B and soul artist Jully Black, Afro-soul singer-songwriter Zahara, and former Ohio Players vocalist Dutch Robinson. 
EDMONTON: The summer edition of the Royal Bison Art & Craft Fair takes place July 17-19. Based in the city's Old Strathcona district, the biannual market features more than 80 local craft makers, designers, and artists of all disciplines showcasing their pieces online. Elsewhere in the neighborhood, Outdoor Movies Alberta is screening Avengers: Endgame at Southgate Centre, with all ticket proceeds supporting Stollery Children's Hospital. 
CALGARY: On Saturday, Theatre Calgary concludes its summer production of Romeo and Juliet—part of its yearly Shakespeare in the Park program. Each evening the performance is livestreamed, with pre-show dinner specials available from partnering restaurants Rouge Restaurant and Bar Patricia. Spectators can also text the word TRUELOVE to donate directly to the theater company and its performers. 
TORONTO: Following the launch of Vancouver's Patiotown last week, a new contact-less patio experience is opening in Toronto's Distillery District—which offers 12 patios, more than 250 socially distanced tables, and 1,000 total seats. The Distillery.Menu web platform enables visitors to order and pay for menu items from multiple district restaurants and have them brought directly to their table. El Catrin, Madrina, Pure Spirits, and Cluny Bistro are participating in the program. 
MONTREAL: The Montreal Masquerade Party, which encourages guests to attend wearing face masks to complement their costumes, takes place July 18. Although the venue, Jet Nightclub, announced a re-closure a week after reopening, the event is still on according to a Facebook post—despite public health official concerns about a resurgence of COVID-19 tied to bars re-opening. Physical distancing will be mandatory, and the venue will operate at 50 percent capacity to enhance attendee safety.
Coast to Coast  
The Rowing Championships and Canada Cup Regatta, which was scheduled to take place at Welland Ontario's International Flatwater Centre from Sept. 17-20, has been canceled due to public health concerns. The event, which includes over 20 racing events, invites more than 200 athletes to compete on behalf of their province. The association also says it will be announcing a national virtual event taking place in the fall. Last April, the Cascadia Rowing Canada Aviron Masters Championships, which was scheduled to take place this weekend in Burnaby, B.C., was canceled.   
Canada's Walk of Fame has opened submissions for its RBC Emerging Musician Program for the eighth year. Artists ages 15 to 35 can enter to receive an award from a total of $100,000 in prize packages, as well as passes to Canadian Music Week, entry to creative workshops at Toronto's ArtHaus, and an opportunity to perform at an entertainment venue in 2021—all expenses paid. "The impact of winning last year's Grand Prize on my journey as an emerging artist in Canada has been huge," said 2019 grand prize winner BAYLA. "Legendary artist Andy Kim also invited me to perform at his Christmas Concert in Montreal with other Canadian icons such as Tom Cochrane, Ron Sexsmith, and Chris Hadfield."
Cintas Canada revealed the five finalists for its "Canada's Best Restroom Contest." Until Aug. 14, votes can be cast for Halifax's Bicycle Thief, Calgary's Hawthorn Dining Room, Wetaskiwin Alberta's Westview RV Park, or Toronto's Leña Restaurante or Yorkdale Shopping Centre. The winner will receive $2,500 to help maintain their facility.  
Overheard
"There is something about food trucks and the sun. When the sun shines, this is when we make the money. When it rains, it's all gone. You have five months to survive the winter. Every event in the city is canceled. The farmers' markets are not the same, the majority of sales are in the summer for those. And my food truck owner friends—the event part is the biggest hit from COVID-19 situation."
—Chickpea Food Truck operator Itamar Shani, speaking to CityNews 1130 about uncertainty in Vancouver's food truck market
On the Scene
Toronto's Immersive Van Gogh Exhibit opened to the public this month.