This Week in Canada: An AR-Driven Fireworks Display, More Drive-Through Attractions, Winter Sports Get Ready, and More
BizBash's new Canada-focused column covers the week's biggest event news.
July 9, 2020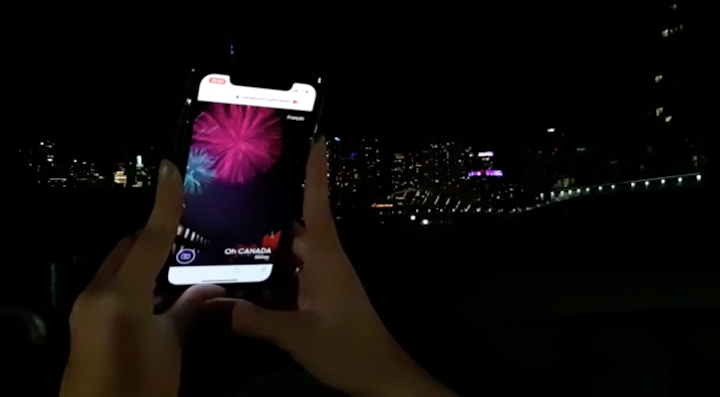 Welcome to BizBash's newest column, covering Canada's biggest event news from coast to coast. Got a tip? Get in touch!
Cityscape
CALGARY: Calgary is in store for another Calgary Stampede free pancake breakfast this Friday, after the success of last week's event. Traditional caravan pancake breakfasts served with sausage, syrup, and juice will be prepared for visitors to eat from their vehicle in food tents at the Seton YMCA. The virtually produced stampede closes with the live broadcast of Bell Fireworks Spectacular on July 12.
EDMONTON: Edmonton's International Street Performers Festival, held annually in mid-July at Sir Winston Churchill Square, is hosting an online variety show daily beginning on July 12. Programming features live performances, as well as archives dating back to 1993. Children and families can participate in themed virtual workshops on balloon art and magic tricks. 
MONTREAL: Montreal's Just for Laughs comedy festival will take place at the Royalmount Drive-in Event Theatre from July 24-25, with two shows per night. Hosted by Cash Cab's Adam Growe, the evenings will feature lineups of celebrated stand-up comedians including The Debaters' Graham Chittenden, Laugh Out Loud's Eman El-Husseini, and Baroness von Sketch writer Jess Salomon.
TORONTO: The Toronto Zoo opened over the weekend with a drive-through, timed-entry ticket experience for visitors, while the Royal Ontario Museum (ROM) reopens some of its most spacious galleries and exhibits to the public on Saturday. Although public parks and beaches have opened throughout the city, the Toronto Outdoor Picture Show has canceled all film screenings for its 2020 season.
VANCOUVER: Vancouver's new "Patiotown" in the historic Gastown neighborhood opened on July 6. The city initiative offers access to nearly 500 outdoor seats across 20 patios. The Murals of Gratitude exhibition, an outdoor art collective paying tribute to Canadian healthcare workers, will be on display in the district throughout the summer 
Coast to Coast 
While Toronto and Edmonton celebrate the NHL setting up hubs later this summer, Curling Canada announced its new return-to-play guidelines in advance of the 2020-2021 event season. New rules mandate only one sweeper at a time on the ice, while players remain on their side of the sheet and clubs follow new sanitization protocols. While tickets are currently available, Curling Canada plans to cancel events for spectators under the advice of federal and provincial authorities. Twelve national curling events are set to take place in cities across the country beginning in November.
More than a third of food service businesses across the country estimate that it will take up to 18 months to return to profitability, according to a new survey by Restaurants Canada. More than 50 percent of respondents that are open for takeout, delivery, or restricted dine-in are reportedly still operating at a loss today. "Restaurateurs are eager to help rebuild the economy and revive neighborhoods, but they're going to need continued assistance from the government to remain operational under ongoing restrictions," says David Lefebvre, vice president of federal and Quebec for Restaurants Canada. 
Overheard
"Our restaurant, (Tres Carnales) Rostizado, is in the Mercer Warehouse right across the street from the arena. Provided all things go well, according to public health and all that sort of stuff, once the team lands ... we're really excited about the potential for increased sales and an overall gleefulness that Edmonton is in the playoffs and that we're fortunate enough to have one of those bubbles that the NHL can operate in."
–Chris Sills, restaurant co-owner speaking to Edmonton Journal about the city being chosen as a hub for the NHL.
On the Scene
In addition to a pancake breakfast, the Calgary Stampede served mini-donuts via drive-through this week.
Bonus
Be sure to bookmark BizBash's new Canada-focused Industry Buzz section, bringing you even more Canadian event news three times per week.