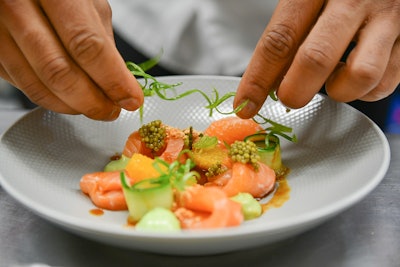 Photo: Courtesy of Kashif Browne
While every facet of the event industry faced its challenges over the last couple years, it's arguable that the catering and F&B industry encountered more than most. After all, how do you create single-serve, COVID-safe options without sacrificing presentation and quality? What impact will new safety measures have on sustainability efforts? Are buffets really dead?
Through it all, the innovative professionals on this list continued to study and improve their craft—finding clever ways to accommodate the ever-changing regulations, to incorporate interesting new flavors, to keep expanding their businesses and most of all, to offer a delicious and memorable experience for eventgoers.
Click through the profiles below to learn how they each got their start in the F&B industry, insights into their most memorable dishes and events, details on their all-time favorite foods and what the idea of "innovation" means to them.
Adam Haverland
Executive Chef, JW Marriott, Anaheim Resort
Adelee Cabrera
Vice President of Operations, Elior North America
Alexa Babbin Winter
Chief Events Officer, Pinch Food Design
Bill Hansen
CEO, Bill Hansen Hospitality Group
Fausto Pifferrer
Co-Founder, Blue Elephant Events and Catering
Kashif Browne
Executive Chef, Ridgewells Catering
Lauren Koeppe
CEO and Co-Founder, Create Hospitality
Lucas Margulis
Founder and President, HIGH BAR Hospitality & Event Group
Robin Selden
Managing Partner and Executive Chef, Marcia Selden Catering
Thomas Whelan
Director of Banquets, Levy Convention Centers
---
About the list: Our Industry Innovators features are compiled by our editorial team using a variety of resources, beginning with sifting through dozens of public nominations and conducting internal research on all people nominated. The idea is to go beyond the biggest names in the biz—though it has plenty of those too—and dig deep into the industry professionals who are using truly innovative thinking to push the boundaries of live experiences.
If someone has previously been named a BizBash Innovator, they are not eligible for the list. Check out our full Industry Innovators Hall of Fame here, and head here to tell us who should make out future lists!