15 Gadgets, Apps & Tech Tools for Meetings
July 18, 2012
Improve the event experience—for both attendees and planners—with these new and updated products.
New apps and software for the event industry are hitting the market daily. Some are improvements on existing services (an easier way to do a Webcast), while others are distinctly new ideas (turning a smartphone into a remote control). The common thread among all of these innovations is that they aim to improve the event experience for attendees or planners (or both), making it more efficient and effective. Here are 15 of the newest technology products to have on your radar:
1. To Help Attendees Navigate
Wifarer is indoor-positioning software that uses a venue's Wi-Fi to pinpoint the location of a smartphone and then helps the user navigate the venue with turn-by-turn directions. Along the way, the user receives location-specific content—information about an exhibitor as they walk by the booth, for example. Wifarer launched in March with a free Android and iPhone app. The Ernest N. Morial Convention Center in New Orleans and the Gaylord Opryland Resort & Convention Center in Nashville are two of the first venues to offer the service. Planners can charge exhibitors based on what they share through the app—a video, a graphic, a coupon, or a link to a Web site.
2. To Address Language Barriers
Babelverse is a real-time human translation service for events and videos. The platform launched a public beta in late April at the Next Web conference in Amsterdam, where it also translated the conference into Spanish and Portuguese for the Latin American audience. The service is powered by a team of more than 1,000 interpreters located all over the world, who provide translations in nearly 200 languages. Event organizers provide Babelverse with a live stream of the speaker, and then attendees can access the translation online via a computer or smartphone, or call a local number on their cell phones. The service can be used by in-person and virtual attendees.
3. To Create an App
Planners who want an app for a conference or meeting now have a do-it-yourself option. Yapp launched in April and allows users to create custom mobile apps. Users choose a theme and create custom pages for things like the event's invitation, the agenda, speaker bios, travel information, and more. They then invite guests to view the app via the YappBox app for iOS, or on the Web. The host can update the app in real time and allow guests to chat or upload group photos.
4. To Control a Presentation
Clik is a SmartTV app that turns a smartphone into a remote control. For now it works only with YouTube videos, but the company is developing an open platform that will allow others to develop new applications, such as using it to control a presentation from a Google Doc. First-time users visit clikthis.com, scan a QR code with the Clik app (available for Android or iOS devices), then use the phone to control a screen. The company demonstrated the app's capabilities during South by Southwest in March, where it set up a 20-foot screen outside the Austin Convention Center and invited passers-by to use their phones to control the content.
5. To Connect Exhibitors and Buyers
In June, event technology company Certain Inc. launched Match2Connect, a new algorithm-based system for one-to-one appointment matching at large conventions and trade shows. Planners customize a set of preferences in an online system that enables attendees and exhibitors to indicate the types of people they want to meet with, or the specific companies. The system then matches attendee and exhibitor preferences to generate a schedule of appointments that suits everyone's needs. Planners can monetize the system by charging exhibitors a premium to participate.
6. To Organize Tweets
Hashcaster is a social media aggregation platform that sorts through tweets posted with an event's hashtag and presents them in an organized, strategic format. The platform uses an algorithm-based system to identify tweets coming from top influencers (measured by number of followers) and top contributors (measured by tweet volume). The event's host can also promote certain information—for example, tweets coming from sponsors or on a specific topic. Hashcaster creates a Web site that presents these curated tweets in categories such as "latest" and "news" (tweets that include a link to a story or blog post). Attendees can view the site on their smartphones, and planners can set up large screens to display the information.
7. To Create a Webcast
In May, TalkPoint released its newest product: a browser-based Webcasting system that makes it easy for non-tech-oriented people to create Webcasts. Known as Convey, the cloud-based platform creates audio and video presentations that can be viewed by as many as 10,000 individuals. The system walks hosts through a five-step process that allows the host to create custom landing pages and sponsorship opportunities, such as hyperlinked logos. After the live event, the system automatically stores presentations for on-demand access in an archive the host can edit.
8. To Streamline Attendee Access
ITN International has created a new application for its electronic event badge, called the BCARD, which uses near-field communication to transmit information when placed near a reader. Now the company is adapting the card into what it calls a Citywide Attendee Credential, an all-in-one badge that attendees can use for services outside the venue, such as public transportation or attractions. The credential had its U.S. debut in February at the Smart Card Alliance Payments Summit in Salt Lake City, where some attendees used their event badges to ride local trains.
9. To Create a Poll
Social polling app HeyCrowd has added several new features, including the ability to create a private group to target surveys to a specific audience rather than sending them to anyone using the app. Photos can be added to questions, for example, to show two different speakers from a conference and ask attendees which they preferred. Respondents can also add comments to a question, making the experience more conversational. The system notifies group members instantly when a new question is created. The core product is an iPhone app, but it also has a Web site optimized for viewing on any smartphone.
10. To Conduct Collaborative Meetings
RabbleBrowser is a collaborative presentation app for the iPad that can be used in meetings and at trade shows. The latest version, 2.5, released in April, allows a presenter to lead an unlimited number of people through a Web-browsing session on iPads connected through WiFi or Bluetooth. The presenter can lock the display so everyone sees the same image at the same time (to keep people from jumping ahead in a slideshow, for example). Participants can also use the app to chat with the presenter and with each other. The app also incorporates thumbs-up and thumbs-down icons that users can click to indicate approval or disagreement, which is displayed to the session leader in real time.
11. To Add Powerpoint to Prezi
Prezi, cloud-based software launched in 2009 that makes animated presentations that zoom from slide to slide, was updated in May to allow users to import PowerPoint slides. Users can insert an entire presentation at once, or select individual slides and drag them anywhere on the Prezi canvas.
12. To Conference Across Platforms
Blue Jeans Network is a cloud-based videoconferencing solution that connects people regardless of the system they are using: one person can participate via Skype, while another uses Google Talk, and another uses a Cisco conference platform. Attendees can even dial in for audio-only access. Blue Jeans launched in July 2011 and is designed for collaborative meetings with as many as 25 participant locations. Users get a private area in the Blue Jeans cloud that they can use to schedule, host, and manage meetings through a Web interface. Participants join the meeting by dialing a number or clicking a Web link.
13. To Customize an Online Event Site
OneLobby is a social platform intended to be a one-stop shop for planners to create an online experience that facilitates attendee connections before, during, and after an event. The standard product provides a private online hub, known as a "lobby," that comes in the form of a conference Web site, Web application, and mobile app. Starting late this year, planners will be able to customize their sites by adding features from the OneLobby app store, such as polling tools, gaming apps, post-conference surveys, and Twitter feeds.
14. To Help People Connect
Qrious is described as a "social discovery service" to help attendees meet the right people at events. The software integrates with the EventBrite registration system and factors in a participant's role, goals for the event, existing social networks, and specific interests to recommend others to meet. Suggested connections are prioritized based on a 100-point scale known as the "Qrious Score." The system delivers recommended connections before the event via email and through the Qrious app for iPhone and Android. The system also provides QR-coded name badges that link to the attendee's Qrious profile.
15. To Make Digital Signage Easier
Etech Events is in beta testing for its PowerSlide app for its digital-signage products. The plug-in allows planners to design their signage in PowerPoint and create schedules to show slides at specific times. The system also enables instant updates to the signage.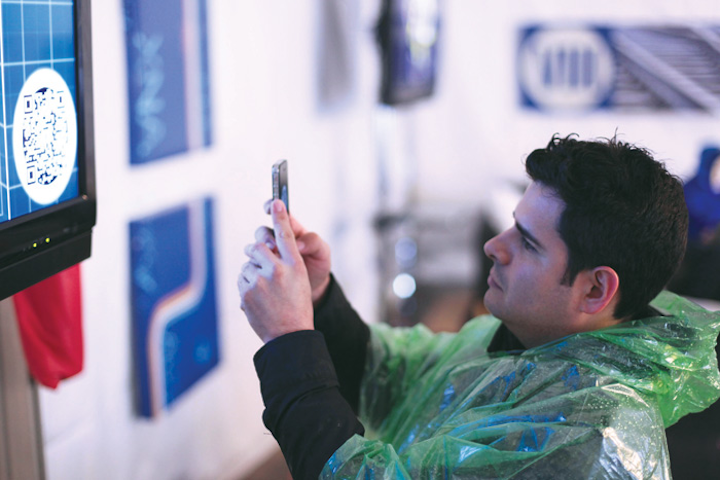 Photo: Courtesy of Clik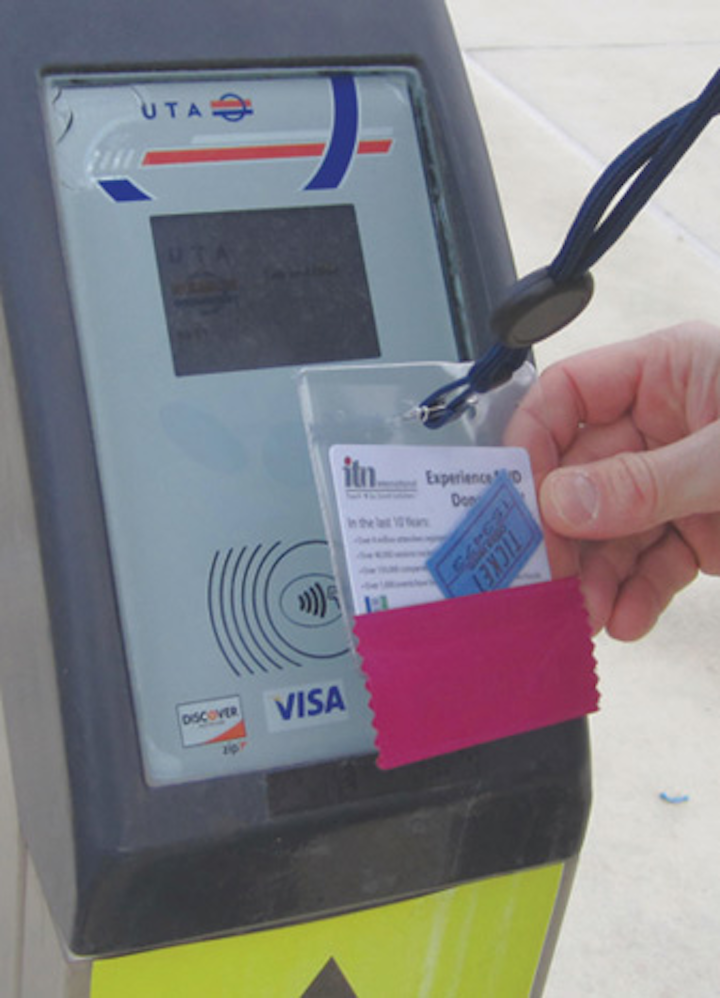 Photo: Courtesy of ITN International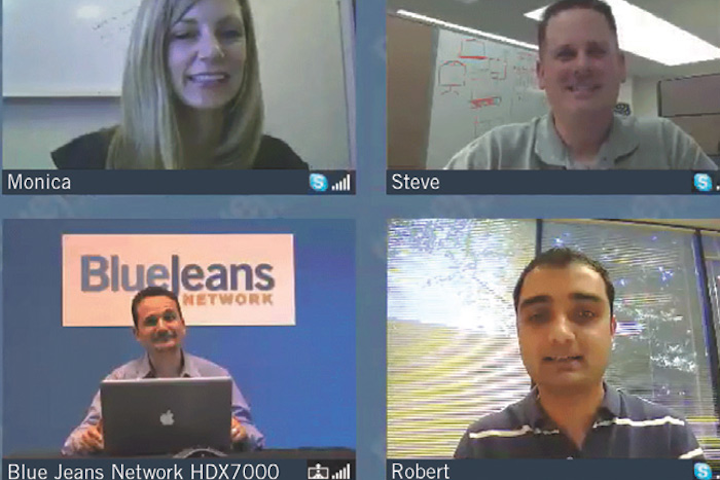 Photo: Courtesy of Blue Jeans Network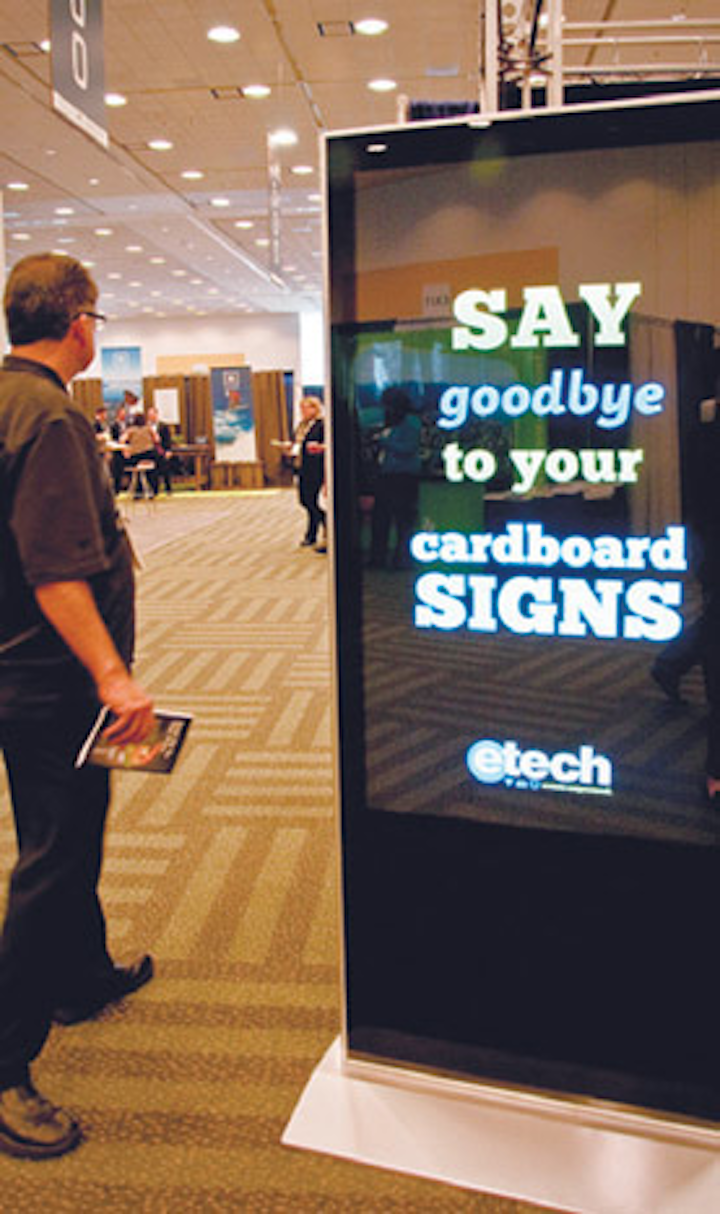 Photo: Courtesy of PowerSlide