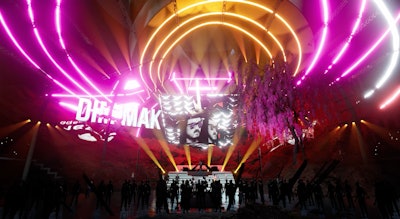 Photo: Courtesy of INVNT.ATOM
In Case You Missed It
It's been an AI-heavy month here at BizBash, with our editors exploring how the headline-grabbing technology is affecting the hospitality industry, as well as the different ways the NFL is using it to improve the game-day experience for fans. We also asked readers to share their own predictions for how AI will impact the future of meetings and events. Our team also took a deep dive into Threads, Meta's new Twitter rival, to learn how event profs are using it.
---
Event Technology We're Excited About This Month
To build an immersive, "always on" virtual experience
INVNT.ATOM, the digital and Web3 innovation division of brand storytelling agency INVNT GROUP, has introduced BZAR, a self-funded, content-led digital platform built for brands and fans. The tool, which is now available to demo, brings together various emerging technologies to create an immersive virtual environment. Real-time rendering generated by AI is used to build expansive digital spaces; other highlights include NFT tickets, cross-platform accessibility, synchronized video streaming, personalized avatars, social integration, virtual commerce marketplace options, private rooms, and more.
"BZAR was built for brands to seize on the possibilities enabled by this wave of emerging technologies. BZAR is a canvas for creativity and consumer connection, integrating new technologies such as AI-adapted mechanisms that can generate unimagined virtual worlds and environments," said Laura Roberts, managing director of INVNT GROUP APAC.
To improve your team's productivity
Tech company Otter.ai, which develops speech-to-text transcription software that uses AI and machine learning, has introduced a new integration with Slack. Designed to superpower team productivity, the app can automatically share real-time updates like meeting reminders and links to Slack conversations, as well as meeting notes and automated post-meeting summaries. During the meeting, meanwhile, Otter automatically transcribes notes and Slacks teammates who have been assigned action items, eliminating the need for follow-up emails. Otter.ai also has integrations with Zoom, Dropbox, Google, and Microsoft.
For an all-in-one payment solution
Leap Event Technology has launched Leap Merchant Services, intended to be an all-in-one payment solution for event organizers. Through the new service, clients will have access to every merchant option they need to manage payments and optimize revenue. Powered by Stripe, Leap Merchant Services will also offer centralized record-keeping, built-in capabilities to process a range of payment options for attendees, simple refunding, hassle-free deposits and reconciliations, and chargeback and fraud mitigation tools.
"By offering a secure, PCI-compliant option for merchant services, we're not just improving the overall process for clients, we're also making it easier to further elevate the attendee experience," said Michael Marty, president of Leap Event Technology. "For our clients, housing a modern payment platform with our selection of vertical-specific ticketing solutions leads to an even more seamless attendee purchase experience. This greases the wheels for easier ticket sales, as well as add-ons like prepurchased merchandise and VIP perks. Plus, our enhanced fraud protection tailored for live events gives an extra layer of security to our clients and their ticket buyers, all while placing no additional burden on the event organizer."
For an AI-enhanced photo booth
OutSnapped, an NYC-based agency founded by photographer Nicholas Rhodes, has debuted a new, patent-pending AI photo booth. When attendees step into the booth, the AI springs into action, analyzing their appearances and applying custom filters, backgrounds, and animations that can be customized for a brand or event. The result is a unique—and highly shareable—keepsake. What's more, OutSnapped can offer analytics about the number of photos taken and shared, along with metrics on the overall attendee engagement. Watch the video below to see more:
For two-way speech translation at live events
Multilingual meeting technology and services provider Interprefy, which unveiled its AI-driven, real-time translation solution last spring, has expanded its offerings to support two-way translation. According to the company, AI speech translation systems have traditionally been limited to translating from just one spoken language—referred to as a "floor language"—into many other target languages. But with this new advancement, Interprefy can support multilingual conferences, training, and panels with diverse speakers.
"As global communication continues to expand, so should the capabilities of live translation technology," said Oddmund Braaten, CEO of Interprefy. "Now we are introducing the world's first AI translation solution that can support multiple spoken floor languages and two-way interpretation in live events. This game-changing upgrade reaffirms our dedication to breaking language barriers and fostering meaningful connections in a multilingual world."
---
The Latest Updates, Funding, and Merger News
Toronto-based event tech company EventMobi has acquired the virtual event platform Run The World. The goal? To utilize EventMobi's 14 years of experience supporting events across the industry, helping them guide Run The World's virtual event organizers and digital marketers as they incorporate in-person events into their sales funnels and audience growth strategies. "We're standing at the dawn of a new era for business conferences, events, and communities," said Bob Vaez, founder and CEO of EventMobi. "The future of events will blend in-person and virtual experiences to foster and engage communities. We are committed to enabling our customers to choose the best format to allow their attendees to learn, connect, and exchange ideas year-round."
Event marketing platform RainFocus has announced its continued partnership with Groups360. The ongoing collaboration combines RainFocus' next-generation event marketing platforms with the Groups360 platform for booking group travel, supporting client growth, increasing demand, and creating new products for in-person events. "For the past four years, we've collaborated with Groups360, jointly dedicated to enhancing event experiences for organizers, attendees, and hoteliers," said JR Sherman, CEO of RainFocus. "This expanded partnership finally puts events and marketing in the driver's seat of venue sourcing. ... This groundbreaking partnership further extends our seamless support for venue sourcing through our all-in-one platform."
Data-driven marketing platform Banzai has launched its Certified Partner Program. The new offering will cater specifically to B2B agencies and companies that are focused on addressing the needs of marketers, giving them a unified platform where customers can target, engage, and measure the impact of their virtual event and webinar strategy. Banzai partners will receive sales commissions along with support from a dedicated team of experts who will assist them in marketing and selling the Banzai platform.
Canadian airline Porter Airlines has launched a mobile app to make the travel experience easier for passengers. The Porter app is designed to enhance self-service options, including the ability to check in, access booking details, select seats, add bags, manage flight changes, access boarding passes, and receive real-time flight notifications. The app is available for download on the App Store and Google Play.