7 New Austin Event and Meeting Spaces
March 1, 2013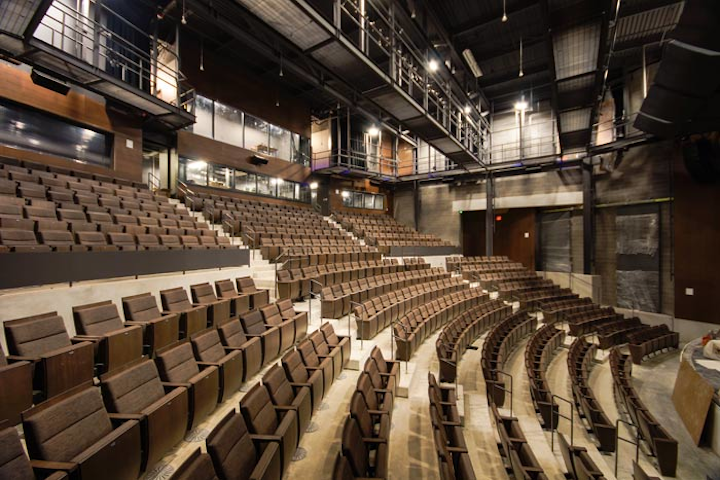 Photo: Kirk Tuck

1. Austin's Zach Theatre company, established in 1933, unveiled a new facility in September, the 32,000-square-foot Zach Topfer Theatre.  The 420-seat theater can be booked for private events, as can a new, 3,200-square-foot room equipped with two stages and presentation screens. The 8,600-square-foot plaza, when combined with the glass-fronted lobby, can seat as many as 430.
2. Formula One racetrack Circuit of the Americas opened in November. Encompassing a 3.4-mile track, the venue holds 120,000 fans. In addition to group packages that are available during races, the facility has several on-site spaces for concerts and private events, including a 40,000-square-foot conference center.
3. A racetrack of a different kind, K1 Speed, an electric indoor kart-racing venue, opened in April. Groups can book the 60,000-square-foot facility for events or utilize the lobby, which has seating for 100, plus two meeting rooms equipped with projection screens, TVs, and catering options. Each seats 45.
4. The 1,012-room JW Marriott Austin is scheduled to open downtown, two blocks from the Austin Convention Center, in early 2015. The hotel will offer 114,000 square feet of flexible meeting and event space, including a 30,000-square-foot ballroom, plus 26 executive suites. 
5. Another massive hotel is planned for the convention center area. The Manchester Texas Financial Group has announced a $350 million property along Waller Creek, slated for 2015. The yet-to-be-named hotel will have 1,025 rooms, 10,000 square feet of meeting space, and a restaurant-lounge on the 34th floor.
6. Lone Star Court, a new upscale concept inspired by retro motor-court hotels, is scheduled to open in 2013. The property will have 123 guest rooms, live music by an outdoor fire pit, a dipping pool, an event lawn, and 2,000 square feet of indoor meeting space.
7. The Austin Planetarium, a proposal for a science and technology museum in the vacant downtown parking lot across from the Blanton Museum of Art, is currently in the fund-raising stage.
Featured Venues/Suppliers: