Why Hotel Brands Want to Host Concerts
Major brands such as Hilton and Starwood use musical acts to engage new fans and reward loyal guests.
April 25, 2016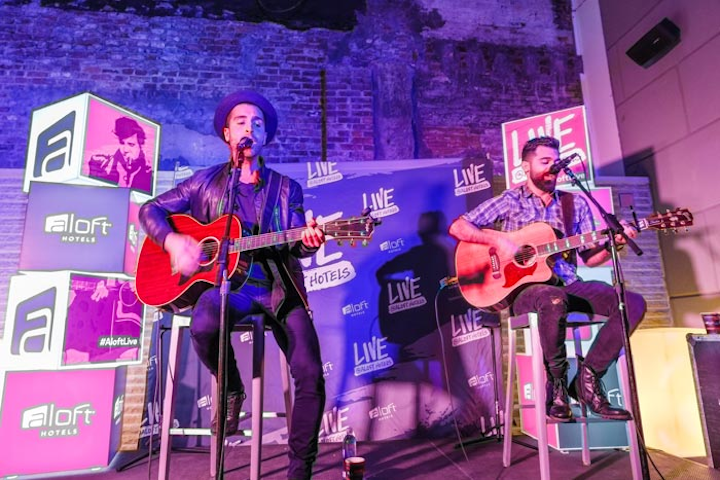 Photo: Courtesy of Aloft
Major hotel brands are turning ballrooms and lounges into concert venues, hosting an increasing number of musical events designed to reward loyal guests and draw in new ones.
Starwood Hotels & Resorts' limited-service brand, Aloft, is in the midst of a "Live at Aloft Hotels" concert tour. According to Paige Francis, vice president of Aloft global brand management, the series was designed for the brand's hip target audience. "Aloft is built for early adopters who are always ahead of the trends in technology, design, and music," Francis said in a news release. "We're excited to be tapping into the next generation of talent and sending them out on the road for mini tours at Aloft Hotels around the country." This series, which kicked off in San Francisco on April 6, will stop in 10 cities. Events have no cover charge, and are open to hotel guests and locals alike; performers include Blue October and Colbie Caillat. The brand also has an American Idol-style competition for up-and-coming artists called Project Aloft: Star, which awards the winner mentors in the music industry and a number of room nights at Aloft hotels.
Other Starwood brands are hosting concerts. Earlier this month, W Hotels used Twitter to announce a new emerging artist program called "Next Up: New Artists, New Music." Through the partnership, the hotel brand will showcase artists that are trending on Billboard's Real-Time Emerging Artist Chart. From May through October, intimate concerts at W Hotels in Los Angeles, Seattle, Minneapolis, and Miami will showcase rising acts. Events will be open to hotel guests, members of the Starwood Preferred Guests rewards program, and select sweepstakes winners.
The Hard Rock Hotel is, of course, another brand that has music at the core of its image. "Music is at the heart of the Hard Rock Hotel experience. It's truly our differentiator. We know the power of music and it's part of who we are," said Molly Ford, vibe manager at the Hard Rock Hotel at Universal Orlando. The property hosts regular musical events, including the monthly Velvet Sessions. For those events, "we actually transform our lobby into a concert venue once a month," Ford said. The events offer themed drinks and snacks, and have showcased performances from artists such as Joan Jett and the Go Go's. A more casual concert series, "Velvet Unplugged," also takes place regularly in the lobby. The Hard Rock events draw a mix of tourists and locals. "We love the fact that our events have such broad appeal," Ford said.  
Hilton is also enhancing its musical programming. Last January, Hilton entered into a five-year partnership with entertainment company Live Nation. "Music and travel bring people together to help inspire new connections," said Mark Weinstein, senior vice president and global head of loyalty and partnerships at Hilton. He noted that the Hilton has a long history of musical connections, and that the first Grammy awards were held at the Beverly Hilton in 1959. "Last year, the Hilton Concert series was created to provide Hilton HHonors members with once-in-a-lifetime experiences, both inside and outside of our hotel walls," he said.
The 2016 Hilton Concert series kicked off with a surprise concert from Jason Derulo outside the Hilton San Diego Bayfront in February. The 2,000 attendees included hotel guests, local fans, and Hilton HHonors members. "To expand our audience beyond San Diego and showcase behind-the-scenes [footage], exclusive content, and experiences, we launched the Hilton HHonors Snapchat channel as part of our larger social media strategy," said Weinstein. The series has also offered such events as an Elle King performance at the Diplomat Resort & Spa in Florida in early April; on May 4, the brand will host a concert featuring Halsey at Hilton Tokyo Odaiba. "To highlight the destination, Halsey herself will be learning how to make sushi with chef Arakawa at Hilton Tokyo's Junisoh restaurant," Weinstein said. "The experience will be shared with social followers in the weeks following the concert."
Off-site, hotel brands are activating at music festivals. Hilton's partnership with Live Nation includes exclusive V.I.P. packages at Electric Daisy Carnivals. And for the first time this year, Marriott acted as a sponsor of South by Southwest. Partnering up with Universal Music Group, the brand hosted musical events—including a performance from the band Strumbellas—at JW Marriott Austin. "With 19 hotel brands and more than 4,000 hotels around the world, Marriott looked for a partner in the music space that has similar depth and breadth on a global scale," explained Jennifer Utz, the hotel brand's vice president of buzz marketing and partnerships. "Universal Music Group is the global music leader, representing more than half of the world's artists. Together, our partnership allows us to give Marriott Rewards members and music fans access and experiences that get them up close and personal with their favorite artists."
Featured Venues/Suppliers: