Does Your Venue Need the WELL Health-Safety Rating?
Yankee Stadium is the first sports and entertainment venue in the world to achieve the new designation from the International WELL Building Institute, which offers a blueprint for best operating procedures during COVID-19.
September 16, 2020
While event professionals might be familiar with the new Global Biorisk Advisory Council's (GBAC) STAR Facility Accreditation Program, which provides venue-cleaning professionals best practices on how to prepare for infectious diseases and biohazards, there's another rating in town that's quickly gaining steam: the WELL Health-Safety Rating for Facility and Management.
The new certification was launched in June by the International WELL Building Institute (IWBI), a global organization that's focused on ways buildings of all types can enhance health and wellness—a topic that's become particularly relevant as the world grapples with the COVID-19 pandemic.
What It Is
In late August, New York's Yankee Stadium became the first sports and entertainment venue in the world to achieve the rating, which was developed based on standards from the WHO and the CDC as well as emergency management agencies, leading academic and research institutions, and other experts. It offers criteria surrounding cleaning and sanitization procedures, of course, but also around emergency preparedness programs, air and water quality management, stakeholder communication, and more. The idea is to offer third-party validation from Green Business Certification Inc. (GBCI) that assures the venue is taking tangible steps to keep staff and event attendees safe. 
Venues who meet the criteria are given a visible seal that can be placed on the outside of the building. Rachel Gutter, the president of IWBI, hopes that the rating and the seal will help attendees feel more comfortable and confident returning to the sports and entertainment venues that have been particularly hard-hit by the pandemic. "It's really an answer to a very direct, urgent, and loud call from our community of users and beyond who said, 'We need a stamp, we need a rating of some kind that can be visible from the outside to signal to people that we're taking action," she explains. 
More than 500 facilities have enrolled in the program thus far; other venues currently working towards the rating include AT&T Stadium outside Dallas, the Prudential Center in Newark, N.J., the United Center in Chicago, and Maple Leaf Sports & Entertainment venues in Toronto.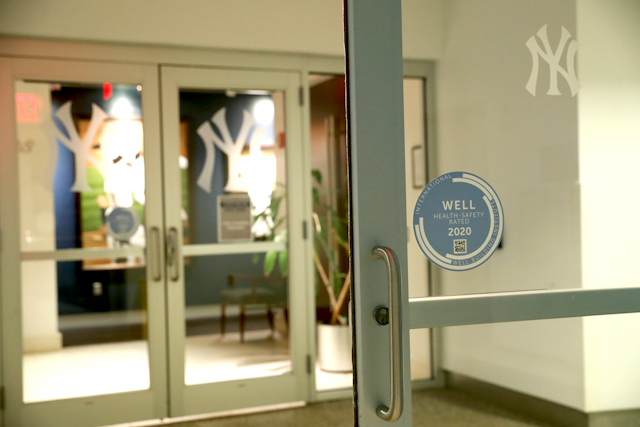 The WELL Health-Safety seal is meant to be placed on the outside of the venue, signifying a visible commitment to health and safety.Photo: Courtesy of New York Yankees
How To Get It
But in a time when many event venues are strapped for cash, how much can these properties really invest in drastic changes? Gutter stresses that the rating is really a way to solidify and affirm the steps that many venues may have already been taking in recent years, when attention to sustainability and wellness has gained popularity.
The goal, Gutter notes, is not to make venues take expensive steps such as changing out their HVAC systems, for example. "It's about understanding what the capabilities of your HVAC system are, so you can make improvements to indoor air quality with the system that you've got—for instance upping your filter, [knowing] the MERV rating of your filter, or increasing ventilation to maximize airflow," she says. "The practices that you would put into place to prevent the spread of COVID-19, by in large, are the same practices you would put into place for reducing the spread of the seasonal flu or air pollution."
Gutter continues, "COVID-19 is prompting a huge shift in recognizing the importance of ventilation, air circulation, and just air quality in general."
For its part, Yankee Stadium achieved the rating by implementing and enhancing features across five categories:
Air and water quality management. This included an assessment of ventilation and fresh air supply through mechanical or natural means. The WELL team also reviewed all filters and ultraviolet germicidal irradiation (UVGI) equipment.

Cleaning and sanitization procedures. This included ensuring proper hand-washing and surface contact by staff, improving cleaning practices, and selecting cleaning products that disinfect without harmful ingredients.

Emergency preparedness programs. These are meant to provide a blueprint for dealing with unforeseen events and providing an actionable plan for reentry after an emergency event.

Health service resources. This feature is about promoting the well-being of employees through screening services, mental health services, seasonal vaccination programs, and a smoke-free environment.

Stakeholder engagement and communications. Steps here included adding proper signage throughout Yankee Stadium and promoting health literacy to employees, partners, and patrons, including food service safety verification.
Gutter notes that a venue like Yankee Stadium was able to achieve the rating in just two months because the property already had many of these strategies in place. But now the venue's ongoing efforts—and how they help prevent the spread of COVID-19—have been affirmed by a third party in a tangible way, which will immediately help the venue get back to hosting safe events.
Who It's For
The WELL rating is available for any type of property, ranging from hotels and restaurants to offices, retail stores, and movie theaters. Gutter says she typically sees two types of venues pursuing the rating. There are the Yankee Stadiums of the world, she notes, who already had a lot of these steps in motion and just wanted someone to check their work. 
And then there are the spaces that don't know where to begin and want some guidance. "They say, 'Just tell me what to do. Tell me the strategies that are proven to be effective. Should I use UV light or not? Does ozone kill COVID or not?'" she says. "That's where I think our system can be even more helpful, in providing that very detailed but very flexible roadmap."
The WELL Health-Safety program can be pursued on its own, or as a stepping stone to the larger WELL Certification. Learn more at wellcertified.com.