This Week in Los Angeles: a Harry Styles Listening Party, 'Schitt's Creek's Sold-Out Pop-Up, Previewing the Golden Globes Menu
West Coast bureau chief Claire Hoffman covers the week's biggest event news.
December 20, 2019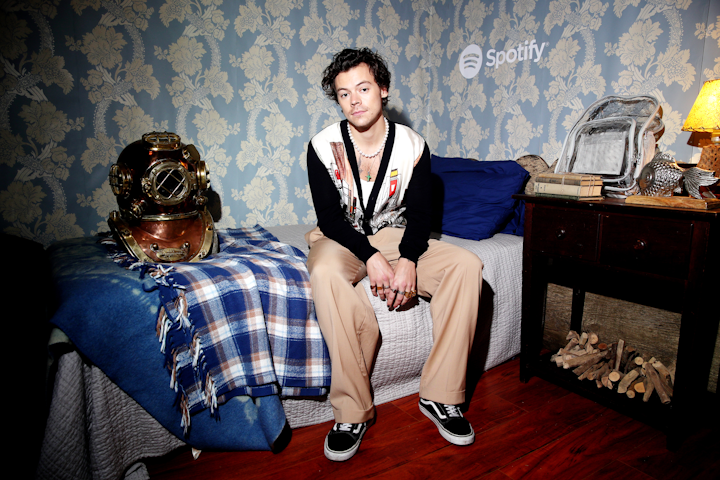 Photo: Rich Fury/Getty Images for Spotify
LOS ANGELES—Welcome to BizBash's Los Angeles-based column, where West Coast bureau chief Claire Hoffman recaps the week's biggest local news. Got a tip? Get in touch!
Moves & Milestones
Chef Ricardo Zarate is the new culinary partner at Mama Lion in Koreatown. The renowned chef will work with owner Robert Kim to create a tapas-style menu with Peruvian, Asian, and Latin influences.
Jolene Campbell, Visit Anaheim's destinations services manager, is the fall 2019 "Shining Star" for MPI's Orange County chapter. 
JJLA has been named the official producer of the 37th annual Long Beach Pride Festival, which takes place May 16 and 17.
In Case You Missed It
This week, we took a look at 11 things that shaped the decade in events—from social media to event apps to Donald Trump. What would you add to the list?
Spotlight On
PopTV hosted its first pop-up in Los Angeles in late November. The three-day Schitt's Creek activation at Goya Studios, which was free and open to the public, spanned 7,000 square feet and included show-inspired vignettes such as Cafe Tropical and Rose Apothecary. The event, which also traveled to New York's Metropolitan Pavilion this month, sold out in less than five minutes; a total of 6,000 guests visited on both coasts. The show's creators and stars, Daniel and Eugene Levy, worked with AKJohnston Group on the space; the production company ideated, designed, and fabricated the entire space, including hand-making most of the pop-up's 500 props.
"We knew this show had a super-fan following who would demand authenticity and attention to detail, so we made the details—even things you may have never noticed from the show—the real fun ways that fans could explore and engage like they never have been able to," said Austin Johnston of AKJohnston. "So many pop-ups only focus on vinyl-wrapped photo moments, and we knew this crowd would need more than that, which is why you will even find authentic business cards, travel brochures, and nuances throughout every scene."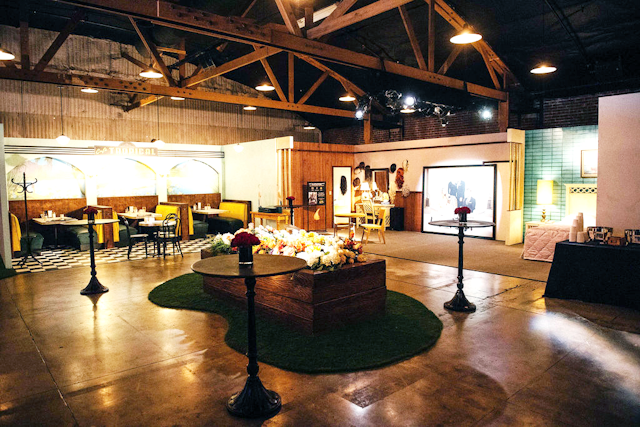 PopTV's Schitt's Creek pop-up at Goya StudiosPhoto: Matt Lara Photography

In the News
Organizers of the 77th Golden Globes have revealed what 1,300 A-listers can expect during the January 5 ceremony. The menu, created by executive chef Matthew Morgan, has a gold theme, while florist Mark's Garden will decorate with floral arrangements in vibrant shades of orange and yellow. GoldenGlobes.com: "The meal begins with a chilled golden beet soup with shaved candy-striped beets, citrus oil, pistachio, and micro chervil. The entrée is butternut squash puree spread across the white plate creating immediate visual appeal, almost like a smear of oil on canvas. ... Celebrity florist Mark's Garden is flying in 10,000 blooms from Ecuador and Italy in an explosion of color provided by the bright of Orange Babe, Tycoon, and Free Spirit—a blend of ranunculus and roses footed in gold containers."
Grammy-winning hip-hop artist Anderson Paak has started a fund-raising campaign to save the 50-year-old Oxnard Performing Arts and Convention Center, which may be shuttering on December 31. Los Angeles Magazine: "Due to public outcry about losing the beloved performing arts center, the PACC was given a six-month reprieve. The nonprofit that manages the facility could continue hosting events and educational programs, and attempt to find a private company to come in and take operations off the city's hands. In theory, the 1,600-seat theater at the heart of the center could host larger touring performers and theatrical productions, and ticket sales would cover expenses."
International art fair Frieze will return to the Paramount Studios backlot from February 12 to 16. Los Angeles Times: "Los Angeles County Museum of Art curator Rita Gonzalez and Vincent Price Art Museum Director Pilar Tompkins Rivas are organizing this portion of the fair with an eye toward more national and global artists, Gonzalez said. The projects, she added, will address issues of representation, identity, and myth. ... A new section called 'Focus LA' will be curated by Gonzalez and will showcase 13 Los Angeles galleries that opened within the last 15 years."
Venue Buzz
After less than one year, Tartine at the Row DTLA has closed. Eater: "The final closures—Alameda Supper Club, the marketplace with its hot bar, and the takeaway window outside—came [this week] ... Tartine is one of the most highly regarded bakeries and cafés in San Francisco, expanding to Seoul, South Korea, in recent years before announcing an expansion to Los Angeles in 2016. ... The only thing still operational at Tartine's 40,000-square-foot, multimillion-dollar property is the wholesale bakery area, which will continue to support Tartine's cafés across Los Angeles."
From now until December 31, the Sofitel Los Angeles at Beverly Hills is hosting a "Christmas Couture"-theme pop-up. Inspired by the world of haute couture, the glamorous space is a partnership between fashion designer Natalia Fedner and French mannequin company Window France. Highlights include a 30-foot Christmas tree, plus mannequins wearing Fedner's signature gold, rose gold, and silver-plated metals.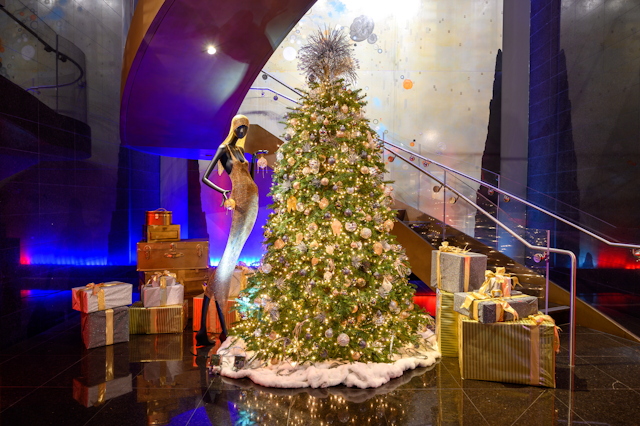 Sofitel Los Angeles at Beverly Hills' "Christmas Couture"-theme displayPhoto: EDLT Photo

Surprise Metric of the Week
7: Los Angeles's ranking on personal-finance website WalletHub's new report of "2019's Best Places for Christmas Celebrations." The study compared the 100 biggest U.S. cities using 33 key indicators, including the number of Christmas events and markets.
Overheard
"We wanted to celebrate our Galaxy owners this holiday season and bring them an experience that capitalizes on this cultural moment by taking their favorite starships from the film and bringing them to skies, where they belong."
—Rodrigo Burdman, creative director at R/GA, discussing Samsung's tech-forward promotion for Star Wars: The Rise of Skywalker. Following the movie's Hollywood premiere earlier this week, Samsung users in seven cities (including Los Angeles) could use their phones to view an AR version of the Millennium Falcon in the sky. The experience rolls out nationally on December 23.
On the Scene
For the Frozen 2 movie premiere in Los Angeles, 1540 Productions created an enchanted forest-theme red carpet flanked by 30-foot-tall megaliths. The faux stones had carvings to evoke the film.
What's Next
Toymaker MGA has opened the L.O.L. Surprise pop-up in Chatsworth. The temporary, family-friendly space features seven interactive installations, including a slide into a snow pit, a winter-theme disco, ice skating, and more. 
Our next column will post on January 3. Happy holidays!