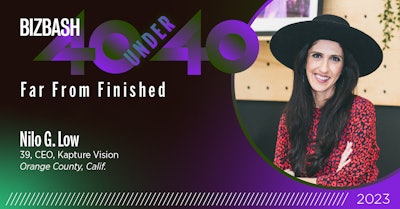 Nilo G. Low is the 39-year-old CEO of full-service event agency Kapture Vision. She's based in Orange County, Calif.
My career journey:
When I was 19, my best friend's mom was diagnosed with breast cancer, and I organized a cocktail party in my parent's backyard to raise funds for breast cancer research. The following year, we needed more space, so I found a venue and did it again. I began to realize that I was quite good at planning events and very much enjoyed the "behind-the-scenes" logistics and creativity of bringing people together.
My little breast cancer fundraiser transformed over the years into a nationwide 501c3 nonprofit organization of its own, called THE Breast Cancer Fundraiser, and I feel blessed it has expanded to nine cities across the country.
During this time, I was also pursuing a degree in business marketing and communications. The event light had been turned on, and then an opportunity arose for me to pursue an event internship at Fox Broadcasting. It was the culmination of these two experiences that ultimately led me to open my own event agency. The rest is history.
What my day-to-day looks like:
Part of why I love my career is because every "day-to-day" is different, frankly every hour-by-hour is different! The majority of my time is spent in relations with existing clients, new clients, vendor partners and, of course, our incredible team. I am involved in building the vision for each event (alongside our designers), creating the guest journey through spatial concept design, and supporting my team with the fun challenges that arise during pre-production and on-site.
My greatest career accomplishment:
Honestly, my greatest career accomplishment is maintaining and growing this agency and creating an opportunity for people to grow with us. It's very rewarding to see our employees buying their first home, traveling the world, and growing their families.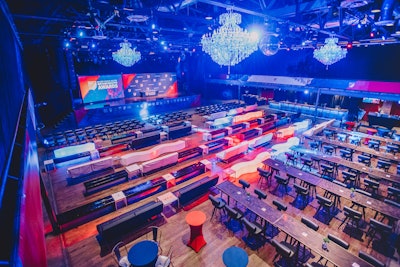 What inspires me:
The power of the human connection. Any opportunity to bring people together, to create unique experiences, and to play a part in telling a story or communicating a message feels like I'm living a life of passion and purpose.
My most memorable event:
Producing private hospitality programs for the 80th birthday of His Holiness the 14th Dalai Lama in conjunction with the Global Compassion Summit. When we were given the opportunity, I can still remember the feeling I had knowing that I was in the midst of a trajectory shift. At the time, I couldn't believe I was selected. Because it was a unique intersection between culture, religion, and the value systems of the honoree, we had to be very creative and tasteful in how we produced the celebration.
My leadership style:
I think the only way to lead is to do so by example. Our team sees that hard work and determination is worth it. I definitely believe in that "work hard, play hard" mentality and try to instill that in our team. I hope that they feel the power of collaboration and the gift of camaraderie and teamwork.
Fundamentally, we cultivate appreciation and respect for any person we work with on any level, from clients to vendors to staff or volunteers. And ultimately, accountability—owning up to the choices one makes, facing challenges head on, and the constant opportunity for personal and professional growth.
Some impressive stats I'm responsible for:
Kapture is unique in that it services a wide range of industries. In the philanthropic space, we've helped one of our nonprofit clients increase their net fundraising revenue by 50% on a multimillion dollar event in the first year of our involvement. The following four years, the event continued to grow at a minimum of 10% consistently each year.
With a professional sports league that we work with, we've been able to execute up to five high-level hospitality programs in the city of the championship game, which is not announced until five days before the event. This involves scouting, designing, planning and vetting three different cities for each of the five programs, including everything from venues and vendors to logistics and staff.
In the corporate sector, we have a client who dissolved their main office of 300 employees after the pandemic and allowed everyone to work 100% remotely from home, which resulted in their staff being scattered across 29 states. We proposed a highly motivated reward in the form of a tailored destination experience that is incentive driven where only the top 15% of performers across each department qualify to win an invitation to the event. As the stories of these experiences are shared amongst fellow colleagues who didn't qualify, our client's data shows that there is an increase in production throughout the entire organization every time one of these destination experiences are announced.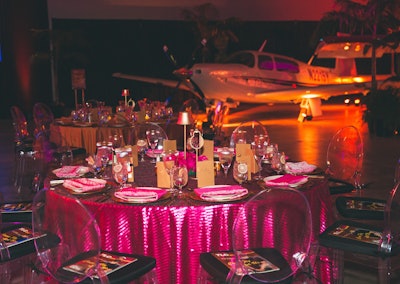 A time I averted a complete event disaster:
Years back, we produced an international event of close to 1,000 guests and staff. It was early in our agency's growth. We inherited a manual registration process and thought the best thing to do was trust that process. As the event approached, we quickly realized the registration data was inaccurate, so we staffed up, troubleshooted, and created new electronic processes in time to ensure that each guest would arrive at the event with no worry in the world.
The advice I would give my younger self:
Keep working hard; it will all be worth it. Stay curious, stay humble. Stay connected to why you're doing the work.
My ideal day OOO:
Time with my husband and kids. Period. Luca and Jasmine have incredible patience with us and our busy work schedules, so anytime we can put all the devices away and just hang out outside is a great OOO. We also love to travel and see family and friends all over the world, so you can often find us on the go and up in the air.
What's next for me:
With the FIFA World Cup coming to North America in 2026 and the Olympics coming to LA in 2028, our agency is poised to partner with and support international brands with their sports marketing and hospitality initiatives. I'm laser focused on introducing the exceptional work of Kapture Vision to current and future partners as we all celebrate these world-class events.
---
BizBash's 2023 40 Under 40 list is sponsored by VDA, a Massachusetts-based experiential marketing and event design agency that specializes in custom live, hybrid, and virtual experiences designed to drive business growth through client collaboration and creative thinking.