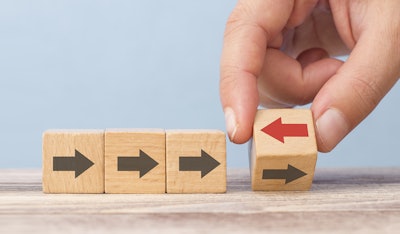 Christina Mills, congress and meetings manager for the World Federation of Hemophilia, spent the better part of two years preparing the organization's largest event in Kuala Lumpur, Malaysia. In March 2020, Mills learned she had three months to transform the WFH 2020 World Congress into a virtual event. By the time mid-June rolled around, what was supposed to be a 3,000- to 4,000-person gathering brought together 7,000 remote attendees.
"A lot of our attendees come from communities where they don't have the funds to be able to travel or pay the registration fees, so this was definitely a great opportunity for them to be able to participate," says Mills.
Of course, welcoming so many extra participants required not just planning flexibility but also understanding vendors with the ability to pivot. Software companies, particularly registration platforms, are repositioning themselves—with similar scenarios in mind—to be the solution to challenges planners are still wrapping their heads around.
Between Cvent, Aventri, Fonteva, Swoogo and Splash, among others, planners at least have the benefit of options. "There are a lot of systems out there," notes Heather Pilcher, CSEP, CMP, who is CEO and executive producer of Orlando-based Blue Spark Event Design.
The companies that prove able to meet demands in a timely manner will win the day.
Into the Unknown
The uncertainty of COVID-19 is confounding. The MICE industry is gradually transitioning back toward in-person gatherings accompanied by virtual components. Yet, associations and corporations will confront the challenge that many would-be attendees might not be comfortable flying or staying in hotels until a vaccine is readily available—if then.
Anticipating numbers for events in January 2021 is hard enough, let alone one year from now. Many early year events have already opted to go virtual or have been postponed until mid-2021 in hopes of fewer venue restrictions and greater attendee confidence to travel.
Making the task harder is that planners are forced, yet again, to do more with less in a post-COVID-19 world. While attendee numbers increase, resources like staff size, marketing budgets and institutional knowledge have become victims of the economic crisis the pandemic has created.
"Everyone is moving to make as many things as self-service as possible to focus on bigger things to solve," remarks David T. Stevens, director of global events at Alation.
Flexibility and customization are valuable commodities in an industry in which Type A individuals are accustomed to having every last detail nailed down months in advance.
Contingency planning is hardly a novel concept—just as the technology for virtual and hybrid events has been around for at least a decade. The only difference now is the demand for adaptability is hard to keep up with.
"You're going to have to have a registration technology in your toolkit that can be flexible and serve both your in-person registrations and your virtual registrations, and now your hybrid-registration event," says Christina Marmor, director of marketing events at Fonteva.
Matchmaker, Matchmaker
Marmor says all it took was a click of one button to turn Fonteva's annual fall user conference into a virtual event. Naturally, she uses Fonteva's platform for registration.
She touts her company's flexibility as its strength in working with outside events. "It doesn't matter what kind of event you do—it could be a board meeting or a citywide for 20,000 people—it's the same platform," she says.
On the other hand, Mills has been impressed with Aventri's custom-built product on which WFH has been reliant since 2013.
"Aventri has a module where you can basically plug in whatever fields you want in your report and it's totally customizable to what your needs are," says Mills, who has adopted Aventri for all of the organization's events, ranging from 20 attendees to the large biannual congress next scheduled for Montreal in 2022. "That was one thing we felt was really lacking in our previous software."
Hanem Ali, a project manager focused on internal strategy and support for the National Alliance on Mental Illness, uses Aventri not only for registration, but also for email marketing and for the grassroots organization's abstract submissions. In fact, she says the platform has more bells and whistles than she needs.
"It's very customizable," says Ali, who plans a 2,000-person convention (postponed until next year due to COVID-19) and two training meetings of about 200 attendees for the Arlington, Virginia-based association. "The back end is very easy to use."
Some planners, like Pilcher, prove to be as flexible as the systems they are seeking. Pilcher will turn to the grandfather of all registration systems, Cvent, for her most complicated systems. But she is just as likely to turn to Swoogo, owned by Leonora Valvo, the event technology legend who founded Aventri, then known as etouches, in 2008.
Small Steps
It goes without saying, customization only works if a product is a good fit for a client.
Newer event technology groups are counting on a more personal approach and intuitive programs to woo new customers. Splash co-founder and CEO Ben Hindman, the former national events manager at Thrillist, says he noticed a movement toward small events requiring nimble registration systems like his years ago. The trend, he says, isn't likely to die down anytime soon.
"Six-person events are the best," says Hindman, whose upstart event marketing automation platform is used by over half of the Fortune 500. "In the new world with smaller, more targeted and more intimate events, one of the more important things people are going to need moving forward is more personalized, transparent registration."
Stevens, who signed a contract with Splash in January, raves about the service for a 600-attendee virtual event he planned this spring.
"Splash is so direct and concise, you don't need a lot of resources," he says. "We didn't have to go to our web team to build a page, we could do it ourselves."
Taking the Plunge?
Such transitions are not always easy and sometimes don't occur—which can be the best for both sides.
When Mia Monroe, CSEP, CGMP, CMP, left NASA to plan events for Sustainable Brands, she tried to bring Cvent with her. A meeting—naturally—was set up. It turned out such a switch was a lot more involved than having attendees fill out information on a different platform.
At the heart of the issue was Sustainable Brands' marketing team was dead set on retaining Pardot, a B2B automated marketing program created by Salesforce. Beyond using the program, there were specific holdups like wanting to be able to create pop-up ads and other lead-generation tools.
"It was very technical," recalls Monroe. "I had to step out and allow our [chief technical officer] to take over."
Sustainable Brands stuck with the incumbent, Aventri, which had already customized its offerings to fit the company's needs.
As planners work with confined budgets and oversized expectations from CEOs, tough choices will have to be made. Just because a planner goes on a date with a new system doesn't mean a marriage is in the offing.
But in this era of more proven systems to work with, planners will benefit from the competition.
Jake Fabbri, chief marketing officer at Fonteva, says whichever company adapts the fastest to the new world will thrive.
"There are tipping points," he says. "There's going to be an opportunity, whether it's for legacy players or upstarts, to reimagine their events. I think we'll see technologies transform and it's going to have a positive impact."