21 Lighting & Audiovisual Producers You Should Be Following on Instagram
Feast your eyes on these tech-forward Instagram accounts from top lighting designers, projection-mapping companies, and other audiovisual production firms.
September 10, 2019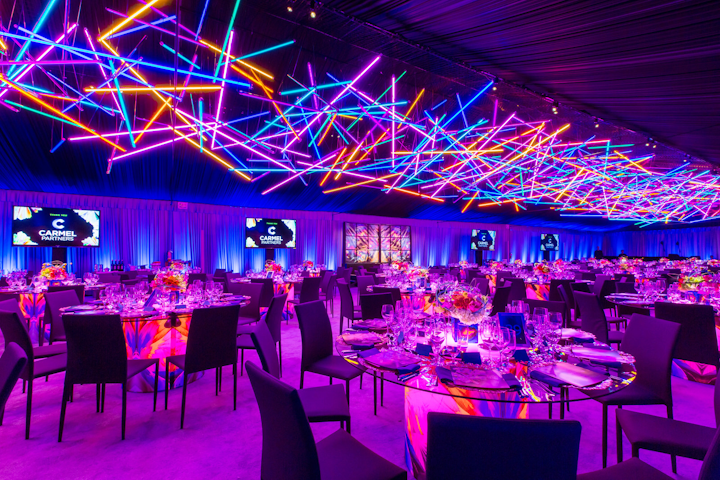 Photo: Show Ready
We're wrapping up our summer of social media with one last list of event pros to follow on Instagram. (In case you missed it, we brought you some best Instagram practices for event professionals, plus lists of floral designers and catering companies who inspire us with their inspirational feeds. And don't miss previous lists of top event pros, designers, and wedding planners worth following.)
This time, we're highlighting something a bit more technical. Instagram may be known for flowers and food, but there is also a large community of audiovisual experts—lighting designers, projection mappers, video experts, and more—who are using their feeds to showcase jaw-dropping technical work and fascinating behind-the-scenes details.
From immersive projection mapping to romantic wedding lighting to clever uses of lasers, let the eye-catching images and videos on these accounts inspire your next event. And don't forget to follow us at @BizBash and let us know your picks.

Moment Factory is a multimedia studio specializing in video, lighting, architecture, sound, and special effects. It's based in Montreal and has offices in New York, Los Angeles, Paris, London, and Tokyo.
Images by Lighting is a Los Angeles-based lighting design company that regularly works on high-profile entertainment-industry events, social and corporate parties, and fashion shows. 
Go2 Productions creates 3-D projection mapping for clients including Southwest Airlines, Jimmy Kimmel Live!, and the Vancouver Canucks. President Adrian Scott was named a BizBash innovator in 2018.
San Francisco's Got Light, a former BizBash innovator, is a lighting design company that also offers production services for special events, corporate events, and weddings. 
United Projections is an on-site projection mapping company at the Temple House in Miami; the company also works on events around the world and is the creator of the Visual Artist Awards.
KM Productions provides lighting, audio, video, staging, and special effects for events and concerts. The Secaucus, New Jersey-based company recently opened an office in Miami.
Bart Kresa, a former BizBash innovator, specializes in projection mapping for clients including HBO, General Motors, Fox, and T-Mobile. His studio is based in Santa Monica, California. 
BlackOak Technical Productions calls itself a "design-focused and human-friendly" technical production company. It offers lighting, audio, video, staging, and production services throughout the Chicago area.  
Los Angeles-based Xite Labs, a one-year-old company from Greg Russell and BizBash innovator Vello Virkhaus, specializes in "visual artwork" and other audiovisual production for events. 
Frost Chicago is a production firm specializing in lighting, staging, video, audio, and fabrication. Past clients include American Airlines, AT&T, and Macy's.
PRG handles audiovisual production for a slew of large-scale events, including the MTV Video Music Awards, the Coachella Valley Music & Arts Festival, and Rascal Flatts' summer tour. The international company has 16 offices throughout the U.S.
Levy NYC, led by BizBash innovator Ira Levy, is a lighting, sound, and video production company. Past clients include Martha Stewart Weddings, Dolce & Gabbana, and the American Museum of Natural History.
Frost Productions specializes in lighting, audio, and video solutions, plus digital mapping, LED displays, interactive technology, and staging. The company has offices in New York and Boston. 
Vista, California-based Show Imaging is an event production company that handles audiovisual production for clients such as Adidas, Goldenvoice, and Nickelodeon. 
Lightswitch is made up of lighting, media, and visual designers who work on events, concerts, experiential environments, and architectural projects. The company has U.S. offices in New York, Los Angeles, Chicago, Orlando, and San Francisco. 
Visual Feeder is a Chicago-based projection mapping company that creates interactive activations and augmented-reality experiences for events and businesses. Past clients include Lyft, Bacardi, and TEDx.
Everlast Productions provides video, audio, and lighting services for corporate events, trade shows, and live concert tours. The company has offices in Miami and Atlanta.
Limelight offers 3-D projection mapping for festivals and corporate events around the world. Its U.S. offices are headquartered in San Francisco. 
Fort Lauderdale-based Liquid Laser Light Show provides full-color laser lighting and special effects for events throughout the country.
Kinetic Lighting in Los Angeles offers entertainment lighting rentals, sales, design, and production services.
Eventions Productions in Aston, Pennsylvania, provides lighting design, sound and audio, and video and media projection.