29 Event Caterers You Should Be Following on Instagram
These accounts from top catering companies around the country offer drool-worthy event inspiration—and plenty of #foodporn.
August 13, 2019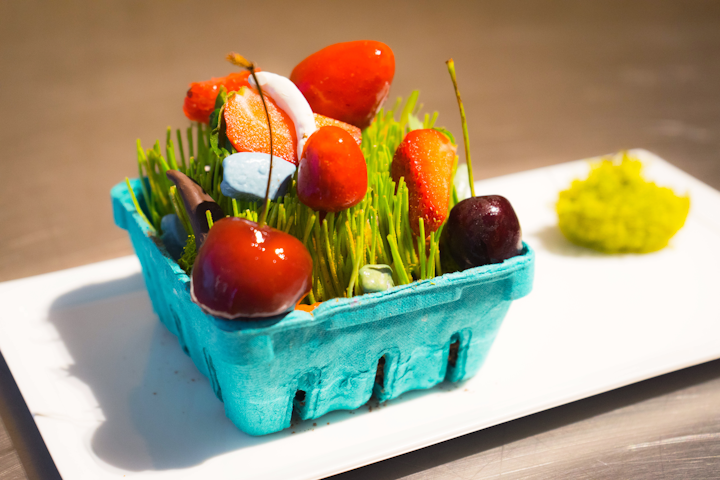 Photo: Courtesy of Blue Plate
Our summer of social media continues. Last month, we brought you some best Instagram practices for event professionals, plus a list of floral designers who inspire us with their colorful feeds. (And don't miss our previous lists of some top event pros, designers, and wedding planners worth following.)
This time, we're shifting to everyone's favorite topic: food. While Instagram is known for its #foodporn, these top catering companies around the country do it right, filling their feeds with eye-catching, well-photographed dishes that are sure to get you drooling.
Whether you're looking for a caterer to hire for your next event or just want to admire beautiful things, these 29 accounts may be worth a follow.
Pinch Food Design in New York specializes in creative food and cocktail presentations for events. The company also owns Ina Pinch Snack Bar in Manhattan.
Wolfgang Puck Catering, led by the renowned chef, offers full-service catering around the country. The firm has catered the Oscars' official after-party for 25 consecutive years.
Washington, D.C.-based Occasions Caterers offers catering and beverage pairings for clients including the White House, Coca-Cola, the American Red Cross, and others.
New York-based Peter Callahan offers catering, event production, and design services. He's the author of the cookbooks Party Food and Bite by Bite: 100 Stylish Little Plates You Can Make for Any Party.
Blue Plate offers event catering throughout the Chicago area. It's a preferred caterer at more than 85 event venues, including the Field Museum, the Chicago History Museum, and the Lincoln Park Zoo.
Toronto-based hospitality firm Eatertainment offers full-service event catering and management; it also manages venues including the One Eighty and art gallery 5 Brock Events.
Design Cuisine has been catering events in Washington, D.C. for more than 35 years. Clients include Google, Louis Vuitton, and the American Heart Association.
Based in New York, Olivier Cheng Catering and Events has worked with clients including Coach, Columbia University, Barnes & Noble, and the Clinton Global Initiative.
Joel Catering and Special Events aims to make cuisine an "immersive experience" with bold colors and memorable aromas and textures. The company is based in New Orleans. 
In addition to full-service catering, New York's Great Performances owns and operates an organic farm, as well as a family-focused center to inspire healthy eating habits.
Los Angeles-based Contemporary Catering focuses on local, organic cuisine for corporate events, weddings, private dinners, and more.
Bold Catering & Design, based in Atlanta, offers full-service catering, event management, and floral design for clients such as Delta, Coca-Cola, and Google.
Creative Edge Parties has been offering full-service catering and event-planning services in New York and South Florida for the last 30 years.
Limelight Catering in Chicago, part of the Revel Group, catered Barack Obama's inauguration ceremony. Other clients include the American Bar Association, Merrill Lynch, and Vanity Fair.
Alexandria, Virginia's Windows Catering Company provides full-service catering and event management services for corporate entertaining, fund-raisers, social events and weddings, and business meetings throughout the Washington, D.C., area.
Pink Avocado in Austin caters private events, weddings, and festivals such as South by Southwest. It also hosts a monthly themed dinner called the Bread & Circus Supper Club. 
Haute Chefs LA offers event catering, chef-prepared meal delivery, and private chef services throughout the Los Angeles area. 
Miami-based Bill Hansen Catering is a preferred caterer at more than 300 venues from Palm Beach to the Florida Keys. The company also offers event production.
New York-based Riviera Caterers provides event catering at the likes of the World Trade Center, the Central Park Zoo, and the Marquee nightclub. 
Royal Fig Catering in Austin creates seasonal menus from organic farms throughout central Texas. It offers full-service catering and has an in-house pastry division. 
Good Gracious Events, based in Los Angeles, offers full-service catering and event management throughout Southern California. The company recently catered the networking luncheon at BizBash Live: Los Angeles. 
Daniel Et Daniel has provided catering in the Toronto area since 1980. The company also provides event-planning services for weddings and corporate and private events.
McCalls Catering in San Francisco offers full-service event catering, plus event production and floral design services. Partner venues include the Bently Reserve, Fort Mason, and San Francisco City Hall.
Boston-based company the Catered Affair offers full-service event catering at venues including the Boston Public Library, the Harvard Art Museums, and the Institute of Contemporary Art. 
Très L.A. Catering in Los Angeles has worked with clients including Amazon, the Food Network, and Intel; private clients have included Ariana Grande, Jamie Foxx, and Neil Patrick Harris.
Joy Wallace Catering and Design has been catering in the Miami area for 30 years. Past clients include HGTV, the Miami Heat, Absolut, and the N.F.L. (Listen to our recent GatherGeeks podcast with the company's founder, Joy Wallace.)
Abigail Kirsch Off-Premises Catering is the exclusive caterer at New York venues including Pier Sixty at Chelsea Piers and the Queens Museum. Past clients include Tommy Hilfiger, the Food Bank for New York City, and Goldman Sachs. 
Marcia Selden Catering in Stamford, Connecticut, handles high-end catering and event planning throughout Connecticut, Westchester, and New York City. The company also has a more casual "Gourmet to Go" division. 
Heirloom L.A. is a Los Angeles-based catering company that works with local organic farms. It also partners with local nonprofits to promote education around healthy eating.