At P.C.M.A., Inspiration, Innovation, and Creating Binge-Worthy Content
Ideas for bringing new energy to educational content at meetings.
January 14, 2019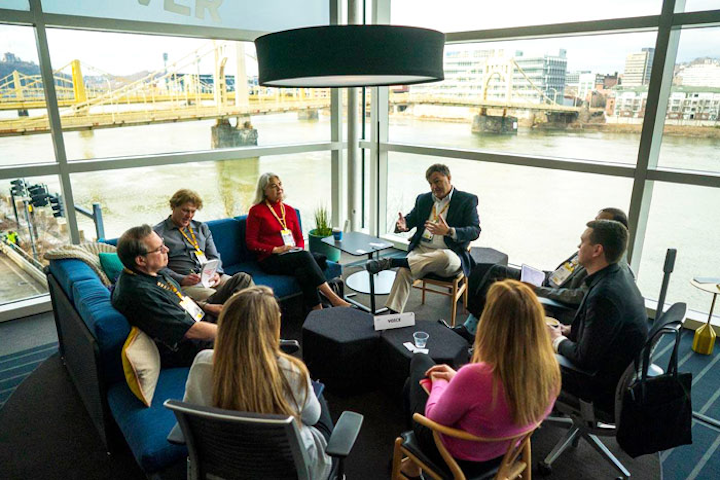 Photo: Jacob Slaton Photography
P.C.M.A.'s annual Convening Leaders was held January 6 to 9 at the David L. Lawrence Convention Center. This year's theme, Disrupt and Deliver, was showcased in a number of sessions.
In "How to Design Events Worth Binge-Watching," Jericca Cleland, co-owner and Chief Creative Officer of the animation studio Nørlum, and Ruud Jansen, co-founder of Event Design Collective, spoke about the shift in the way we consume content.
Recognize the Netflix effect.
"Binge-watching is considered watching two or more episodes in one sitting," Cleland said. "Five years ago, 64 percent said they binge-watched. It used to be that you'd put out content, release it, and then wait for the next. But this is not the way people are consuming."
People want to binge content, too.
"Apply this thinking to your events. Maybe you're producing educational content, so make it available as a whole. It's really powerful."
Strategize.
"If a picture is worth a thousand words, then a prototype is worth a thousand meetings."
Organize your content.
"Each story needs to have the following components: platform, where you create understanding and develop the initial emotional connection; tilt, the change; cohesion, establishing logical flow and relevance; rising stakes, where you present your content in a rising order of values; and reincorporation, or the aha moment."
What's your cliffhanger?
"You want to tease people with delivery of future value. Pique curiosity, create momentum."
Live streaming is good, but in person is better.
Jansen noted how online audience members who were tuning in via a live stream would not be privy to at least one upcoming insight as effort to encourage them to attend next year in person. "It's good to know what you don't get," he said.
"Improve Your Results with Radical New Strategy," a session run by organizational expert Cleveland Justis, encouraged attendees to think about innovation in a new way.

Rethink innovation.
"We think of innovation as a lone innovator. A person or place that isn't us. All of the research tells us this is wrong. ... The light bulb was invented before Edison. It wasn't the invention that was the innovation. It was the build-out of the network. Henry Ford invented the assembly line by studying slaughterhouses. He learned to see around him."
Find the right collaborators.
"The most successful people are those that create bridges to people outside of those you know because they help you see things you didn't know possible."
Try applying this to meetings.
"To make meetings matter, you have to create rituals. Play with your participants. Try new things. Adapt. Use that new energy."
In a January 8 session, "Transforming Experiences into Positive Forces for Good," Steve Pemberton, author of A Change in the World, spoke about his inspirational rise from forgotten foster child to successful executive.

You have the power to rewrite your life story.
"Society didn't know what to do with me. I had blue eyes, light complexion, and a blonde afro. But I had a different vision. I did then and do now. I had a real life superpower. I wielded it with extraordinary success. I knew that what I inherited I can alter."
Suspend judgment.
"We spend too much time judging above the water line but it doesn't tell the whole story. We find common connections when you look below the water line."
Seek differences.
While commonalities help us relate, Pemberton encouraged the audience to seek out differences. "Do this in your daily interactions. We shouldn't agree on everything. You want different perspectives."
Nadya Okamoto, founder of Period, was similarly inspired to make a change for the better after her family's housing situation took a downturn. During that time of transition, Okamoto, now at Harvard, took the bus for up to two hours. She struck up conversations with homeless women, soon learning that many were using cardboard, toilet paper, and other trash instead of expensive feminine products. It sent her on a trajectory, founding at 16 what is now the largest youth-run N.G.O. in women's health.

Optimize different skill sets.
"I told my mom to make a list of all of the reasons I wouldn't be able to do a nonprofit. She listed things like spreadsheets, so I went to the kid in school, Vince, who always finished his first and helped others."
Don't wait until someone tells you how.
"We had no idea what we were doing, but we're going to do it anyway."