How Projection Mapping Helped This Virtual Concert Draw 7.5 Million Fans
During "Red Rocks Unpaused," wireless carrier Visible aimed to bring at-home fans and on-stage artists closer together with cool interactive features.
September 7, 2020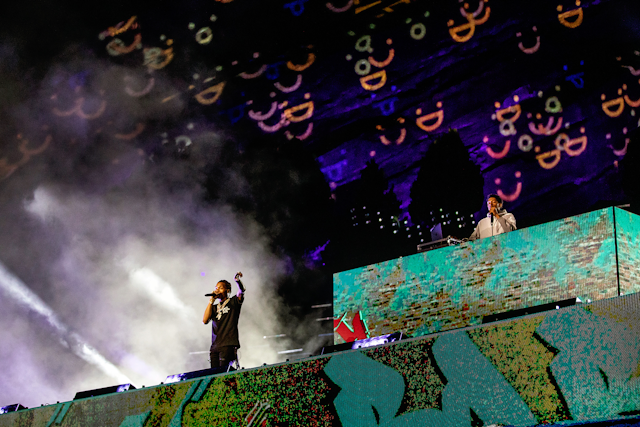 Lil Baby performed during day two of "Red Rocks Unpaused." Fans were able to send artists emoticons through the series' microsite, which were then displayed on the venue's iconic rock facade.Photo: Rich Fury/Getty Images for VisibleMORRISON, COLO.—For its sponsored virtual concert series, Visible, the all-digital wireless carrier backed by Verizon, transformed the iconic Red Rocks Amphitheatre—located just outside Denver—into a musical canvas of sorts.
Red Rocks Unpaused, which took place Sept. 1-3, integrated fun tech features into the livestreamed shows to help promote fan-artist interaction, something that tends to be lacking during virtual concerts. Fans were able to tune in for free via Twitter's Live Event page and visiblexredrocks.com.
Not surprisingly, like most events of 2020, this was not the brand's original plan. "At the end of last year, we secured a longer-term partnership with Denver Arts and Venues and had plans to activate at several 2020 Red Rocks concerts," explained Kirstie Rivard, head of experiential at Visible, which is based in the Denver area.
"When COVID took hold, the whole world seemed to go on pause. Live events were being canceled including Red Rocks concerts. We rallied to consider our options, knowing we had this relationship with the Arts and Venues team and understanding we were in the fortunate position to be able to provide a Red Rocks experience, albeit a very different one," she said.
Visible, its ad agency Madwell, and VTProDesign handled the production and tech buildout for the newly devised virtual concert series, which required hauling "truck-loads of technology into the venue to support these interactive features," Rivard explained. This included messages (such as a flood of emoticons and "I love you's") from the at-home audience that were displayed on the rock facade, interchangeable camera views that allowed the audience to choose their "seat," and fan-controlled lighting schemes.
"We conceived an experience that would bring a livestream that wouldn't just let musicians play to their fans from home—something that is being done a lot—but would be interactive, innovative, and a first-of-its-kind stream. ... We wanted to bring a new, digital-first approach to live music that would bring the fans and performers closer together in more real and tangible ways."
For example, the artists were actually able to hear the fans via microphone interaction—the louder the at-home audience cheered, the more applause played in the venue. Fans were also able to vote for the encore via a polling feature that allowed them to select the final song of the night.
The lineup for the three-day digital experience included Nathaniel Rateliff and the Night Sweats with Phoebe Bridgers; Lil Baby with co-headliner Megan Thee Stallion; and country artists Sam Hunt and Brett Young.
As for the setup, Rivard said that the crew started the build on Aug. 24, totaling about eight full days and nights. And as for safety, she said that they adhered to a "very stringent plan" to keep everyone safe, which included following CDC guidelines and wearing mandated masks onsite. In addition, COVID testing was done prior to arrival and daily temperature checks were instituted.
Rivard added that the most challenging part was "planning from home and over video calls. When you're making something special like this, it would have been ideal to have a few working sessions in person. After all, there's still no day-to-day replacement for real, genuine human connection. But that's also exactly why we created Red Rocks Unpaused—to bring everyone closer together and to connect us all again."
Over the course of the three nights, 7.5 milllion fans tuned into the concert series. "Whenever the world has a seismic shift, creativity finds new ways to connect us to each other. That's what we did with Red Rocks Unpaused," Rivard said. "When in-person concerts come back into the fray, all of the experimentation that has happened this year will surely change the face of IRL experiences and for the better."
See more from the Red Rocks Unpaused concert series below.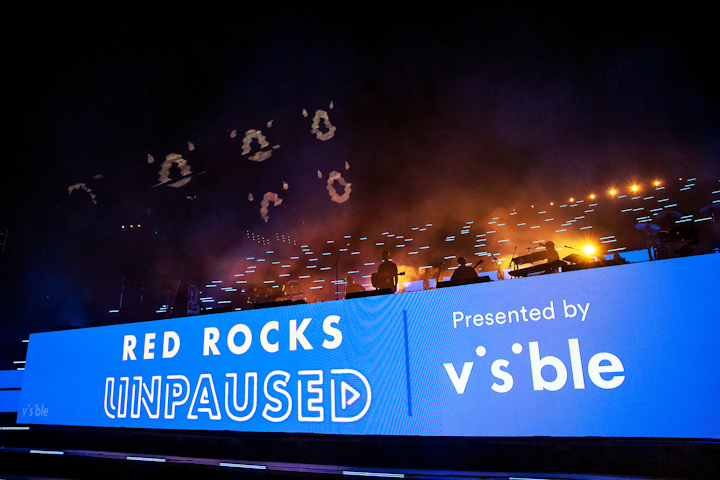 Photo: Rich Fury/Getty Images for Visible
Photo: Courtesy of Visible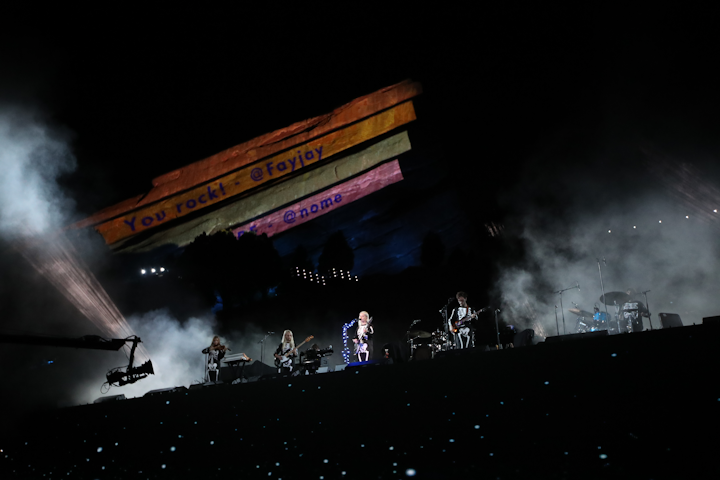 Photo: Rich Fury/Getty Images for Visible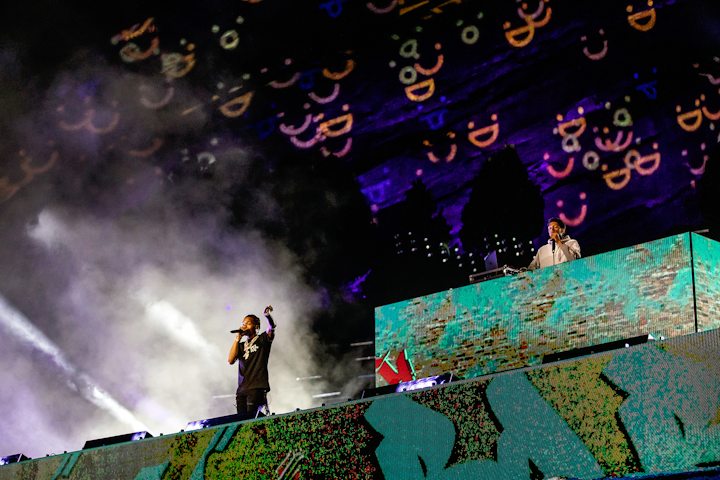 Photo: Rich Fury/Getty Images for Visible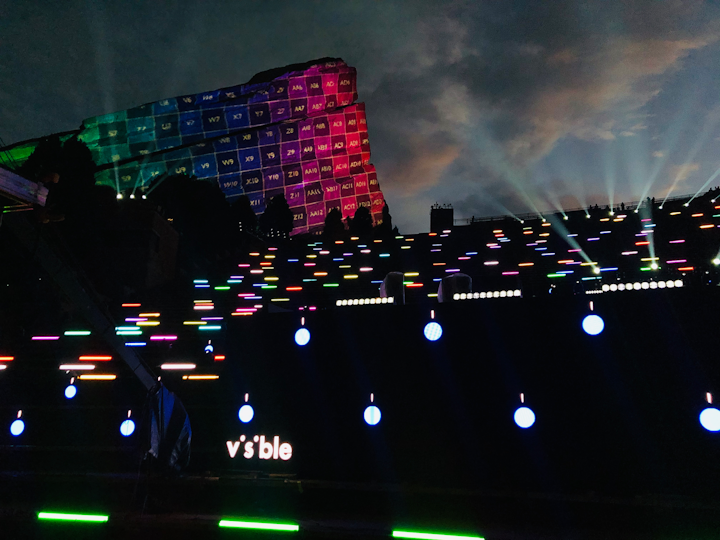 Photo: Courtesy of Visible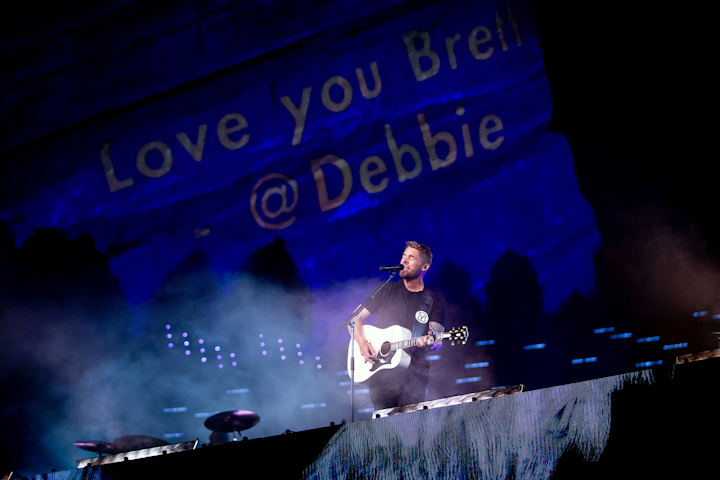 Photo: Rich Fury/Getty Images for Visible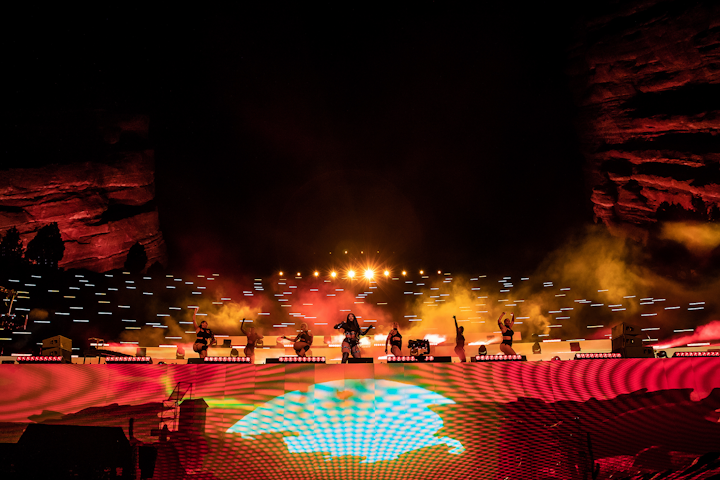 Photo: Rich Fury/Getty Images for Visible
Photo: Rich Fury/Getty Images for Visible