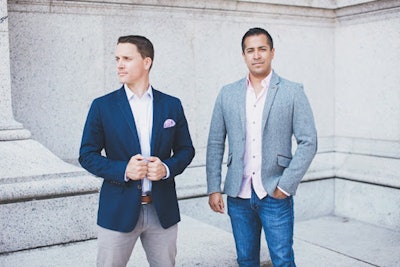 Photo: Courtesy of Goodshuffle Pro
David Adler (@davidadler) is the C.E.O. and founder of BizBash.
Watching and mentoring smart start-up teams that turn ideas into reality is one of the most satisfying experiences for a long-time entrepreneur like me. Understanding how these pioneers of the meeting and event industry came to contribute is also eye opening in that it is a guidepost for success. This past month, I was overwhelmed with pride when Social Tables was acquired by Cvent, which was founded by an entrepreneur I admire, Reggie Aggarwal. I have found a number of common characteristics that seem to be fundamental to success, and even more importantly, what I look for when investing. In the last month, I have become involved in a new venture called Goodshuffle Pro, which has been exploring a way to help event rental, production and design, and entertainment companies manage inventory, track sales, and streamline business operations so that they can be at the heart of what I am calling the new temporary infrastructure industry.
It's not my first time as a mentor. Back in 2011, I got to know Dan Berger, the effervescent, creative, and dogged founder of Social Tables, who was enthusiastic about his idea to use room diagrams and better seating charts to improve the planning experience. I loved the scrappy nature of how he started and how he grew the company by going through all the traditional steps, pivoting all over the place, and then successfully selling his vision. Because of his dedication to his journey, I jumped on board as an advisor and helped introduce him to our world of events through BizBash and my personal connections.
I encourage all seasoned entrepreneurs to find new companies to invest in or mentor. Here's my list of common characteristics entrepreneurs exhibit that I consider when making an investment.
1. The confidence that they can solve a problem with a new approach.

This class of entrepreneurs have no association with the meeting and event industry, but as guests of events they recognized an inefficient process. They also have insights and a thought process with a disruptive mindset to think that their idea is better than the next person's.
2. A sense of humility and lack of arrogance that allow others to contribute.
Each entrepreneur sought out mentors to help them through the process by being humble and interested in what industry veterans had to share. They also are grateful for the help of others. It's actually a millennial characteristic to think that your "network is your wealth" as opposed to Boomers, who sometimes are reticent to even ask for directions.
3. A risk-taking attitude with the knowledge that pivoting is okay.

Every one of these people have been challenged with mistakes and learned from them. They all were not afraid to try things, fail, and start again with a new pivot. They also analyzed why something didn't work and used the data from the experience to create a new path to success.
4. A willingness to sacrifice for the mission.

Bootstrapping in the beginning of every venture and then keeping that mentality even after raising money to grow and explore seems to be a common attribute. All of the entrepreneurs' best stories are from during the early days and have become part of the company's DNA. Whether it's couch-surfing to attend trade shows or using the savings from previous careers, it's the dedication to the mission that matters. These entrepreneurs are willing to bet their last nickel to make their venture succeed.
5. Easily adaptable to changing circumstances.
Day-to-day challenges don't rattle an event entrepreneur. As market conditions change, entrepreneurs, like all event organizers, think on their feet and change processes and procedures on a dime. They recognize that everything that can go wrong will go wrong, especially when you least expect it.
6. A dedication to lifetime and scalable learning.
Learn something, implement something. These entrepreneurs believe there is a solution for everything. They just need to think about it, find it, and learn it. The next step is to deploy what they learn to their team.
7. They care about corporate culture.
The major common practice is that they all start out trying to build a culture that will last. They take pride in supporting their teams and making everyone feel part of the larger mission.
These and other qualities attracted me to help mentor Convene founders Ryan Simonetti and Chris Kelly. Today, they are operating a business that is approaching a $500 million valuation. It was also an honor to mentor Tech Day founder Alec Hartman, who started and successfully sold his international technology event. Now he has become one of the most purposeful social impact entrepreneurs, taking a risk on new bold ventures that may disrupt the housing industry.
[PULLQUOTE]
Aggarwal disintermediated the registration and sourcing business, Berger disintermediated the event design process, and Simonetti and Kelly reimagined conference centers, and more recently, the tenant amenity business in commercial buildings. Hartman created events in an unorthodox way focusing on using homemade tech solutions and minimal design to show the world that the next generation of event attendees want different things.
The Social Tables sale reminded me how I feel great that we at BizBash changed the event planning process and made an event planner's skill more important than possessing a good Rolodex. In all these cases, it is innovation and new thinking that has been the foundation of the successful enterprise.
So what is next for me?
I believe that deploying temporary spaces faster and more efficiently is in line with the new pop-up event mentality that has invaded retail and given rise to the experiential movement. Deploying resources quickly and efficiently is the key to translating an event into a goosebump-creating experience.
Let me introduce you to my choice for the next generation of disruptors: Andrew Garcia and Erik Dreyer, the founders of Goodshuffle Pro. Infrastructure may not be the most exciting part of our industry on the face of it, but I learned from my mentor, William F. Reilly, then the C.E.O. of media company Primedia, that real progress is made on the boring stuff: the infrastructure plays and the things that are not attracting the attention of the hoards. Stay away from the glamor products to make your life easier.
BizBash and my family have made a $500,000 investment in Goodshuffle Pro, which provides business operations and intelligence software to the event industry. It enables event vendors to produce more effective experiences and events for the end users by creating faster deployment and inventory management tools for rental companies. With this SaaS solution, organizations with large stocks of inventory will be able to unlock the value of the rentals that they customize and reuse for clients.
I invested in the company after casually mentioning the solution to several clients and getting immediate purchases from several legacy organizations. These organizations have been challenged to find ways to both support and improve their business processes without having to invent a new customized technology solution themselves.
Goodshuffle has been building event technology for almost four years and launched its latest software product, Goodshuffle Pro, late last year. They currently work with clients across the U.S. and Canada and are anticipating increased rapid growth as they continue to reach a wider audience. Goodshuffle Pro is an easily trackable inventory process that automates sales and marketing procedures that allow rental oriented products to grow revenue more efficiently. The product also streamlines the chaos of the event world through online invoices, contracts and payments, inventory tracking and conflict detection, CRM tools, task management, and additional features.
Just as these other great entrepreneurs have been pioneering, innovating, and iterating, Garcia and Dreyer are on the journey to reinvent the process of making the rental experience easier and more effective, resulting in higher quality events.
I encourage all long-time entrepreneurs to be lifetime talent scouts and then mentor, mentor, mentor. You never know how your own story and your enthusiasm for achievement and the event industry will inspire another person.