2015 Preview: What's on Tap for Lollapalooza, Sapphire Now, and More
Here's a sneak peek at some of the year's biggest meetings and events including the Super Bowl, Coachella, Dreamforce, TIFF, the South Beach Wine and Food Festival, and more taking place across North America.
January 16, 2015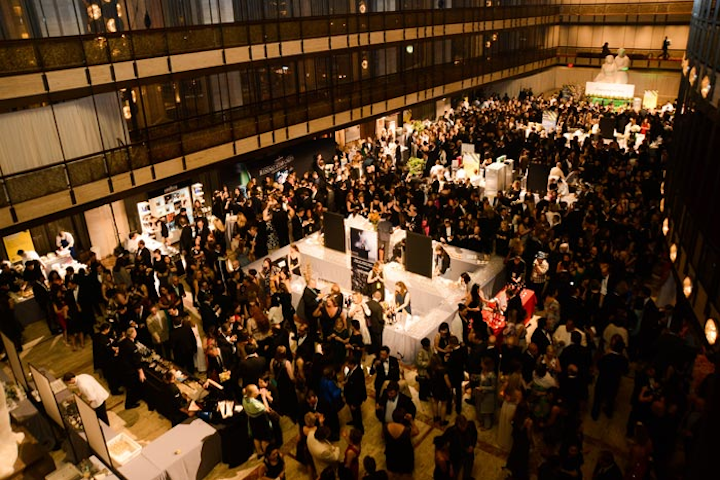 Photo: Lola Haze/BFAnyc.com
With 2015 stretching out before planners in all industries, details of some of North America's most prominent gatherings are taking form. From Toronto's first international multi-sports event since 1930 to a refreshing headline entertainer for the White House Correspondents' Association Dinner, here's a sneak peek at what's in store for major meetings and events this year.
After the party frenzy surrounding the Golden Globes last week, heavyweights of the film industry will again gather in Los Angeles for the 87th Academy Awards on February 22. Neil Patrick Harris will host the ceremony at the Dolby Theatre at Hollywood & Highland. A less glitzy—but no less prominent—industry gathering, the South by Southwest Music, Film, and Interactive Festival returns to Austin, Texas, in March. The Austin Convention Center will serve as the hub for conferences, trade shows, and the Interactive Satellite Campuses. The festival will also be peppered with characteristically laid-back gatherings, including a Music Taco Meetup on March 20 and a BBQ and Softball Tournament on March 22. The Toronto International Film Festival celebrates its 40th anniversary this year, with events scheduled to take place throughout the city September 10 to 20.
In other big news for Toronto, the 2015 Pan Am Games will take place from July 10 to 26, and the and Parapan Am games will be held August 7 to 15. The games were awarded to Toronto in 2009 and will mark the first time since 1930 that the city has hosted an international multi-sport event. Some 7,000 athletes from Latin America, the Caribbean, North America, and South America will participate in the games, which will take place in municipalities from Oshawa to Welland.
Super Bowl XLIX will be held in Arizona this year for the first time since 2008. Slated for February 1 at the University of Phoenix Stadium in Glendale, the big game will feature two of the teams currently fighting it out in the playoffs. Brands, however, have already started to announce their plans for activations surrounding the football game. One example is Budweiser, which built a life-size Pac Man maze in downtown Los Angeles. The maze will be featured in a TV commercial that will be broadcast during the game. The beer brand is also staging a new activation with its "House of Whatever." Set to take over the long established Bud Light Hotel, the house will be open for the three days of Super Bowl weekend and will house parties and concerts. The new event is an extension of the brand's "Up for Whatever" campaign, which has also spawned events in Colorado.
New York Fashion Week also takes place in February, and this will be the last year the shows take place at the Lincoln Center; for its fall iteration, the event is expected to take place downtown. In another forthcoming change to the fashion-industry gathering, Mercedes-Benz has ended its partnership with the week.
One of the restaurant industry's biggest annual events, the James Beard Foundation Awards, come to Chicago's Lyric Opera on May 4. The prestigious event celebrates its 25th anniversary this year, and 2015 marks the first time the event will been held outside of New York. Another major food event, the South Beach Wine and Food Festival, hits the sunny Florida locale February 19 to 22. Presented by Food & Wine magazine, the gathering will offer 75 events including new parties like the Meatopia: The Q Revolution, presented by Creekstone Farms hosted by Guy Fieri and curated by Josh Ozersky, on February 21. In Washington, the Restaurant Association of Metropolitan Washington Awards Gala, will take place on June 7 at the Walter E. Washington Convention Center.
Passes are already snapped up for one of spring's biggest events, Coachella Valley Music and Arts Festival, produced by Goldenvoice. The festival takes place in the California desert town of Indio over the course of two weekends—April 10 to 12 and April 17 to 19—and acts will include AC/DC, Jack White, and Drake.
Major music festivals will also take place across the country this summer, with Bonnaroo scheduled for June 11 to 14 on a 700-acre farm in Manchester, Tennessee. Tickets for the Superfly Presents-produced festival go on sale this weekend, and the recently announced lineup includes headline acts such as Billy Joel and Mumford and Sons. Lollapalooza returns to Chicago's Grant Park July 31 to August 2. Tickets, set to go on sale this spring, will range from general three-day passes to the three-day Platinum Pass, which offers perks ranging from golf-cart transportation around festival grounds to complimentary bars and catered meals. This year will also see the launch of Lollapalooza Berlin, which is scheduled for September 12 to 13 and marks the festival's first European edition. As always, C3 Presents will oversee Lollapalooza's production.
The headliner has also been announced for the White House Correspondents' Association Dinner, which will take place on April 25 in Washington. Cecily Strong of Saturday Night Live is this year's featured entertainer and is the fourth woman to take on the role.
In the technology sector, Sapphire Now will be held at Orlando's Orange County Convention Center May 5 to 7 and will offer educational sessions, a trade show, and keynote speeches from the likes of Bill McDermott, C.E.O. and member of the executive board of software company SAP AG, which organizes the conference. IPW, the annual gathering of event and travel professionals, also comes to Orlando this year, with its run scheduled for May 30 to June 3. And Dreamforce, another major technology conference, will take place in San Francisco September 15 to 18.
A gathering more suited to comic book and action flick fans, Comic-Con International will be held July 9 to 12 at the San Diego Convention Center.

Featured Venues/Suppliers: