Did the Golden Globes Parties Just Forecast Award Season's Biggest Trends?
The particular political, cultural moment might have influenced the look and feel of the ceremony's biggest events.
January 16, 2017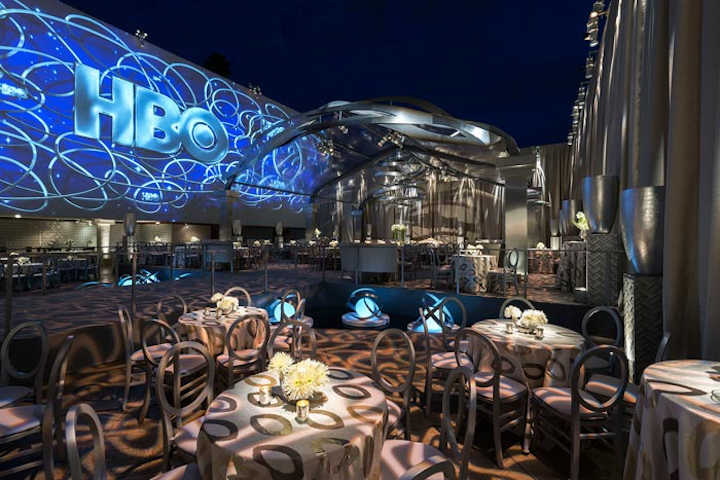 Photo: Gabor Ekecs
While opulent as ever, this year's Golden Globes parties shared a few characteristics that marked a departure from some past events in the 74-year-old tradition. Most of the major parties at the Beverly Hilton went with neutral or metallic color palettes—instead of splashy hues, prints, and patterns—and a more understated, even minimalist look and feel.
Could it be that the reason for the trend, whether intentional or subconscious on the part of producers and designers, is the uncertainty that comes with an emotionally charged political transition? Todd Hawkins, political insider and founder of event firm The Todd Group, thinks so.
"There's definitely a shift, and I would attribute it to the overarching feeling within a [Hollywood] industry so rooted in the progressive and liberal movement," he says. "I just felt it was very safe, [recalling] the recession in the transition between the Bush and Obama years."
Hawkins also noticed a shift in the tone of sponsorship activations, "where companies were wanting to play it a little safer instead of going so grand and so big because of the uncertainty." He noted a specific exception: Moët & Chandon, whose over-the-top, playful activations—such as its ever-popular champagne vending machine operated with golden tokens—blanketed various events. "They were clearly celebrating," Hawkins says.
Those theories aside, some planners behind the events said that, if any such trends emerged, they were not consciously selected. "Our party decor was more earthy this year with its backlit agate walls and bar fronts, but we still wanted a sophisticated, high-end feel that was warm and cozy," said Fox senior vice president of creative services Tomiko Iwata, who worked on the company's major annual viewing and after-party. "It didn't have anything to do with politics."
Another planner behind a major Globes event echoed the sentiment: "Definitely not a deliberate decision to streamline the decor or make it more subdued. We plan our events quite far in advance and the decor inspiration and colors had already been selected prior to any Trump influence or uncertainty."
Speculation aside, here are the top three trends BizBash observed at the Golden Globes parties—which may provide an early glimpse into the look and feel of future award season events this season.
1. Neutral color palette
HBO's party, typically an event that employs bold colors with vibrant prints and patterns, went for an uncharacteristically minimalist palette. Designer Billy Butchkavitz even called it "about as clean and minimalistic as Billy Butchkavitz can get," and referred to it as "a much calmer color palette" than past years. Colors included champagne, gray, khaki, and silver. Likewise, Fox's party got a look inspired by nature, with warm, earthy tones. The Weinstein Company and Netflix's party, too, had a neutral palette accented with luxury touches like glass-like tiles hanging above passageways between party spaces. A notable exception was the InStyle and Warner Brothers event, which was vibrant in its color choices.
2. Statement chandeliers
The main installation at Fox's party was a fixture comprising 800 floating lanterns assembled like a free-formed chandelier, with a view of the night sky through the clear tent above. At NBCUniversal's party, a circular center stage topped by a hanging chandelier provided a focal point to watch the entertainment, and then changed over to an elevated dance floor. Under HBO's floating pavilion atop the Hilton's pool was a metallic chandelier-like fixture. And for InStyle and Warner Brothers, a 20-foot-wide metallic gold chandelier structure also included 500 feet of LED neon.
3. Metallics
Moët & Chandon set up an opulent black and gold color-blocked bar at the end of the show's official arrivals carpet. InStyle's party had many metallic touches in keeping with the event's futuristic, tech-inspired theme. Fox's party employed coppers, golds, and silvers in its look. NBCUniversal's party, too, went with a palette of coppers, golds, and silvers.
Featured Venues/Suppliers: