Rating the MTV V.M.A.s: Event Producers Give 2017 Show a B+
Industry professionals reviewed the 2017 MTV Video Music Awards, discussing the show's "grown-up" vibe, biggest performances, futuristic stage design, and politically charged moments.
August 28, 2017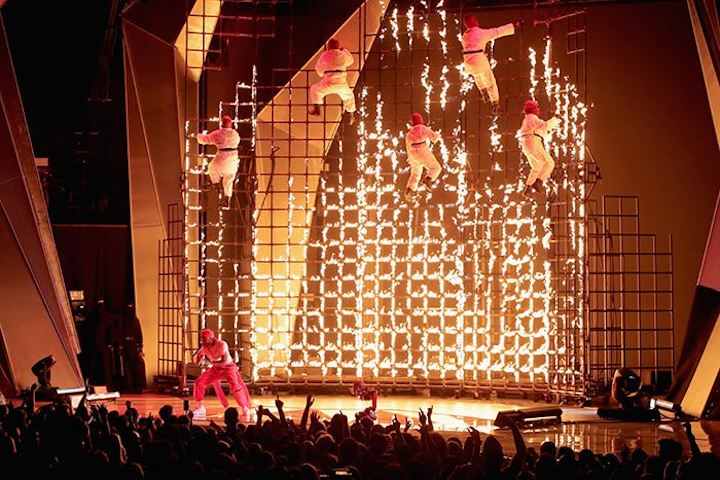 Photo: Christopher Polk/MTV1617/Getty Images for MTV
The 34th annual MTV Video Music Awards returned to California this year after a brief stint in New York. As expected, the music event—which took place at the Forum in Inglewood last night—saw no shortage of buzz-worthy moments. While the world premiere of Taylor Swift's controversial new music video dominated conversations leading up to the show, viewers ended the evening discussing an inspiring speech from Video Vanguard award-winner Pink, emotional calls to action from Susan Bro and Reverend Robert Lee IV, and a memorable light show from Thirty Seconds to Mars. 
Event producers from across the country discussed these moments and more, including the futuristic stage design, the red carpet, and even the commercial tie-ins.
Javier Velarde
What I Liked: The set design was ridiculously amazing. The ultra-modern and futuristic theme is rightly tailored to their younger audience. The reflective surfaces made the set come to life in different hues, colors, and animations. With a total of five stages, the show was able to have more performances. Also, placing the host/presenters in the center of the arena and closer to the audience makes the show more intimate. The stunning set was designed by the U.K.'s Stufish Entertainment Architects. Their work in large-scale live-show design is epic.
What I Would Have Done Differently: The only thing I'd do differently is not force presenters into doing comedy skits. When lines fall flat, it creates an awkward moment in the audience, and crowd energy dips. Humor is best when handled by comedians.
What Felt New: Instead of doing the red carpet outdoors in the blazing sun, MTV smartly created an air-conditioned high-ceiling tent complete with performance stages. The controlled environment is a dream situation for a producer because it gives you flexibility with lighting and not having to worry about weather. The pre-show red carpet was designed by rock star production designer Anne Brahic.
What Surprised Me: It was surprising how much production went into each act. The show didn't cut any corners. Every performance was highly choreographed and thought out. Even V.I.P.s and celebrities had their own dedicated soft seating areas next to the action.
What Felt Like a Missed Opportunity: Not having a "Despacito" performance. With 3.2 billion views, this is the most-watched YouTube video of all time. Not sure why this happened. Having this mega-hit in the show would have made for a huge climax moment.
Letter Grade: A. This was such a well-produced show. MTV did all the right things: The show was perfectly geared to their audience, it had lots of great performances, it took a stand on social issues, and MTV hired world-class production designers. You have to admire people who go all out and are not afraid to take creative risks to do things differently.
Velarde is the C.E.O. and executive producer for Triton Productions, a full-service event design and production firm with offices in Miami and New York. The company works on award shows, premieres, and live and televised events for clients including HBO, SpaceX, ESPN, and LVMH.
Priscila Martinez
What I Liked: My favorite part of the awards took place even before the show started. I loved how the producers planned for six transgender service members and veterans to walk the red carpet. I'll save you my thoughts about our current political climate, but I admire how after Friday's news the show organizers moved quickly to make this touching moment happen. What I loved even more than the group actually walking the carpet was the fact that these military members nabbed headlines and full news features before the V.M.A.s even started. Between this and Robert Wright Lee IV's speech, my faith in humanity was restored.
What I Would Have Done Differently: For somebody who preaches about not liking gossip headlines, Taylor Swift sure did churn the publicity machine for this one—and it worked! We were all hooked waiting to see if she would indeed show up to the Katy Perry-hosted show. I would've wanted for Swift to not merely call it in. She should've made a cameo (even if just to walk the red carpet) in exchange for all the headlines and free press she scored leading up to the big awards show. The premiere of her video would've also felt a bit more apropos should she have physically been present at the V.M.A.s.
What Felt New: MTV making the categories genderless this year was very refreshing. You also have to give it to Fifth Harmony: If you are going to shade somebody, you better do it right. Them literally jetting a mysterious fifth member of the group off the stage was energizing, to say the least.
What Surprised Me: When Jared Leto promised a first-of-its-kind show on the red carpet, not many of us actually expected that. It's a common script for performers to take to the carpet promising something that hasn't been seen before, only to deliver a mediocre performance at best. Not Thirty Seconds to Mars: The band delivered in a big way with their infrared radiation-inspired getup.
What Felt Like a Missed Opportunity: Katy Perry's "wink wink" to our current president felt like a bit of a miss. After a politically charged carpet, Robert Wright Lee IV's speech, and Heather Heyer's mother joining him onstage, I felt Perry should've had the confidence to utter his name at that given moment.
Letter Grade: B-
Martinez is C.E.O. and founder of the Brand Agency, a Los Angeles-based PR and entertainment marketing firm with clients including Macy's, NYX Professional Cosmetics, and K-Swiss.
Justin Boone
What I Liked: The glimpses of maturity peppered throughout. There were rare moments throughout the show that reminded you of true artistry and craftsmanship. These came from the mature voices on the stage. Jared Leto's tribute to Chris Cornell and Chester Bennington was genuinely touching and tactful, especially his commanding call to action at the end for a jaded audience to stand and join him in his tribute. Miley Cyrus's performance showed talent and poise along with an artful statement. Pink's performance showed command of a stage as a seasoned performer. Even Demi Lovato's performance was intelligently thought through—in line with the house-party theme accompanying the release of her summer single, shot with fun, candid shots of a crowd in a Vegas pool and accompanied by expert vocals.
What I Would Have Done Differently: The set was quite disappointing. The polygonal shapes and LED lighting felt very dated—not to mention the LED panels in the stage. The satellite stage appeared too high on camera in relation to the audience, making performers seem as if they was towering over fans, not able to connect with fans during their performances. The bridges through the audience felt heavy and awkward for presenters and winners, while the railings (required for safety) were garish and distracting on camera. But worst of all was the raised seating area for celebrities in the audience. These audience members were exposed—for better and certainly for worse—throughout the entire show. Camera shots cutting to them often added to the awkwardness due to their expressions and noticeable lack of comfort. There was also a lack of opportunity for artists sitting in these areas to connect with their peers during performances. There's a lovely humility that was lacking here that you see at a show like the Grammys, where peers are rooting for each other right there at the edge of the stage. I think that model should not be lost in these shows. I would have sought a better staging layout for artists and fans, connecting them better to the presentations and performances happening in front of them.
What Felt New: Advertisers stepped up during commercials in a way that I haven't seen before in a show like this on a cable network. The Samsung commercials were incredibly clever with their MTV integration. They played into the MTV we know and love as the generation raised on the network. The old-school artistry reflected in the ad creative, delivered on the new technology of the Samsung Note 8, was smart and stuck with me throughout entire show. Other brands that did it right were Cadillac, with their nod to the moon man, and Adidas, with their anthem that dramatically and eloquently spoke to the MTV fan of today.
What Surprised Me: Everyone was talking about the fact that Taylor Swift's new video was going to premiere during the show—easily the biggest thing this show had going for it this year (and kudos to the team who brokered this deal). But I was shocked to see that this happened so early in the show and with so little fanfare. Why didn't Taylor come onstage to introduce the video (or even show up for the awards)? Or if not Taylor, why not dig into the drama by letting our host, Ms. Perry, introduce the video? Why also was there no follow-through after it had premiered? The transition was so abrupt, taking for granted the fact that everyone's eyes were on MTV in that moment, an opportunity to deliver something even more buzz-worthy than the video itself. I was definitely surprised to see that this moment was not better leveraged by all parties.
What Felt Like a Missed Opportunity: As we all know, the moon man is an image that has been with MTV since the beginning—an image that fit so well with its rebellious and pioneering efforts as a network in its early days. With such a focus on the space metaphor during Katy Perry's monologue at the beginning of the show, she truly let me down in bringing it to life in a way that elevated it and leveraged it as a platform to communicate a compelling message to the new MTV audience. I was so deeply disappointed that Katy Perry didn't go into space to do anything more than take selfies on Mars. Even worse, the narrative perpetuated stereotypes around ignorance and apathy about our world, when the proper call to action would be to mobilize society to work toward a better today—and future. After all, for America, space has always represented hope and promise for a better future. Why cheapen it with references to fidget spinners as proper coping mechanisms for dealing with the current events?
Letter Grade: D
Boone is an executive producer, development lead, experience designer, and strategist for Mas Event & Design. The company, which has offices in New York and Los Angeles, has designed and produced events from clients such as Google, Coca-Cola, and Universal Music Group. 
[PULLQUOTE]
Jaime Geffen
What I Liked: Everything was so grand! The Outer Space theme with the mirrors and angled structures on the stage, the overall lighting and designs, the performances and stage props—and of course, the outfits. The theatrics of the show were "out of this world." I also really loved the message weaved throughout the entire night.
What I Would Have Done Differently: Katy Perry's entrance and some of her bits were a bit silly (i.e., the baby vomit). I feel like the show had some serious moments, like the touching suicide prevention performance and Kendrick Lamar's opening message—so some humor was welcomed—but I think she could have tried a little bit less. However, as an event producer, I do appreciate a commitment to the theme, and her astronaut costume was just that.
What Felt New: The interesting use of fire in the opening, and later, the water on the stage with the colorful pyrotechnics thrown in was a great way to infuse texture and color into the metallic silver stage. Also, Thirty Seconds to Mars and their thermal technology cameras was very cool and very eye-catching.
What Surprised Me: Pink's performance was one of the best of the night. She is so true to herself and her music. I love the message she exudes.
What Felt Like a Missed Opportunity: Lorde. I'm not quite sure why she didn't sing? Her dancing was questionable.
Letter Grade: A-
Geffen is the owner of Geffen Events, an experiential design and production firm in Los Angeles. She previously was the co-owner of YourBash, and has designed movie premieres, product launches, and more for clients including DreamWorks, Netflix, and Revolt. 
Matt Stoelt 
What I Liked: The set, stage, and lighting were on point this year. For the first time in the history of the show, producers did a fantastic job of fully integrating the audience and set throughout the entire venue. The set was refined, cohesive, and looked great from both close up and also far away from the long shots on the jib. A lot of thought went into the SFX with several different types of pyro and C02 and the aerial rigging. The use of LED screens in the floor and DMX-controlled bracelets was smart and created dynamic backdrops and scenic accents for the satellite stages. What I liked most about the show this year was MTV's decision to raise awareness and drive support for many issues that are surrounding our youth today, like suicide, racism, hate, and discrimination. Using the show as a platform to drive awareness and advocacy for the National Suicide Prevention Lifeline through the performance of the rapper Logic with his song 1-800-273-8255, and also the announcement of the Heather Heyer Foundation by her mother, were brilliant and made the messages genuine. Our country is in crisis, and this was a very refreshing change from the commercial and cosmetic approach in years past. Finally, Pink's remarks to her daughter during the receipt of her Michael Jackson Video Vanguard award, and about staying true to yourself and making a path for others to find love and acceptance, brought everything full circle.
What I Would Have Done Differently: At the beginning and throughout the show, the cameras cut away to other celebrities and talent in attendance far too often and for too long. Understanding that this is typical during awards shows, producers could have gone without this. Additionally, doing a voiceover of upcoming talent performances and eventually cutting away during Julia Michaels performance seemed a bit off to me.
What Felt New: This year, the V.M.A.s revived a flow and vibe from years ago that has been missing. The show didn't feel forced, and it highlighted both musical talent making a change and messaging that was relevant and meaningful.
What Surprised Me: This year's show was finally a long overdue return to what made the show great from years past. Since its departure from New York and Radio City Music Hall, it has struggled to remain relevant and meaningful, and focusing on the music and addressing significant issues that our youth and country are facing today was both surprising and refreshing as this is typically a commercial enterprise. 
What I Felt Like Was a Missed Opportunity: The V.M.A.s bring so many possibilities to create amazing over-the-top performances, and this year it felt like there were only a few such as Miley Cyrus, Pink, and Thirty Seconds to Mars through an infrared camera. We saw a lot of the same special effects throughout the show, and less creativity. 
Letter Grade: B+
Stoelt is the C.E.O. and creative director of Stoelt Productions, an experiential marketing agency and production firm with offices in Los Angeles and New York. Clients include Pandora, Dior, Billboard, and M.A.C.
Tara Solomon
What I Liked: I was surprised at how grown-up this year's V.M.A.s felt—more inclusive and real, casting a wider demographic net. Katy Perry was a good choice as host—fashionable and fun; we're Team Perry, although we have to admit we enjoyed Taylor Swift's vengeance-fueled world premiere video "Look What You Made Me Do."
Best Mic Time: Jared Leto's touching tribute to his friend, Linkin Park's Chester Bennington; gorgeous Paris Jackson standing up against racism and "Nazi white supremacist jerks" before presenting Fifth Harmony featuring Gucci Mane with the Best Pop Video; Pink's powerful acceptance speech for her Video Vanguard award, which she used to promote gender tolerance and fluidity, citing musical greats from Freddie Mercury to David Bowie to Michael Jackson, with 6-year-old daughter Willow taking it all in while wearing an androgynous suit and tie. And of course Heather Heyer's mother, who announced a foundation being created in her daughter's honor, composed and full of conviction with shout-outs for other cause-related performers including Alessia, who sang about body-shaming. 
Standout Performances: Loved Miley Cyrus's "Younger Now" with a cast of colorful eccentrics including a bullet bra-ed rockabilly grandma and children with roller sets on mini motorcycles; and Rod Stewart in a silver lamé jacket and tight white pants performing his 1970s disco classic "Do Ya Think I'm Sexy?" with DNCE, last year's Best New Artist winner. The lit Saturday Night Fever-esque dance floor and dancing hipsters were a nice touch.
What Felt New: The live remote performances at the recently purchased Palms Hotel in Vegas was a smart move. Demi Lovato was in fine form.
What Surprised Me: The amount of children at the V.M.A.s, and how well-styled the Taco Bell commercial was with the Machiavellian feast, Tudor hipsters, and the girl with the crown made of golden forks. And how much fun was the Martha Stewart-Snoop Dog Ghost spoof commercial?
What Felt Like a Missed Opportunity: Julia Michaels should have had more air time instead of her 30 seconds with a web address to the extended performance. Her voice is angelic and haunting.
Letter Grade: A
Solomon is founder and principal of Tara Ink., a PR and event production firm with offices in Miami, Los Angeles, New York, and Dallas. Past clients include Paper magazine, Alexander McQueen, and Bobbi Brown Cosmetics. 
Chris Weinberg
What I Liked: I loved the high-tech, futuristic 3-D set design, staging, and lighting. The liquid-theme graphics were a fantastic visual enhancement and complemented the set design. I found this all to be stunning—original, creative, and clean to the viewer watching on TV. The added textures of pyrographics, flying overhead entertainers like Katy Perry, and fun camera filters created a visual feast for the viewers' eyes. I also liked the various social-justice messages and political statements, especially Heather Heyer's mother's speech, and I was happy to see them included in the show along with the addition of the "Best Fight Against the System" category. I also give the V.M.A.s a shout-out for dropping the gender-specific categories of Best Male Artist and Best Female Artist this year, creating one Artist of the Year category for all. The message of inclusivity is empowering.
What I Would Have Done Differently: I would not have allowed Lorde to perform an interpretative dance. She is a singer—yes, I know she is a performer too, but it just seemed weird and out of place to me.
What Felt New: The fluidity was definitely new. This year's show felt much faster-paced and fluid. The camera angles, the neon filter, the editing of some live performances, and the TV voiceovers before commercial breaks—it all made the the show feel more streamlined. The interaction between Katy Perry as M.C. and the presenters was very smooth as well.
What Surprised Me: In a good way—and because I didn't expect it—I loved the pairing of DNCE and Rod Stewart. Rod looked great and the synergy was there.
What Felt Like a Missed Opportunity: Given the political tone of this year's show, I would have liked to see a live performance by a large and diverse group of popular music artists—perhaps a mash-up of the social-message nominees, coming together on stage to stand up against the issues that divide this country and all of humanity. Produced, of course, with strong video visuals because it's the V.M.A.s!
Letter Grade: B+
Weinberg is the founder and chief experience officer of Chris Weinberg Events, a Miami-based event design, planning, and management firm specializing in weddings, mitzvahs, and social and corporate events.
Featured Venues/Suppliers: