Top 10 Innovative Brands 2018: #7 WeWork
Through its rapidly expanding Creator Awards and hundreds of global workspaces, the company is providing venues and resources for community, networking, and face-to-face collaboration.
October 10, 2018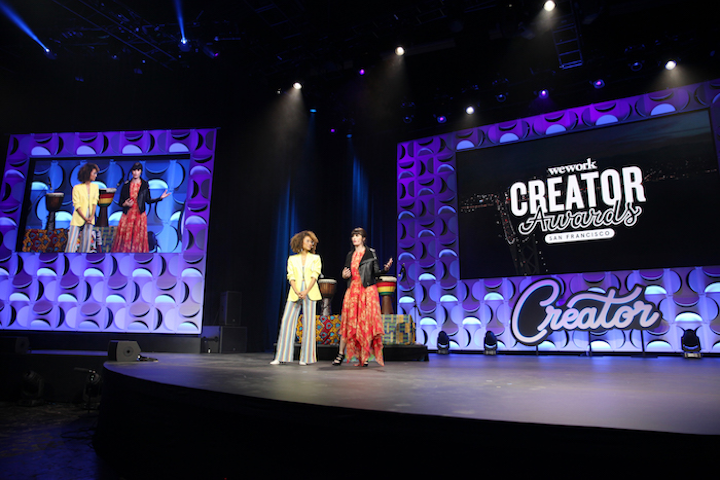 Photo: Kelly Sullivan/Getty Images for the WeWork Creator Awards
WeWork is no stranger to bringing people together. Founded in 2010 in New York, the now-global company quickly became a go-to place for entrepreneurs, freelancers, and start-ups to get work done in convenient, community-driven, and design-forward shared spaces. 
Valued at a jaw-dropping $20 billion, the company continues to grow rapidly; it now has 461 office locations in 90 cities around the world. Most of those spaces, which tend to take over unique, design-forward venues, are available for event rental even without a WeWork membership.
But that's far from the only way the brand is taking on the world of live gatherings. In January 2018, the company hosted its first WeWork Creator Awards in New York. The awards showcased the company's ongoing global initiative, which gives funding to entrepreneurs, small businesses, nonprofits, and more, as well as offers employment opportunities and learning experiences. The awards have since expanded to almost 15 different cities in the past year, with additional events in London, Berlin, and Seoul in the works. 
[PULLQUOTE]
The company's vice president of strategic events, Karly Giaramita, works with a team of more than 50 people worldwide, including event producers and project managers in New York as well as regional partners around the globe, to handle the volume of events.
"Over the years, we have had a broad variety of events—in type, size, location, and purpose—which has given us perspective and valuable insight [that we've applied] to the Creator Awards," says Giaramita, who adds that the New York department is split into three teams: one that focuses on the staging and the show itself, and two more that handle all other aspects of the event. 
"Those two teams alternate cities so they aren't planning back-to-back events," she explains.
In addition to throwing a fun, attractive, and creator-focused award show, Giaramita says that she strives to use technology in effective ways to help with the logistics of producing so many events in a short period of time.
"One example is our increasingly effective ability to leverage R.F.I.D. tracking technology," she says. "It helps us track traffic inside a venue, implement efficient payment or ID scanning, organize breakouts, and much more. It allows us to analyze these aspects of our events afterwards, which informs our strategy for the next one."
The Creator Awards are not WeWork's first foray into large-scale events. The company has been hosting its Summer Camp, an annual nostalgia-driven conference for WeWork members and staff, since 2012. The most recent edition was held in the English countryside in August, drawing thousands of people for a weekend of curated programming, music, arts, and creative workshops. 
"It's a critical time for all of us to feel connected to each other and to WeWork's mission and purpose," notes Giaramita. 
This year's Summer Camp also showcased the brand's commitment to sustainability. The event did not serve meat, which organizers estimate saved 10,000 animals in three days. WeWork also partnered with third-party organizations to collect and distribute leftover food and unwanted items to refugees across Northern Europe.
"As a global community, we believe we have a responsibility to be more conscious global citizens by examining our impact on the environment, our communities, and our members," says Giaramita. 
WeWork continues to put its money where its mouth is when it comes to face-to-face events: In November 2017, the brand acquired Meetup, a popular platform where users can schedule gatherings and build communities around a common interest. Giaramita says that the acquisition will continue to enhance WeWork's ability to provide space and opportunities for collaboration and networking. 
"WeWork is about more than just physical space," she explains. "We have always seen ourselves as providing our members and employees with technology, community, and culture, as well as a venue in which to have these experiences. Face-to-face connection is central to our mission as an organization. Combined, Meetup and WeWork will create new and innovative ways to bring people together, using technology to get off the Internet and make local community real."
Back to the Top 10 Innovative Brands list
Featured Venues/Suppliers: