How BET's Buzzy Fan-Focused Festival Draws 170,000 People
Next week's seventh annual BET Experience—a free fan festival leading up to the BET Awards—will host celebrity sports games, pop-up experiences, and concerts from the likes of Cardi B and Mary J. Blige.
June 13, 2019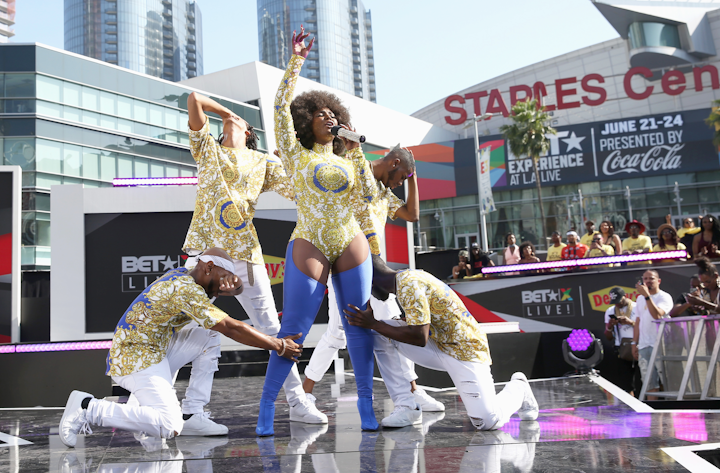 Photo: Bennett Raglin/Getty Images for BET
LOS ANGELES—Question: Where can you find a celebrity dodgeball tournament, a panel discussion with prominent activists, a fashion show, and a Mary J. Blige concert all in one place?
Answer: the seventh annual BET Experience—or BETX—taking place June 20 to 23 at L.A. Live in downtown Los Angeles. The eclectic festival, presented by Coca-Cola, is a fan-focused gathering that culminates in the BET Awards on June 23. BET launched the festival in 2013 as a way to connect fans with the music, comedy, and entertainment, and capitalize on the buzz surrounding the BET Awards.
"The BET Awards are, and has always been, a cultural magnet," explains Richard Gay, head of BET Experience. "We bring all of this talent, all of these fans, all of our sponsors—all of our key constituents—together for the greatest celebration of black music and culture on television. The BET team realized that the opportunity to tap into this energy and effort extended well beyond a single night, and the BET Experience was born."
What sets the festival apart, though, is that tickets to many of the events are free with advance registration. Guests can experience runway shows with lines from Karl Kani and Sprayground, panel discussions with Lena Waithe and Yara Shahidi, sneaker customization classes, and more. New components this year include a gaming tournament and "Next Rap Star" competition, where rappers will compete for a chance to perform at next year's festival.
"We focus on both established and emerging talent that our audience can experience for free at the fan fest," says Gay. "We add new activations based on where we see culture going and on what our audience tells us. We bring in speakers to address issues and topics that are on our consumers' minds, and that affect our consumers' lives."
Nightly concerts at the Staples Center, where top acts including Blige, Cardi B, Migos, H.E.R., and Meek Mill will perform, do require paid tickets, as does a celebrity basketball game that raises money for charity. Tickets at the highest price points even offer access to the BET Awards themselves.
Of course, an event of this magnitude doesn't come without its hiccups—most notably, a public dispute with Nicki Minaj earlier this year after a snarky tweet directed at her from the network's account. Minaj canceled her BETX appearance, and BET has since apologized. And during last year's BET Awards, the pre-show broadcast was interrupted when fire marshals said the red carpet was over capacity.
"These are things we are used to dealing with," says Gay. "BET does huge events with huge talent. AEG knows how to operate safe and secure events in L.A. The LAPD and fire department are great partners to us, and we have a great slate of vendors who are the best at what they do."
"It literally takes a village to pull this event off," he adds, noting vendors include Joe Lewis Company and Hustle and Company. 
Another part of that village is sponsors, which allow many of the events to remain free. "Our long-standing partners really understand what BETX is and they bring a lot to our event," explains Gay. "The Coca-Cola stage is always hot. Sprite and the Kicksperience. Our partners at McDonald's bring their own positivity to the event. Nissan, Mars, and many, many others all enhance the consumer experience. Our sister companies also come out on full force—Nickelodeon, Comedy Central, and more. [They're] all combining to bring a broad experience to our consumers."
Overall, the network expects to draw 170,000 fans this year, an increase from last year. "We have been on a great run and hope to keep building," says Gay. 
The 19th annual BET Awards take place at the Microsoft Theater on June 23 and air live on BET. Actress Regina Hall will host, and Blige will be presented with a lifetime achievement award.