How This Event Planning Firm Pulled Off a Socially Distant Rooftop Soiree
Eager for some social-distancing inspiration? Here's how Atlanta-based Juice Studios turned a rooftop venue into a safe space for gathering.
September 1, 2020
Various kinds of tables and lounge area groupings were reserved for limited guest counts and seats marked off for social distancing.Photo: The Decisive Moment
ATLANTA—As the city of Atlanta began to reopen with new guidelines and regulations, local event planning company Juice Studios noticed many "what ifs" popping up in conversations with fellow industry professionals and clients. Many still questioned what events would look like. These uncertainties inspired Juice Studios' most recent operation: a socially distanced outdoor event on the tented terrace of The Roof at Ponce City Market, demonstrating the industry's ability to adapt and recreate. 
Despite the open-air venue allowing for a capacity of 250, the Juice Studios team sent out roughly 90 invitations, aiming for representation in all areas of the industry. Communication was a priority, with a final guest list of about 50—which was shared with each attendee. "We wanted people to be able to see who was coming and the numbers," said Hailey Hlebec, sales manager at Juice Studios. "We didn't want them to feel like they had to ask." 
As with any event—especially amid COVID-19—there was no shortage of problem-solving. "One major challenge was: 'Should we even do this?'" said Hlebec. "We knew we were ready; we knew our partners in Atlanta were ready, but would our intended attendees be ready?" Ultimately, it appeared the answer was yes, with an overflow of support from local industry leaders and vendors eager to participate. 
Prioritizing safety while also putting efforts into optimizing creativity and strategy, Juice Studios was challenged to think outside the box. In addition, host venue Ponce City Market had a very detailed plan of its own guidelines: Think a pre-planned timeline for vendor setup, a sanitation crew dedicated to periodic cleaning, and execution of temperature reports. Plus, the venue's oversize freight elevator allowed guests to be transported up to the rooftop's entrance while maintaining their distance from other attendees, and, although not required due to the outdoor nature of the event, branded masks were provided to attendees, who were encouraged to wear them while at the event. 
The evening showcased new takes on food stations, bar setups, photo ops, and more, tweaking each touchpoint to meet sanitation measures and ensure guests felt safe throughout the event. Pre-poured wine, single-use glassware, and individually covered hors d'oeuvres were among many of the team's innovations that followed protocols without sacrificing the Southern-hospitality feel. 
"It turned out to be a night we knew we all needed—a night of hope, a night where we could be in person and feel safe, and one that could affirm what we all already knew: We can do this!" said Hlebec. "We finally had something tangible that could back our words: Here in Atlanta, we are strong, we are connected, we are committed, and we are still creating." 
Juice Studios plans to turn the event into a three-part program, with future showcases including a socially distanced seated dinner at the Georgia Aquarium, and a reception with interactive team building elements on the field at Mercedes-Benz Stadium. 
Keep scrolling for a closer look at the summertime-inspired outdoor event. 
Vendors: The Roof at Ponce City Market (venue, bar, staffing) | Juice Studios (planning and production) | Proof of the Pudding (food stations and associated culinary staff/team) | Active Production and Design (videography) | Your Event Solution (decor and florals) | Button It Up (experiential photo booth) | The Decisive Moment (photography)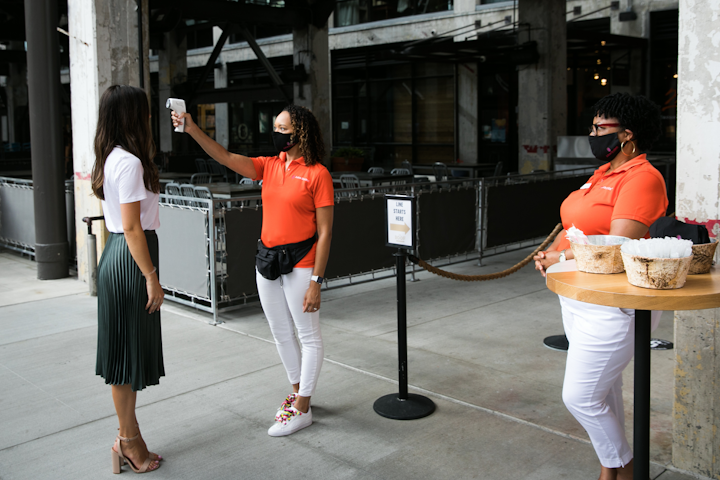 Photo: The Decisive Moment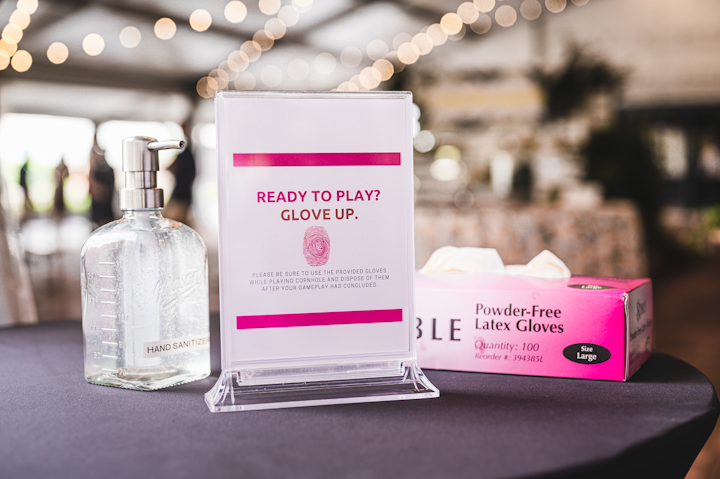 Photo: The Decisive Moment
Photo: The Decisive Moment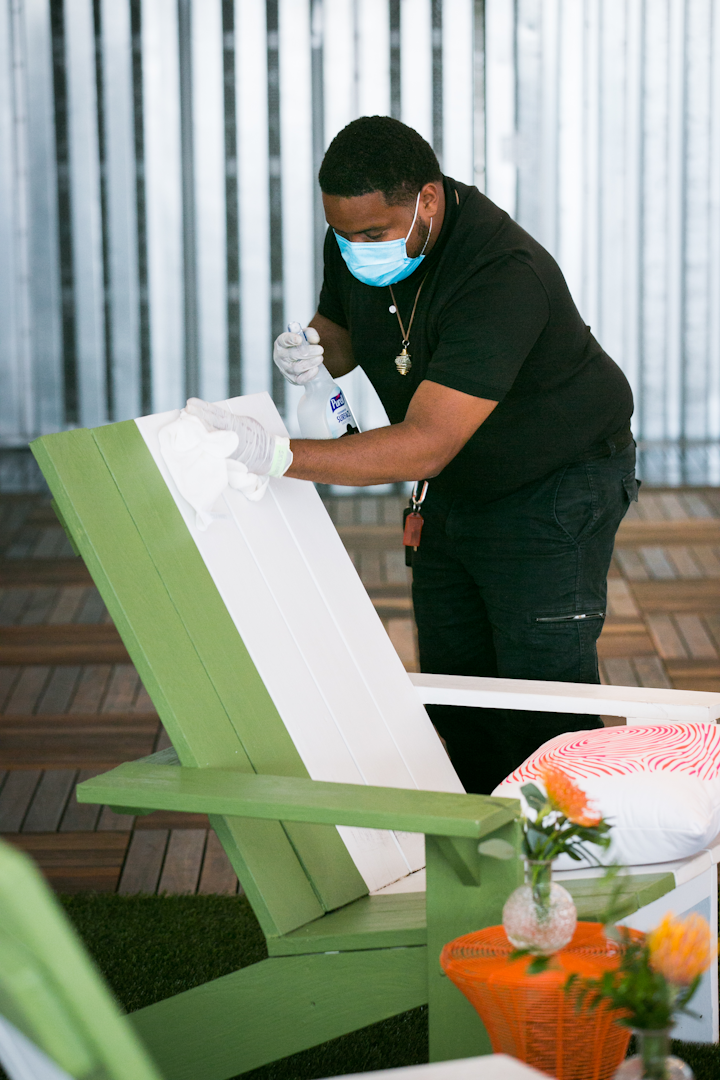 Photo: The Decisive Moment
Photo: The Decisive Moment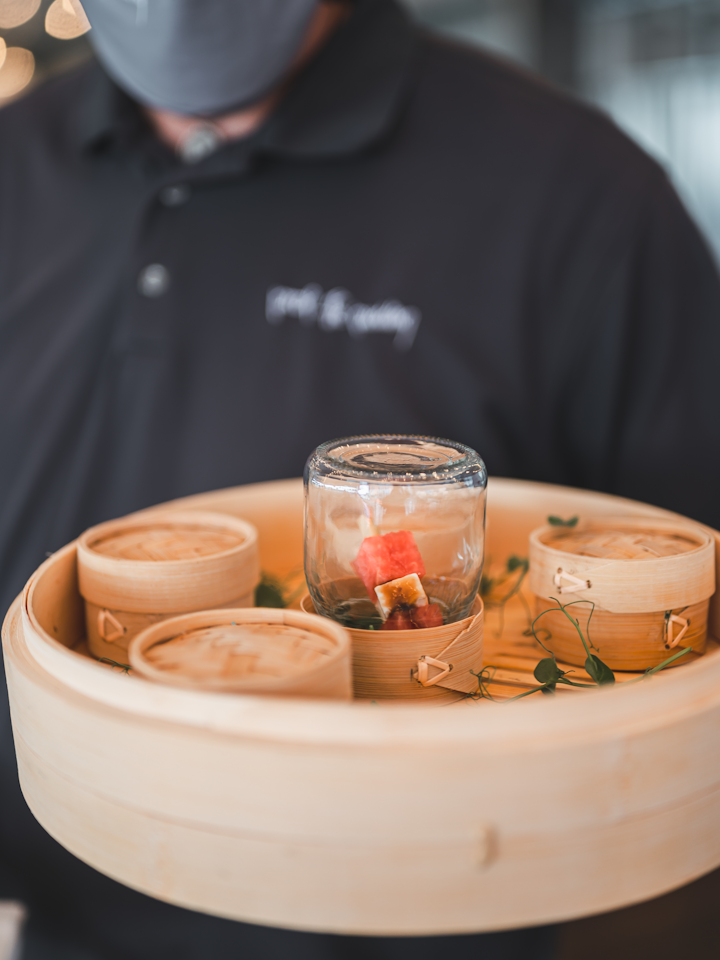 Photo: The Decisive Moment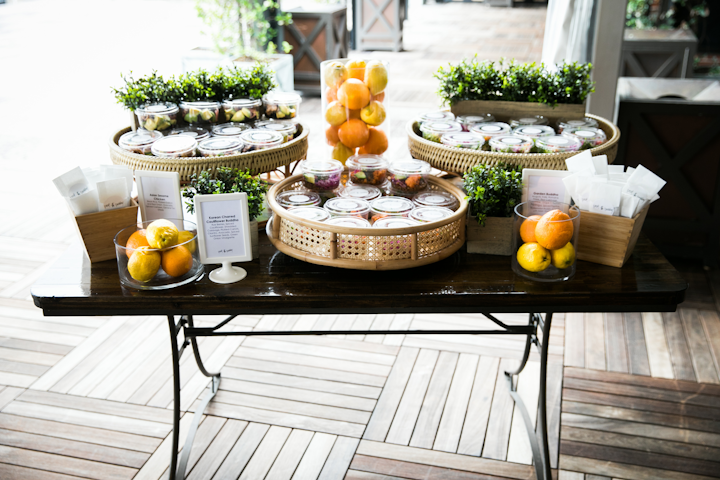 Photo: The Decisive Moment