How This Experiential Agency Is Using Its Mobile DJ Booth to Spark Change
The team behind the Roaming Hunger food trucks is using its pop-up skills to facilitate conversations at Black Lives Matter protests.
July 6, 2020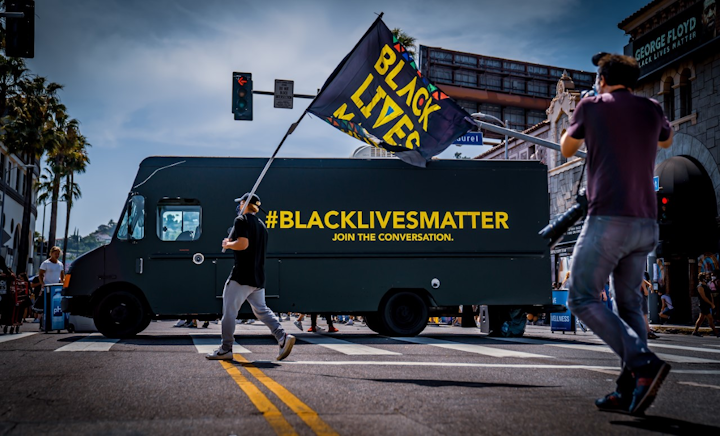 Photo: Courtesy of The Conversation Truck
LOS ANGELES—When Black Lives Matter-related protests broke out throughout the country in early June, the team at RMNG immediately began looking for ways to help. The experiential marketing agency, which was built in 2009 to support Roaming Hunger food trucks, regularly creates mobile tours and pop-ups for brands such as Heineken, Toyota, and Bumble, including a recent activation that brought Lipton Tea to hospital workers in New York and New Jersey.
The team knew those same skills could translate to facilitating meaningful conversations and action at the demonstrations—and The Conversation Truck was born. The mobile truck with a DJ booth inside has now become a fixture at protests and related events throughout the Los Angeles area, and is designed to be a safe space for activists to share their stories, feelings, and ideas for change.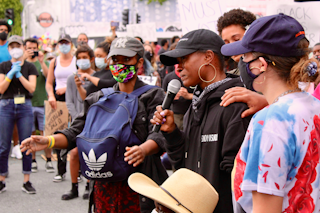 The truck is designed to amplify underrepresented voices; past speakers have included celebrities and activists, as well as members of the public who want to share their stories.Photo: Courtesy of The Conversation Truck
"The Conversation Truck was sparked by the protests, but it was really a culmination of everything we've been doing for the past 11 years," says Alyssa Mason, head of accounts at RMNG, who notes that the company's work has always centered around mobility and location expertise, as well as bringing an experience directly to the audience—whether that's at a major festival, in the middle of Times Square, or at a community gathering. "It's like the moment you've been training for, when all the pieces come together to create something that's authentic and simple, but deep and powerful."
The idea for the truck was born from a team meeting on June 2, where staffers brainstormed ways to show support for the Black Lives Matter movement. "We knew when an idea didn't feel right, so we kept digging to get closer to our core values and identity," remembers Mason. "We're lean but creative, so we asked ourselves, 'What's the biggest impact we can have with what we've got?'" 
Mason and the team spent the next 72 hours solidifying the concept, and the truck first appeared at a protest on June 5. "That first day garnered 500-plus protestors sitting on the streets of Laurel and Sunset [in Los Angeles], listening to Black voices from the community sharing stories of pain, hope, and calls to action," says Mason. "It's hard to describe how powerful that day was. We knew we had accomplished what we set out to do." 
Since then, RMNG has worked with community organizers and leaders to bring the truck to eight local protests and cause-driven events. Some content is curated in advance, such as conversations with celebrities and activists such as comedian Tiffany Haddish, rapper Machine Gun Kelly, and musician Macy Gray; depending on the type of gathering, reps also invite members of the public to share their stories. Local community leaders typically serve as emcees, and some of the conversations are recorded and posted on Instagram.
"We've had people sing, cry, laugh, and share stories of pain and hope. Dance parties have spontaneously broken out. We've had people from all over the map, community leaders, celebrities, activists, etcetera," says Mason. "The goal is always to create a safe space for uncomfortable conversations."
RMNG hopes that the Conversation Truck can continue to facilitate conversations in Los Angeles and beyond—particularly as the November presidential election draws closer. "Right now, we're focusing on Black Lives Matter," says Mason. "We intend our platform to be utilized for other underrepresented voices and as a vehicle facilitating change through voting. The beauty of our industry is that we are mobile and have a network of 18,000-plus mobile units that we can deploy across the country, creating an interactive and impactful voting registration tool. With elections fast approaching, we know a program of this nature will help encourage social change."
The Conversation Truck has appeared at eight protests and other cause-driven events in Los Angeles; in the future, the team hopes to deploy mobile units around the country to assist with voter registration.Photo: Courtesy of The Conversation Truck