Missing Live Sports? Tennis Channel Used a Drive-In Theater to Recreate the Experience
The network hosted a free drive-in event to build buzz for the Credit One Bank Invitational—and to support local businesses.
July 7, 2020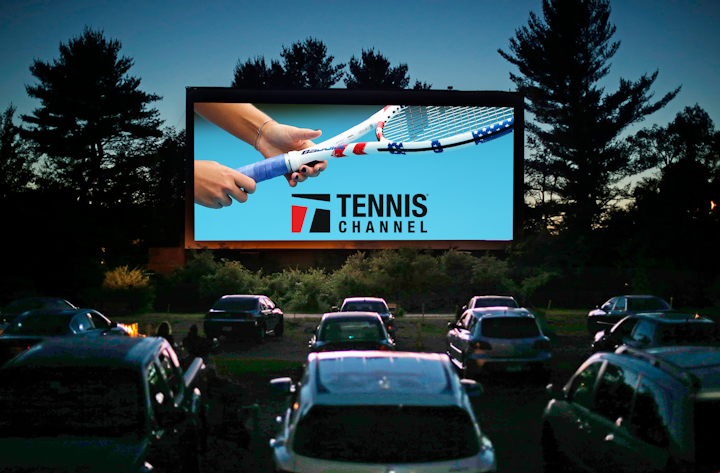 Photo: Courtesy of Tennis Channel
CHARLESTON, S.C.—In the world of COVID-19, when most live events have come to a halt due to physical distancing orders, one unexpected event format is skyrocketing in popularity: drive-in theaters. The concept goes far beyond film screenings; in recent months, it's been used for everything from concerts and food festivals to product launches and even weddings.
And big-name brands, such as Tennis Channel, are taking notice. On June 23, the Sinclair Television Group-owned sports network hosted a drive-in event to kick off the Credit One Bank Invitational, which took place June 23-28 as part of tennis's (Re)Open Tour series of events and exhibitions. The 16-player tournament, presented by Tennis Channel, raised funds for frontline healthcare workers at the Medical University of South Carolina. 
While the tournament itself had no spectators, it was important to Tennis Channel to provide a space for fans to gather in person. The event took place at the Terrace Theater, a local movie theater that recently converted its carpark into a pop-up drive-in. The outdoor area was themed out for the event, and attendees were given free refreshments and Tennis Channel swag while they watched the night's match on a large screen.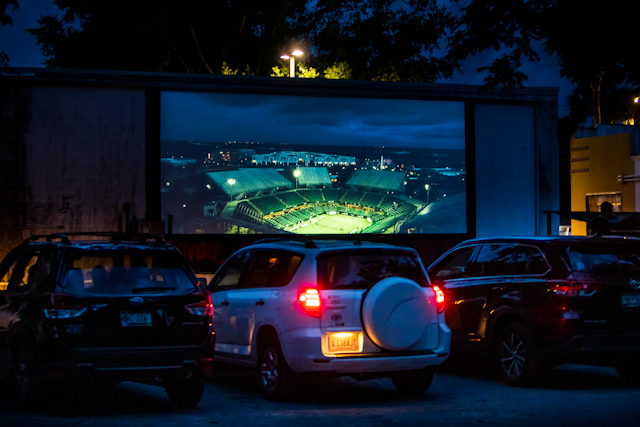 The free event was limited to 26 cars, and all attendees were gifted with refreshments and Tennis Channel swag.Photo: Mic Smith on Behalf of Tennis Channel
Tennis Channel is no stranger to creating in-person activations at local and regional events. "We execute an array of different activations at regional events including wine tasting evenings, yoga classes with celeb instructors, meet-and-greet receptions with our on-air talent, and customized and branded VIP areas for fans on site," explained Neil Roberts, executive director of marketing for Tennis Channel. "As much as we can, we like to work with marketing partners on both national and local levels to maximize our consumer reach and network awareness."
During COVID-19, the channel has hosted a few virtual events, including a recent town hall with The Wall Street Journal that drew some 500 guests for discussions on the future of tennis during COVID-19; Sports Illustrated editor Jon Wertheim moderated. But the drive-in event was a new idea for the brand.
"I had initially looked at doing a drive-in event back in 2019, but couldn't get any traction," said Roberts. "Due to COVID-19, we knew going into this particular tournament that fans couldn't enjoy the Credit One Bank Invitational from the stands and in-person, so we started to explore alternate ways for them to experience the action in a comfortable and safe setting. I knew drive-ins had suddenly become a hot marketing tool for concerts and film premieres, so I was inspired to take the same idea—but to show live tennis instead."
He added, "It seemed like the ideal solution to safely gather fans in a way that simulated watching tennis together—all while keeping a safe distance."
Related: Are Drive-In Theaters the Future of Events?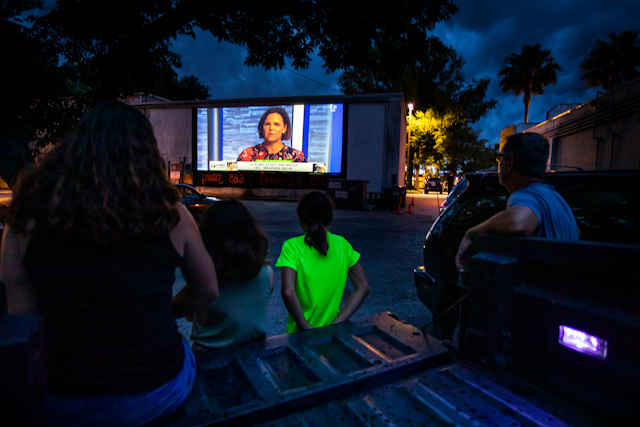 "It seemed like the ideal solution to safely gather fans in a way that simulated watching tennis together—all while keeping a safe distance," explained Tennis Channel's Neil Roberts.Photo: Mic Smith on Behalf of Tennis ChannelThe event was purposely kept small, with just 26 cars in attendance. It was promoted on the local ABC stations, by local tennis clubs, and on social media, and free entry tickets were given out on a first-come, first-serve basis. Throughout the night, guests were encouraged to post on social media. "A lot of people hadn't been to a drive-in for many years, so it was a fun experience to sit under the stars and watch some tennis," said Roberts.
Working from his home base in Santa Monica, Calif., Roberts relied heavily on the team at Terrace Theater to execute the event. "[The owner] Paul Brown had been doing drive-in events for a few weeks, so he had a well-oiled machine," said Roberts. "Ensuring we could get good picture quality was an absolute must. It needed to feel as if fans were right there in the action, in-person. We did a test two weeks prior to make sure the image was sharp and crystal-clear, and we were thrilled with the outcome."
It was also important to Tennis Channel to help support a local small business, which would normally see an economic boost from the tournament. "It was a big component of doing this because usually I would be doing events or viewing parties locally," said Roberts. "So I thought, what can I do that would still use local caterers, local venues? ... It was a good experience for everybody concerned."