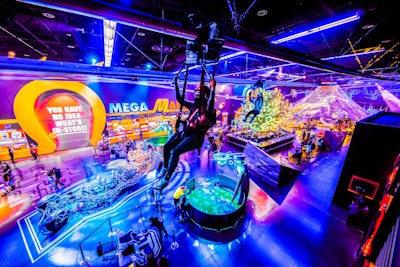 Photo: Peter Ruprecht
"Events are perfect ways for retailers to sell things, whether it's through product launches or walk-through experiences or pop-ups," said Winston Fisher, CEO of Las Vegas's 1-year-old AREA15 entertainment and retail complex, in an interview with BizBash last fall. "If you can dream it, you can build it."
Fisher was explaining the idea behind the 200,000-square-foot space that embraces the concept of "experiential retail" through events, activations, art galleries, VR experiences and more. But AREA15 isn't the only retail venue leaning into experiential marketing techniques to enhance the shopping experience. With the COVID-19 pandemic, when brands are struggling to get consumers back into their brick-and-mortar stores, they're being forced to think outside the box—and many are recruiting event producers and experiential experts to help.
Case in point: Guitar brand Gibson's new 8,000-square-foot flagship store in Nashville, dubbed the Gibson Garage. Described as a "sensorial experience," the creative space allows visitors to test drive guitars, learn how to play, explore Gibson's history, watch live performances and even design their own custom Gibson guitars.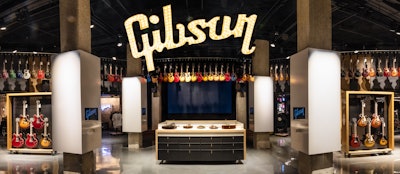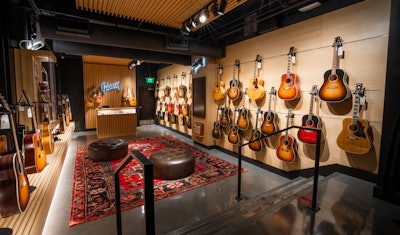 To pull off this type of interactive, immersive space, Gibson tapped three sister creative agencies—GPJ, G7 Entertainment Marketing and Shoptology. "[Gibson] knew they had a great brand and a great story to tell, but they were keenly aware that guitarists can spot a poser," says Paul Hemsworth, VP and executive creative director for GPJ, about why the brand was drawn to an experiential agency. "I'd like to think that they saw how we respected the brand's integrity and authenticity from very early on and that we were very careful to protect that and use it as a kind of sacred source of energy, each step of the way."
Hemsworth thinks there are four main things consumers want from retail stores today—and the concepts aren't so different than the goals of any live experience, particularly in a post-pandemic world.
Sensorial immersion. "We've all been quite literally 'out of touch' during the isolation of the pandemic. People want to see, hear, taste, touch and smell again," he notes. "Harnessed correctly, the senses can immerse fans and imprint indelible memories that far outweigh those that can be offered online."
Tribal connection. "Again, after a year-plus of isolation, I think people want to reconnect with like-minded fans who are passionate about the same brands," Hemsworth adds. "Music is a community."
Discovery. "Successful, immersive retail experiences are mash-ups of a collection of experiences we all gravitate to. In the case of the Gibson Garage, we're combining the energy of a live music venue with the spontaneity and discovery of a bazaar or flea market and the highly saturated, brand-centered story narrative of a themed attraction or interactive museum."
Transformation over transaction. "With so much search-and-shopping behavior happening online now, and so many eCommerce options available to consumers, the live retail experience needs to strike a balance between transaction and transformation," Hemsworth notes. "The key here is to focus more on engaging experiences that transform casual visitors into brand advocates and advocates into evangelists, with the belief that they all will eventually be customers or will influence others in their circle."
Other brands leaning into this concept are AT&T and WarnerMedia, which have tapped experience design firm HUSH to help reinvent the in-person retail experience with HBO Max's The Orbit, which uses machine-learning technology to enable users to explore HBO Max's content library. First available as a smaller, virtual experience at SXSW 2021, The Orbit is now debuting at AT&T flagship stores in Chicago, Dallas and San Francisco, where shoppers can stand in front of a large interactive wall and browse the library by using touchless gestures, talk and facial expressions. Clips from a participant's favorite shows magically appear to match their body movements, facial expressions or their favorite spoken phrases. Check out the video below:
"As the world starts to venture out again to safely and responsibly seek interaction with peers, compelling ideas and new information, we hope The Orbit satisfies their appetite," says HUSH founding partner David Schwarz. "While much has been virtualized in the last year, we firmly believe that creating refined, inspiring experiences that engage the five senses will be the great differentiator for how modern explorers will choose to rediscover the world around them."
Of course, the concept goes beyond brands' brick-and-mortar locations. Some retailers are hitting the road for their experiences, like Ralph Lauren's Polo Shirt Pop-Up, which is traveling to various cities around the country this summer. Aiming to celebrate the brand's iconic, monochromatic polo shirt, the colorful pop-up offers popsicles, photo ops, cornhole games and more, all accompanying samples of the brand's new made-to-order polos featuring custom monograms and other details.
And the experiential retail trend shows no sign of slowing down—and continues to evolve. Debuting this fall is Holocene Chicago, a yearlong pop-up experience billed as an experiential platform for brands that want to go beyond the typical shopping experience. Taking over the 135,000-square-foot Medinah Temple in Chicago's River North neighborhood, the space will house three floors, each providing a different interactive retail experience complete with culinary activations, live performances, art exhibitions, influencer-led events, workshops and more. Brands will operate residency-style throughout the yearlong duration, ensuring that the experience changes regularly for returning patrons.
Real estate company Blue Star Properties tapped an experienced team of creatives to design, curate and operate the venue, including hospitality collective 16 on Center, retail pop-up specialists PopUpSummer, and Emmy-winning creative director David Korins (known for his set design work on the 2019 Academy Awards and the Broadway hit Hamilton).
"It was obvious to us that retail has changed, particularly in Chicago, and we saw this as an opportunity to bring life back to shopping downtown in a different way," explains Craig Golden, principal of Blue Star Properties. "In a marketplace where you are always one click away from your chair on a phone to order a product, we just thought there needs to be more to get people to come out and experience the joys of human interaction, hands-on discovery and the entertainment of shopping again."