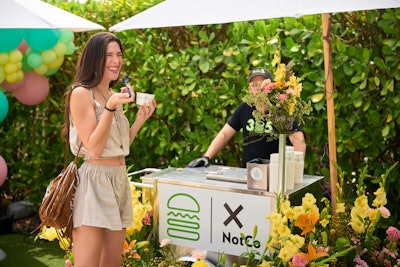 Photo: Dylan Rives
MIAMI—Shake Shack and NotCo, a Chilean-based food tech company, announced their first plant-based menu collaboration at select Florida and New York Shake Shack locations back in May, setting the plant-based food world abuzz.
The partnership's limited-time eats include a non-dairy chocolate shake made with NotCo NotMilk and a non-dairy chocolate frozen custard—both promoted under the tagline "all of the sweet, none of the dairy."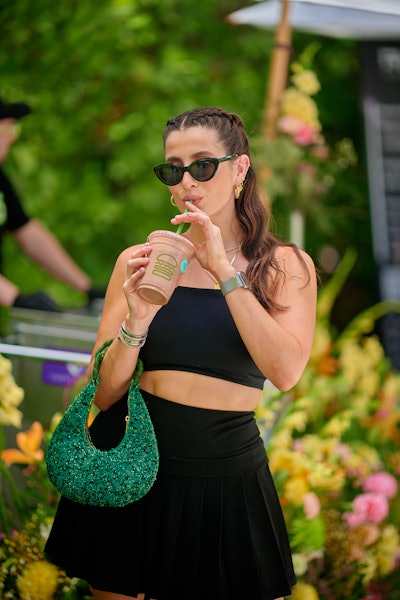 To help raise awareness in local markets, Shake Shack and NotCo tapped event management company A21 (formerly Agency 21 Consulting) to produce a memorable summertime retreat at the W South Beach in Miami.
About a week before the July 24 launch event, invitees received an in-person visit from the "NotMilkman"—a performer dressed in a classic milkman's costume. He delivered a Shake Shack- and NotCo-branded cooler filled with conscious, plant-based goodies and self-care products along with the guests' launch event invitation. The sticker-covered cooler featured items from the NotCo product line, and nodded to Miami with a "305"-embroidered Shake Shack baseball cap, Miami Beach Bum cream, lip balm, collagen mask, and more. Lauren Melamed, director of integrated marking at A21, called the invitation strategy "the ultimate recipe for engaging social content."
And once the event was underway, the two brands wanted to create an environment reflecting their consumers' psychographics and healthy lifestyle habits.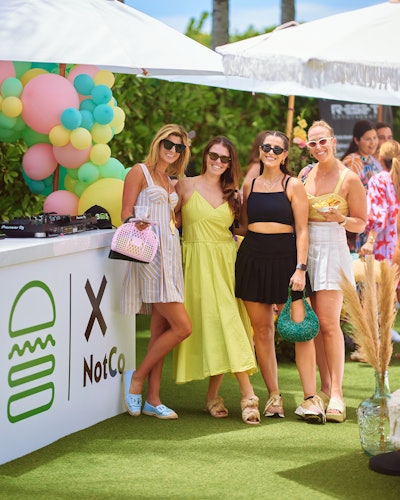 "Taste usually isn't the main reason people are attracted to plant-based foods—most people are interested in plant-based because they feel they are better for their health and the environment," said Natalie Liener, director of brand and consumer marketing at NotCo. "When launching [the products] in South Florida, we thought, 'What better way to bring this to life than leaning into the idea of treating yourself to something truly delicious and coupling that with a little R&R?' ... It's just what we all need to refresh and feel our best—and, of course, a delicious shake is the perfect treat to cool down."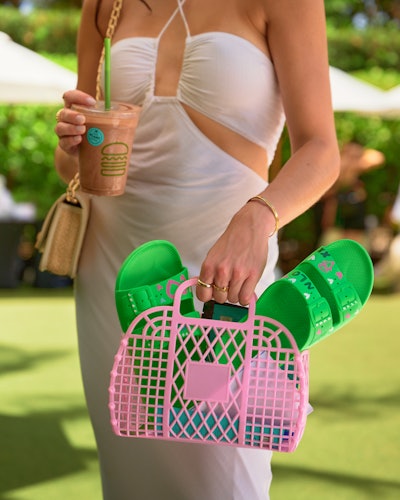 The Sunday afternoon soiree took over the W's private lawn, welcoming 50 Miami-based influencers and media to enjoy new plant-based sweets, while also savoring an event-only veggie burger. The event paired the eats with Shake Shake's famed hand-cut fries, and Shack burgers were available upon request.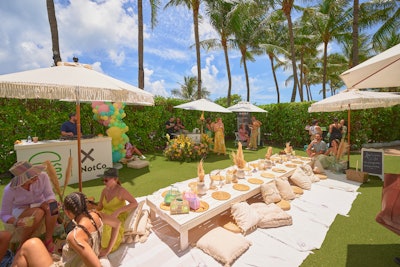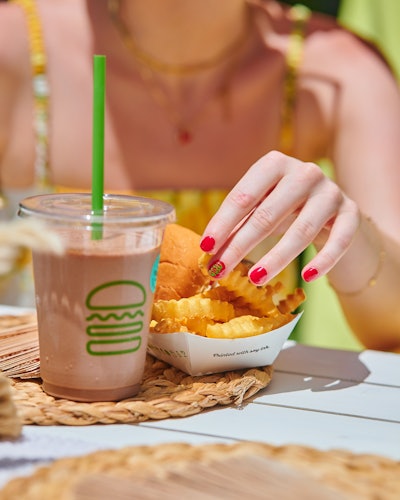 A21 anchored the outdoor space with a bohemian-inspired center table by The Picnic Pop-Up, which was surrounded by pillows and sun-shielding umbrellas. Local purveyor Zoom Bloomz gave the space life by flanking the table and custard station—designed by Panache Events—with fresh, tropical flowers. And the pastel balloons that towered over DJ Gio Barrios' booth made it a popular photo op.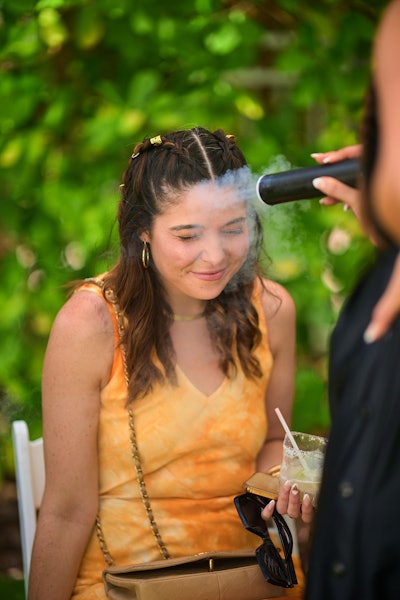 RESET Cryotherapy helped guests escape the midday sun with refreshing cryo facials. And attendees stayed busy with numerous interactive, customizable lifestyle experiences: Freedom Moses Sandals partnered with LC Original Paintings to hand-paint on-theme doodles (think: burgers, fries, and mushrooms) onto the company's signature summertime slides in white, black, or neon green.
In another area, Vanity Projects treated eventgoers to nail art designs, including ice cream cones and chocolate-"dipped" fingertips. And SBT Stitches hosted a custom hat embroidery station donning trendy black and beige bucket hats where guests could select from eight thread colors, four fonts, and four designs to curate their newest go-to accessory. Meanwhile, Calla Blow Dry had a braid bar with multiple style options and hair embellishments.
"We wanted to give friends of the brand a chance to sample and enjoy the NotCo shakes and custards in a fun, engaging setting," said Michael Hammer, regional director of operations at Shake Shack. "What better way to enjoy the Miami summer and beat the heat than a little R&R experience and some of our delicious menu items?"
Scroll down to see more photos from the event.