Photo: Alex Lepe
NEW YORK—If there's anything New York City is quintessential for, it's the particularly small apartments that may be expensive but, to most New Yorkers, are oh, so worth it thanks to all the Big Apple has to offer. While most New Yorkers understand living small, Apartment Therapy's Small/Cool NYC pop-up activation proves how anyone can maximize a space by thinking outside of cramped walls.
Every Friday, Saturday, and Sunday from now through Oct. 29, home decor aficionados are welcome to explore 18 small spaces curated by 18 expert interior designers at Brooklyn's Industry City. Each designer was tasked with decking out a 120-square-foot (or less) space with a 2024 home decor trend in mind, such as "Hipstoric Nowstalgia," which plays on old-meets-new designs; "The Dorm Transformed" that draws on touches made popular by TikTok; and "All About Artistry," which is all about bringing in personalized touches that make a space uniquely yours.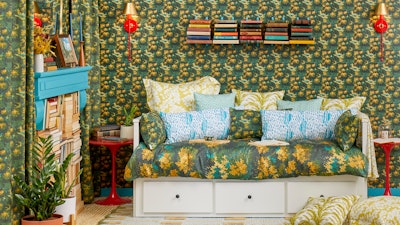 Lauren Murphy, senior vice president of marketing and brand strategy at Apartment Therapy, told BizBash that themes drew inspiration from the likes of the runway, TikTok, the Paris fashion scene, and design trends of years past.
When guests walk into the space, which is free to do, "they can wander through fully built-out rooms as well as free-standing installations representing smaller areas of the home—'micro moments,' as we call them internally—like a fireplace and a home office setup," Murphy said.
She noted that the Apartment Therapy team even kept inflation and volatile supply-and-demand relationships in mind when designing the experience, which offered six more spaces to explore than in years past. "We knew that given the current economy, some of our readers might not be looking to make over an entire room right now. That was the thinking behind the 'micro moments.' This year, we wanted to show our guests that you can make a big impact even if you're just refreshing a small area within your home. It doesn't have to be a massive space or a big investment," Murphy said.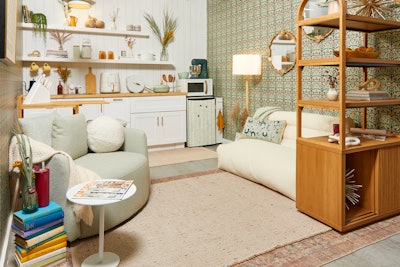 Also new this year is a focus on "more small space solutions," Murphy said—a decision that was driven by feedback from 2022's iteration of Small/Cool. And because there are 18 spaces (including these "micro moments") to explore rather than 12, there were tons of additional products to shop.
There are 500 shoppable items, to be exact, Murphy said, which posed "a host of logistical challenges, from products selling out to shipping delays." As a result, Apartment Therapy's "special projects team coordinated over 100 product substitutions for items on our designers' lists that became unavailable in the short time between finalizing room designs and placing orders."
"We had tons of clever hacks and solutions hidden throughout the rooms [last year]," Murphy said, "but we recognized that we hadn't highlighted them as effectively as we could have. So this year, we featured signage with our designers' best small-spaces tips in every space. These tips are also featured within a virtual tour online."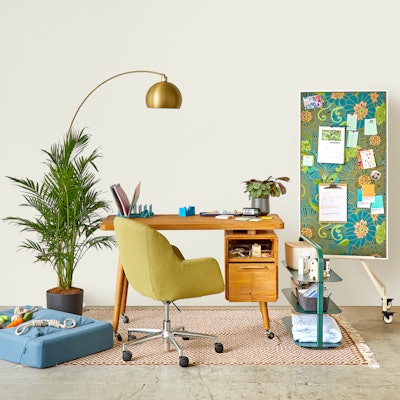 For example, the designer behind the "Wild Instincts"-themed space advised renters or homeowners to use leftover peel-and-stick wallpaper to line the inside of a drawer for a sustainable yet stylish way to add a pop of pattern to their space.
Actress Drew Barrymore—who's also behind home and kitchenware brand Beautiful by Drew—even participated in Small/Cool as a designer this year. She decked out the "Sunny Style" space and offered this tip: To save space, maximize furniture's potential by investing in double-duty pieces, like air fryer-toaster oven combos or a coffee table that offers storage.
Everything in the space from couches and side tables to wallpapers and wall clocks is shoppable. "Guests can browse each of the spaces and scan QR codes to pull up product lists and shop everything they see," Murphy said.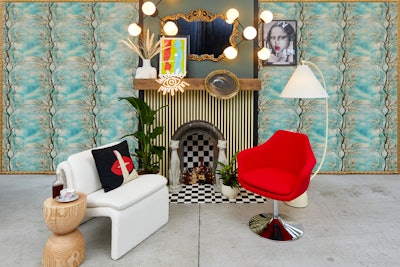 Apartment Therapy is expecting 15,000 guests at Small/Cool ahead of its closing later this month. If you can't make it, head to the home design site's Instagram or TikTok page for a "Teeny Tour" of each of the 18 spaces, "as well as tons of insights from designers and behind-the-scenes peeks," Murphy teased.
The brand also preserved hybrid elements it initially implemented for 2021's Small/Cool event, namely the virtual tour of the event space that's available on smallcool.com.
With that, feast your eyes on the small spaces featured at Small/Cool NYC 2023, which boasted steal-worthy inspiration that will surely have spectators thinking about how to think out of the box when decking out their smallest spaces…