Google Blends Music, Tech, and Philanthropy With New Multi-City Festival Partnership
Google is using the music events to showcase the new Pixel phone, while also supporting five nonprofits.
December 13, 2016
On the surface, GOODFest is a new music festival to support five causes in five cities.
But it's also much more than that. The two brands behind the festival—Google and GOOD, a global media brand and social impact agency—joined forces to create the events with multiple goals tied to the strategy.
"We were thinking about exciting things to do in our 10th anniversary year. How do we bring GOOD to life and create powerful ways to bring people together around important ideas and conversation? And we got excited about how music and social change could connect," says Casey Caplowe, co-founder and chief creative officer for GOOD.
As that idea developed, GOOD connected with Google through its London-based global digital agency Essence, which was working on marketing ideas for the new Pixel phone. "We started from the strategic question of how to launch the Pixel phone in an unconventional way and highlight its low-light capabilities. And one of the most common low-light situations is a concert," says Eddie Revis, North American director of partnerships and emerging media for Essence.
Working together, GOOD and Google created GOODFest, a series of concerts in the metropolitan areas of New York, New Orleans, Seattle, San Francisco, and Los Angeles, with each event tied to a theme and benefiting a nonprofit that aligns to that theme. The concerts began on "Giving Tuesday," November 29, at BAMcafé in Brooklyn with a theme of "generosity" and all ticket sales supporting DonorsChoose.org. Performers at that show included Glass Animals and Preservation Hall Jazz Band. In addition to the live audience, which numbered 350 for the New York event, the events are being streamed live on YouTube and Facebook Live, with links so viewers can also donate to the nonprofits.
"We're not blocking it in a pay-per-view kind of way, but we are throughout the broadcast encouraging people to donate at multiple points and making it clear that this is a show that's in support of good causes. The people who are attending gave through their ticket purchase and we encourage you to support as well," Caplowe says. In addition to the concerts, the live stream, produced by SpecialGuest, also includes additional content such as interviews with musicians and representatives from the nonprofits.
Google is also filming each event for content that will be distributed on its new virtual-reality headset, Daydream. "The challenge with events is that they are limited in scale—we can only have so many people at the concerts and events themselves. So the virtual-reality content will allow us to create an immersive experience for many more people," says Revis. To draw attention to the Pixel phone's low-light capabilities, the device is being used to capture photos that are being shared on social media and it is also being used in a photo booth from Smilebooth.
At each GOODFest, organizers have created a variety of activations tied to the theme. For the New York event with a theme of generosity, they invited guests to write on three walls: "Give Love" asked guests to share a promise to do something nice for someone else, "Give Thanks" captured stories of teachers who had made a difference in their lives, and "Give a Damn" asked them to share an issue or cause they care about. The photo area was also dubbed "Give Hugs," and invited people to take and share a photo of them hugging one another.
The second GOODFest took place Friday at Music Box Village in New Orleans with a theme of "humanity," and benefiting Equal Justice Initiative. Monday night it was at Neumos in Seattle, with a theme of "earth" in support of 350 Seattle. On Friday, the event moves to Starline Social Club in Oakland, California, and then closes December 21 at the Theatre at Ace Hotel in Los Angeles with a theme of "love" and performances from Dawn and the Miguel Atwood-Ferguson Ensemble supporting the Southern Poverty Law Center.
Photo: Courtesy of GOOD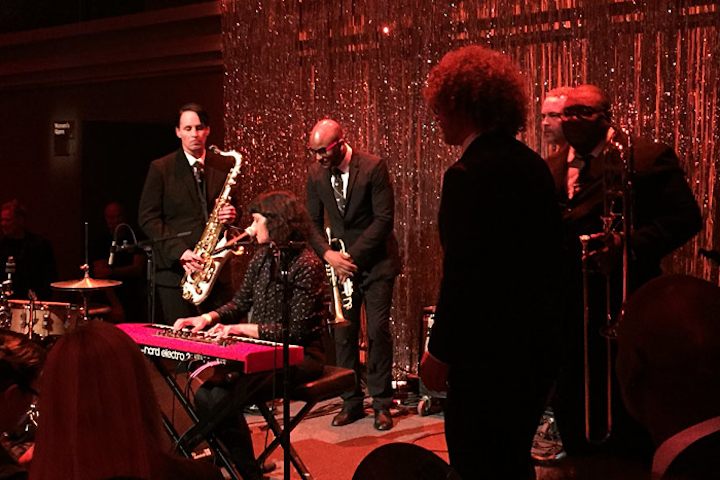 Photo: Courtesy of GOOD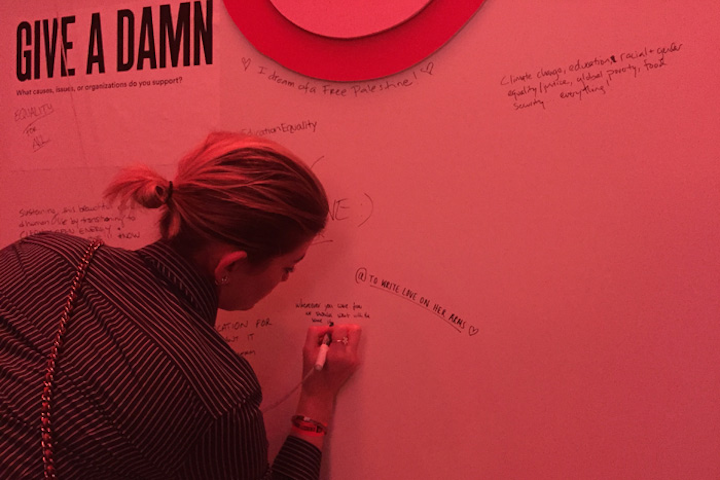 Photo: Courtesy of GOOD
Featured Venues/Suppliers: