How a Puppet Fight Promoted a Washing Machine
LG marked the launch of its dual concept washing machine with a Broadway-inspired performance in New York.
November 11, 2015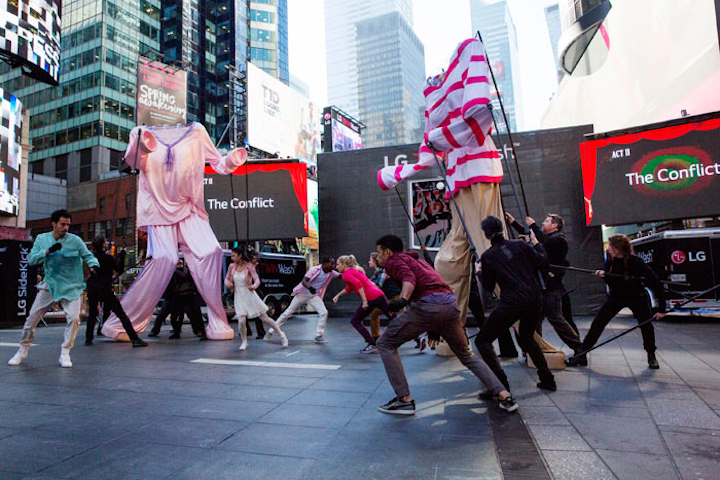 Photo: Stephanie Diani/AP Images for Verizon
Incorporating a Broadway-style performance into a product launch is bound to make the event more exciting, which is why LG used the idea to promote its new dual concept washing machine. To highlight what's unique about the LG Twin Wash laundry pair with SideKick pedestal washer, the electronics company hosted a daylong series of Broadway-inspired performances, titled "LG Twin Wash presents: Divide & Conquer on Broadway," in Times Square on November 3.
Produced by Barkley Kalpak Agency along with ad agencies Hill Holliday and HS Ad, the event was based off LG's recent 60-second TV spot for the washing machine, which was inspired by West Side Story. Angela Smith, director of marketing at LG, said the machine's innovation—the top front-loading washer handles larger loads of regular clothes while the bottom washer handles special-care loads simultaneously—deserved to be actualized with a big event.
"We wanted to have an event that was as big as the innovation we're bringing to the market," Smith said. "We wanted something that would get attention and bring to life the benefit of the product that allows you to wash delicates and regulars at the same time."
Created and choreographed by Emmy-winning choreographer Joshua Bergasse (noted for his work on NBC's Smash and Broadway's On The Town), the unique performance involved two 16-foot puppets "fighting" alongside dancers specializing in acrobatics, martial arts, and Brazilian martial art capoeira. A 14-foot version of the washing machine was also incorporated into the show.
Taking place six times throughout the day, the show integrated the way the washing machine works by pitting the pink robe (representing "delicates") against the striped shirt and pants (representing "regulars"). The two giant puppets, which were designed by Eric Wright of the Puppet Kitchen, were maneuvered by six puppeteers each and "battled" to music while the dancers performed in the same combat style. The performances ended with the puppeteers placing the regular outfit in the top washer and the robe in the bottom washer.
"In the past for home appliance products, we've done big events but they were PR-driven or media events," Smith said. "For the first time, we generated buzz by creating a consumer experience."
During the event, passersby were allowed to see how the washing machine worked in on stage areas and were also given the chance to win Broadway.com gift certificates and the LG Twin Wash itself, which will be available December 20.
Featured Venues/Suppliers: