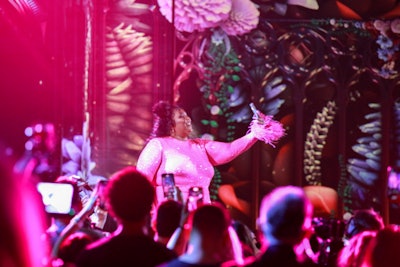 Photo: Courtesy of American Express
NEW YORK—Turn up the music, and turn down the lights because Lizzo launched her new album, titled Special, on July 15 (and it features the song "About Damn Time," which has gone viral alongside a dance trend on TikTok). To celebrate the release, The LIZZOVERSE: Presented by American Express took place from album release day through July 17 at New York City's landmark Cipriani location on 25 Broadway.
"This was the first iteration of our partnership with Lizzo to co-create the LIZZOVERSE," explained Shiz Suzuki, vice president of global brand sponsorships and experiential marketing at American Express. However, the partnership is nothing new; Lizzo closed out AmEx's digital music series, UNSTAGED, with a live performance in Miami in 2021, and celebrated Pride with the credit card company back in 2019.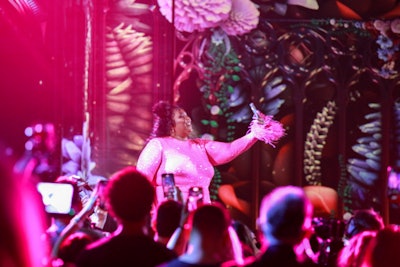 "LIZZOVERSE was Lizzo's vision," Suzuki said, adding that the collaboration made sense because, for AmEx, "creating epic music experiences for our card members and fans alike is core to who we are."
The inaugural, weekend-long event kicked off with exclusive access to a "planetarium-esque light show experience" for 150 American Express card members and their plus-ones, explained Suzuki. But before Lizzo and the Big Grrrls took the stage, guests were encouraged to mix and mingle between a premium bar and Special-branded gift shop "with playful, bright graphic hoodies and tees with iconic Lizzo sayings." In high demand, Suzuki said, was "a limited-edition Special pullover sweatshirt that was exclusively sold to American Express card members."
Once inside the venue's 12,000-square-foot Grand Hall, fans were transported into a celestial space thanks to the event production team, Superfly. There was no shortage of twinkling lights, projections of the night sky, constellations of Lizzo herself and—because it puts the "Lizzo" in LIZZOVERSE—light projections of backsides.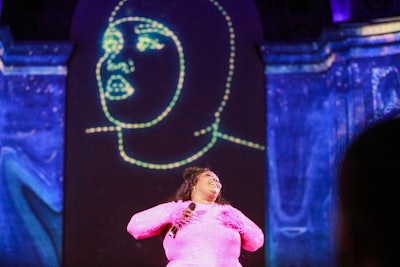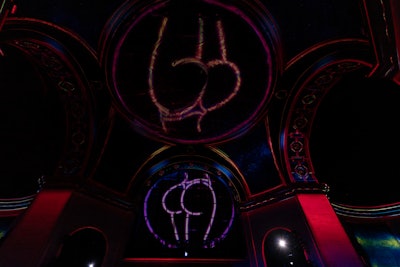 The expansive room, notable for its high ceilings and arched windows, was anchored by "a circular, 360-degree stage with no barriers." Suzuki said the setup made for "an intimate playback performance [where] "Lizzo was even grabbing fans' cell phones to film herself singing into the camera." The vice president added that these moments were "truly epic [and] showcased how our card members always have a story to tell when they're with AmEx."
For card members who couldn't make it to the Big Apple, "a special playback performance with Lizzo herself was livestreamed on Twitch via Amazon Music."
The rest of the weekend, LIZZOVERSE was a ticketed experience where fans could purchase tickets via Fever. Hundreds of guests reserved a time slot for a one-hour, immersive light show event complete with intergalactic imagery, Instagram-worthy photo ops, and exclusive merchandise. "Fans certainly showed their excitement as we were out of tickets in less than an hour!" Suzuki said.