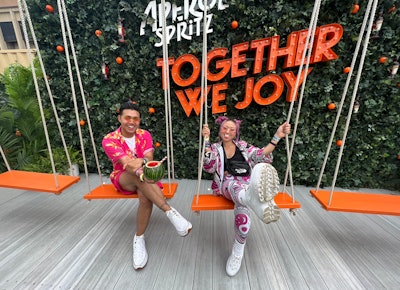 Photo: Courtesy of MKG
"If you build the foundation for people to be their best selves, you deliver your best work to your clients," points out Brett Hyman, president and founder of NVE Experience Agency.
Hyman was speaking about NVE's inaugural company-wide retreat, The Summit, which took place in June. Since the onset of the pandemic, NVE, like many companies, has embraced a "work from anywhere" policy—but Hyman has also hired 110 new employees in the last 12 months, many of whom had never met each other.
"We wanted to craft an experience that would accelerate the bond-building across the company," he says, pointing out that the live event industry has returned with a vengeance—but that timelines are much shorter, which can quickly lead to team burnout and a loss of connection with the work.
To help, The Summit centered around three key pillars—building bonds, aligning the team's purpose with their work, and unlocking inspiration—and all content and activities were centered around those topics. "Each one of our key pillars will increase the quality of our lives at NVE. Better lives at NVE leads to better ideas, and more effective results in our work," Hyman says.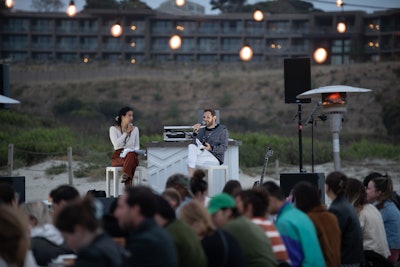 It's no surprise that experience experts like Hyman put as much care and attention into planning their own internal events and celebrations as they would for their clients—which made us curious how other top event professionals celebrate their own teams. Here are some steal-worthy ideas to make your staff feel energized and appreciated.
1. IRL experiences that offer education, inspiration, and a chance to bond
In today's remote, global world, getting teams together in person was a popular choice for the event professionals we spoke with. Innovate Marketing Group, for example, uses its annual company retreat to not only get work done, but also to focus on spending quality time together. For its recent gathering in San Diego, "We had one designated meeting day where we focused on training and company processes, and the other days were filled with team-building activities such as a putting contest, yoga, spa scrub making, and enjoying many wonderful meals together," explains Amanda Ma, the founder and chief experience officer.
"We believe if you want to show love and appreciation to your employees, re-energizing your team and strengthening internal bonds is a must. Company retreats provide your team with valuable time to reflect and grow together as a team, increasing employee happiness levels," Ma adds.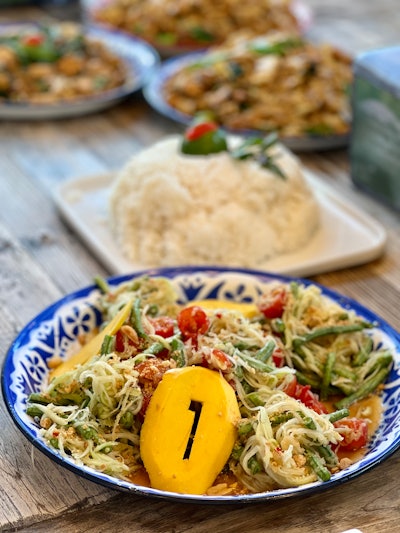 A fully remote company that uses offsites to connect employees and advance the company's mission is financial services app ONE. For a recent marketing retreat in San Francisco, for example, the team held internal meetings focused on brainstorming and reserved a bungalow so employees felt more creative and weren't sitting in a dark conference room all day, explains Rachel Russell, ONE's field marketing manager.
"While the primary focus was the meeting, it was important to schedule time for employees to get to know each other since we recently went through a merger," she adds. "For dinner, we held an Iron Chef competition at BiteUnite, a local cooking school. The team impressed the judges by incorporating the number one (an homage to our company name) in the dishes."
And experiential agency MKG, which has offices in New York and Los Angeles, makes a point to get everyone together for an annual summer party every year—but for them, it's no work allowed.
"We do our best not to work during this time and give our clients plenty of notice," explains MKG president Christine Capone. "We also give our partners the opportunity to be a part of the celebration [by] providing us with product for gift bags, food, and more."
2. A focus on cultural activities and other out-of-office experiences
In addition to creating bonding experiences within a retreat, many event professionals lean into cultural activities that get guests completely out of the office and exploring a new area. Creative agency BMF, for example, has a dedicated "Monthly Cultural Activities" committee that coordinates team bonding outings in hub cities like New York, Los Angeles, Miami, and London.
The team at akire Productions also leaned into local culture at its recent corporate retreat. "We wanted to have an opportunity for our team to experience Chicago and create experiences for ourselves, since we are typically the experience-givers," explained Jamie Snively, akire's VP of relationships and marketing. "Our retreat included visiting WNDR Museum (for inspiration), dinner at Offshore (a Chicago-based experience), creating your own team lunch adventure (to encourage spontaneity), and a low-key barbecue dinner (to reinforce team bonding)."
"All of this helps us relate to our clients and event attendees, as well as come together better as a team to increase creativity and productivity," she adds.
The team at Eventique takes a similar approach, making it a point to experience the local flavor of the cities or regions they're working in by visiting interesting restaurants or experiences. "Recently the team was in Las Vegas, where we checked out the new Meow Wolf installation, 'Omega Mart,' which was an interesting exercise to see how each team member reacted to it," explains Eric Wielander, the company's VP of strategy and creative.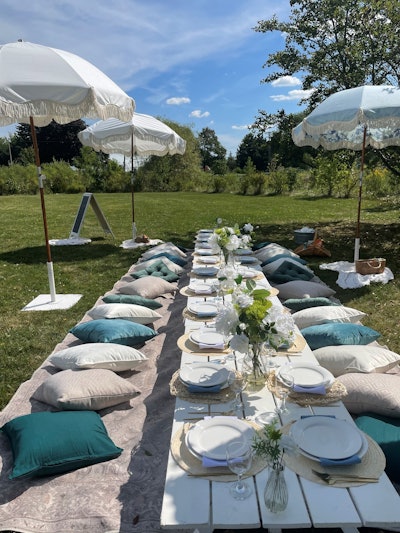 For fabrication company Pink Sparrow, it's all about mixing things up with new activities during company outings, like bowling, ax-throwing, a camping trip, or even a visit to a taping of The Price Is Right. "We also surprise and delight our employees, just as we do for our event guests," says Anthony Santiago, Pink Sparrow's managing director. "We're all just big kids playing in a jungle of boundless creativity anyways, right? Whether it be for the sake of a nice day or cheers to a successful week, we celebrate our small wins throughout the year with pop-up style parties centered around food and good conversation."
Trish Knox, the owner of TK Events, also likes leaning into the tenet of surprise and delight. "We got our team together for the first time—many of us hadn't even met in person—and did a luxury pop-up picnic as a surprise," she remembers. "Everyone was told we would meet for lunch in the park, and they were directed to a meeting spot. Then we met them and walked them over to the picnic surprise."
3. Employee recognition programs and gifts
BMF encourages managers to recognize staff who have gone above and beyond for clients and teammates by giving them things like bouquets, bottles of Champagne, or a gift certificate. The company also formalizes the idea during its weekly all-hands meeting, where an "Employee of the Week" is celebrated.
"The winner of the previous week nominates the next employee of the week, and says a little something about why they deserve recognition at the beginning of every meeting" explains Bruce Starr, BMF's CEO and co-founder. "This sets a tone of positivity and gratitude for the week, as we've learned from staff surveys and anecdotal feedback shared with members of our HQ team."
Starr thinks these types of little moments can mean just as much as a company incentive trip, if done with intention. "It's important to make this recognition personal and specific," he notes. "Employees want to feel seen, and part of that is tailoring our rewards to match what we know about the employee—i.e., would they prefer a spa staycation or to extend their next work trip for a day to explore a new city? Do they have a personal event or milestone coming up? Can we surprise them with a treat during their vacation?"
Capone also tries to celebrate her team in some way every day, often via recognition moments like thank-you, a simple check-in, or a gift from their department head that comes out of the company slush fund. "We celebrate them as a whole person, not just who we see at work," she says. "We make sure work anniversaries are celebrated, birthdays acknowledged, and big life events are recognized, from weddings to babies to citizenship and homeownership. We applaud our people at our all-hands meetings, on our intranet, and often on our social channels."
The Pink Sparrow team, meanwhile, creates internal chat groups dedicated to celebrating projects throughout the build, install, and final activation. "This tool has been invaluable in building camaraderie throughout our team, and it also allows us to stay up-to-date on everything that's moving through our doors–ensuring optimal quality and accountability across both studios in Brooklyn and Los Angeles," Santiago says.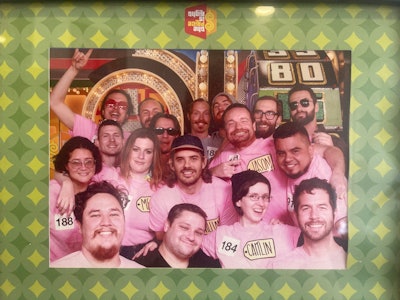 4. Celebrating each team member's diversity, talents, and passions
In an industry known for its creative talent, many event professionals also lean into celebrating what makes their employees unique. For example, Larry Abel, owner of Abel McCallister Abel, hosts a bi-monthly internal lunch and learn session where associates from various departments present to the entire company about their experiences, talents, and passions.
The goal? "So we can understand as a company the true talent and experience that lies within that most of us have never seen or heard about," he explains. "They make AV presentations showing their past work and accomplishments, and sometimes real samples of their passion projects as in metal work sculptures or jewelry.
Meanwhile, the team at AKJOHNSTON Group leans into an idea appropriate for its Anaheim, Calif. home base—a personalized twist on the Disney pin trading concept. "We wanted to celebrate and elevate cultural visibility, so we brought in this idea of 'putting a pin' [on] special holidays that too quietly pass by," explains founder Austin Johnston.
How it works: Employees are gifted enamel pins centered around various topics and holidays—like Pride or Juneteeth—along with a video from leadership that features educational sources. Employees are encouraged to add whatever "pin swag" speaks to them onto their employee badges. To further celebrate each staffer's uniqueness, "tenure is [also] celebrated with pins that show how many years of service each person has earned, so that your badge becomes a reflection of you and a connection to the company," Johnston adds.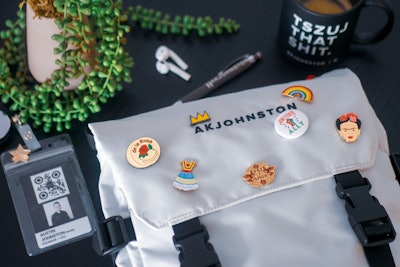 And at Pink Sparrow, team members' diverse skill sets, passions, and creative outlets are celebrated through things like an internal art gallery, where employees are invited to showcase, sell, or commission their own artwork.
Or, "we'll post-up a tattoo shop in the middle of our office to honor an employee's artistry," Santiago says. "We'll make shuffleboard the most competitive sport you never envisioned you'd participate in, but secretly love. We'll roast marshmallows over the campfire and tell stories until we fall asleep under the stars. We'll throw a disco party at the bowling lanes. And we've done all of this."
Employees at Pink Sparrow are also each given five paid days off each year to volunteer at a nonprofit, and the company will match their donations dollar-for-dollar. The team also dedicates a full workday each year to working together on a CSR project as a team.
"Team members need to feel they're part of something bigger than themselves," Santiago says. "Engaged employees put their heart and soul into their job and have the energy and excitement to give more than is required of them—and that little dose of 'extra' goes a long way."