How to Plan Accessible Meetings and Events
Experts offer their tips for accommodating attendees with disabilities.
July 22, 2015
Accommodating different types of disabilities is a necessary, and sometimes overlooked, part of a successful event or meeting.
"Can all guests, despite any ability level, attend and enjoy the event just like all others?" asks Susan Nicholl, executive director of the Special Olympics Chicago. "We define events as successful if all guests experienced a wonderful time together."
Amy L. Allbright, director of the Commission on Disability Rights at the American Bar Association, echoes that sentiment: "[The event planner's] objective is to create a welcoming and inclusive environment where people of all abilities can fully and equally participate."
"Plan, plan, plan for accessibility far in advance for all phases of your meeting or event," she adds, "from choosing the venue to promotion, registration, presentations, materials, social events, meals, and staff and volunteer training."
Everyone's Invited specializes in that unique kind of training—helping outdoor festivals improve access for people with disabilities. "As I interacted more and more with people with disabilities and learned their stories I became more personally invested. ... I learned how important independence is to everyone, and how sometimes if we do just a little something extra it can make all the difference," says founder Laura Grunfeld, who served as the human resources director for the New Orleans Jazz & Heritage Festival and oversaw its accessibility program before starting the Sheffield, Massachusetts-based company in 2004.
Her current clients include big-name fests such as Bonnaroo, Outside Lands, TomorrowWorld, and Governors Ball. For those events, Grunfeld manages the entire access program, which includes site visits and accessibility training sessions for producers and department heads, as well as answering inquiries from patrons. During the event, she manages a team of staff and volunteers who execute the plan. In some cases, once the program is established, festival producers take over from Grunfeld, handling the process at future events; other organizers retain her services year after year.
"A key exercise for any experienced event planner is the act of visualizing the event from start to finish," Nicholl says. "Our society will have reached a wonderful place when accessibility for all becomes the norm versus something that often requires separate thought."
For industry professionals looking to make their meetings or events more accessible, here are tips from experts.
Consider guests' basic needs.
"Anyone producing an event, indoors or out, should begin by asking these three questions," Grunfeld says:
1. How will someone get to this event and get in the door and get all the information they need to do that successfully? That includes the information about the event and ticketing (make sure the website and ticketing process is accessible to people with disabilities), transportation, parking and drop-off, accessible path of travel, and the entrance itself.
2. Are all of the things that we do accessible—the programming, vendors, and activities? Examples of accommodations include sign language interpreters, assistive-listening devices, braille and large print, counter height of the vendor booths, threshold ramps for tents that have flooring, and so much more.
3. Are there enough clean, accessible restrooms? I could give an hour's seminar on accessible, portable toilets alone. I have seen every possible way for a toilet to not be accessible.
Remember the hearing and visually impaired.
"Usually planners focus on accessibility for patrons with mobility disabilities and forget to consider people who are deaf or hard of hearing, blind, or have low vision," Grunfeld explains. Furthermore, Allbright says all aspects of a presentation need to be accessible—the substantive materials and handouts, along with the presentation itself. For example, is there a need for interpreters or CART (Communication Access Real-time Translation) services and captioning for videos and other audio? Are rooms equipped with microphones and loop systems for people with hearing conditions? Is there a speaker explanation of all visual materials such as PowerPoints and slide shows for people who are blind or have visual impairments?
In addition, Grunfeld focuses her training on non-apparent disabilities, cognitive disabilities, and people who are using service animals. And for kids' events, she includes a quiet space for children with autism.
Ask guests for information.
Invite persons with disabilities to request accommodations in promotional and registration materials, Allbright recommends. "This is the time to learn everything you can about your guests' and speakers' needs. Promotional materials and the website should state that persons with disabilities are welcome and that accommodations will be provided upon request."
Pick an accessible venue.
"If I could get a message out to all festival producers, I would ask them to consider accessibility as one of their main priorities while in the site selection process," Grunfeld says. The Commission on Disability Rights offers checklists outlining venue features planners should consider such as clearly marked signage, a well-lit, accessible main entrance at street level, doorways that are wide enough to accommodate wheelchairs and scooters, easy-to-open, lightweight doors, and a speaker podium at ground level or accessible via ramp or lift.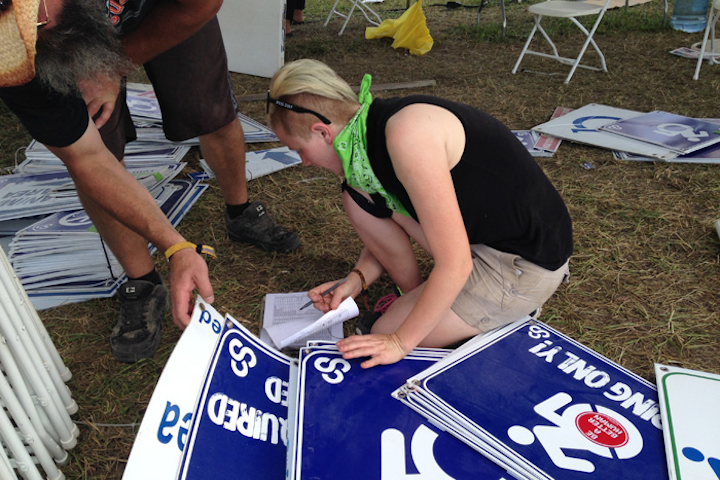 Photo: Laura Grunfeld/Everyone's Invited