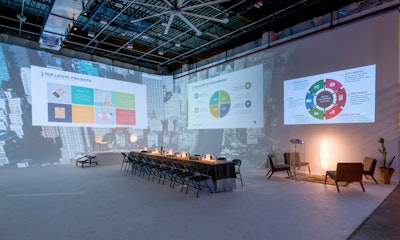 Photo: Courtesy of Lytehouse Studio
Like it or not, hybrid events are the future—at least for now. While some states and countries begin to open, and the CDC slowly loosens its restrictions on live gatherings, the reality is that many of your attendees won't be comfortable gathering until there's a COVID-19 vaccine.
The idea of a hybrid event—aka, gathering a smaller group in person and a larger group virtually—is a way to bring back some of the face-to-face interaction while also keep attendees safe. This model can apply to all types of gatherings, from conferences to festivals and sales meetings to weddings.
"Our behavior has undergone a massive shift in the past three months," notes Cara Kleinhaut, founder and CEO of AGENC Experiential & Digital Marketing. "We must deliver a simultaneous digital experience that mirrors the live experience in quality and interaction—and not leave digital participants on the sidelines with a Zoom chat or a passive viewing experience, which is still the majority of what we see out there."
While event pros are becoming well-acquainted with the challenges and rewards of fully virtual events, the concept of hybrid gatherings comes with its own best practices. To prepare for this new, new normal, BizBash caught up with Kleinhaut and other top event producers. Here are eight things you should be thinking about now.
What is the event's main objective?
Hybrid events aren't a new concept by any means; conferences, festivals, and other gatherings have been incorporating livestream components for years. The concept can be as simple as a laptop with a Zoom setup, which is already becoming a go-to option in the wedding world. As more corporations and brands embrace the idea, expect to see more elaborate set-ups, modeled more like a broadcast.
Like any event, live or in-person, planning a successful hybrid event should start by nailing down exactly what the gathering aims to achieve. Joe Panepinto, senior vice president and head of strategy for Jack Morton Worldwide, breaks it down into three main actions: refocusing, reimagining, and realigning. "Refocus on the audience and your objectives. Are there people who would be interested in your event that you never used to invite because you couldn't accommodate them?" he asks, adding that event planners need to "reimagine the experience. Should it take place over five weeks rather than a few days, maybe, and include a mix of live and virtual programming?"
Finally, he says, "realign with the platform and the production." How will you execute the logistics to achieve these goals? That will determine if you need a full production design team—such as Jack Morton's Emmy-winning studio design team, which is building out broadcast-style studios for hybrid events—or if something more simple works for your needs.
The answer depends on budget, of course, as well as your objectives. David Merrell, CEO and creative director of AOO Events, thinks COVID-19 cases may continue to rise in the coming weeks, further pushing back the timeline for large gatherings. As a result, "corporations are going to come to the realization that virtual events are going to be no longer a back-up event, and they're going to bring them to the foreground," he predicts, explaining why AOO Events recently debuted a virtual format that fuses broadcast-quality live productions with virtual entertainment, swag, and more. "But they're still going to want to try to meet as many people as possible, so some hotels are talking about maybe offering space to a certain number of people. It would still allow them to bring in their executives or other key players, and broadcast to as many as they'd like."
Kleinhaut is observing similar trends. "What we see happening in Asia and starting [in the U.S.] is to have our talent and crew in a physical space to create a real stage experience and show … and audiences will be able to 'attend' virtually," she says. "We are seeing new platforms that allow for modeling the experiential design to bring in the audience in a surround-screen set-up, where all the audience members are there 'in the room'—just on the large screens, interacting with talent and each other."
Related: The Future of Floorplans: What Will Physically Distanced Event Layouts Look Like?
How do I want the experience to differ for virtual versus in-person?
The key, suggests Amaia Stecker, managing partner at Pilar & Co., is to keep both live and virtual audiences feeling engaged; it should not feel like two separate events are happening at the same time. "The idea is for attendees to have a similar experience, not to create first- and second-class citizens," she points out.
Kleinhaut echoes that point, recommending that each attendance option should have its own unique advantages, especially if attendees are paying to attend. "We have seen many fun kits being [delivered] to digital guests over the past months, but to truly put a digital ticket together that we want guests to pay for, we have to give them a number of exclusive experiences the in-person guest can not have," she says. "For example, behind-the-scenes footage and interviews with talent, what's it like to walk the red carpet, be backstage before a big performance. What kind of exclusive access can the digital ticket-holder have that will be enticing and exciting? It all comes back to experience, and the journey we want that digital participant to have."
One shift to prepare for: More than ever, content is king, whether your attendees are virtual or live. "Hybrid events eliminate the need to choose between sessions and speakers, so make sure your content, technology, and speakers are top-notch," says Stecker.
Related: 10 Smart Tips for Keeping Attendees Engaged Before, During, and After a Virtual Event
What kind of schedule makes sense?
Like with virtual-only events, hybrid event schedules need to think through time zone issues. Where will most of your attendees be located, and how can you make the timing work for all (or most) of them? For example, Valerie Bihet, director of VIBE Agency, is planning a Miami-based event that will have many virtual attendees based in Latin America. The conference will be held from 11 a.m. to 6:30 p.m., so it's not too early or late for either time zone.
"If you have a larger time zone difference, like for those with attendees from across Europe and Asia, you cannot do the keynote session only at one time," recommends Bihet. "You'll need to do it more than once so it's at an appropriate time for various time zones—morning for one would still be night for the other." Planners need to decide whether important content will be delivered multiple times, or whether it will be recorded and rebroadcast.
Event organizers should also keep in mind the attention spans of a virtual audience. "Through the use of livestreaming technology, delivery of both the in-person and virtual versions of an event can happen simultaneously," notes global event producer Melissa Park. "However, I caution organizers that they will not be able to hold the attention of virtual viewers anywhere near as long as when someone is physically onsite at their event."
Park suggests creating a shorter, modified virtual program. "Livestream the keynote sessions, and then provide virtual attendees with access to a library of presentations they can watch at their convenience, rather than having to block the entire duration of the conference like they would if they were onsite."
Related: How Long Should a Virtual Event Last?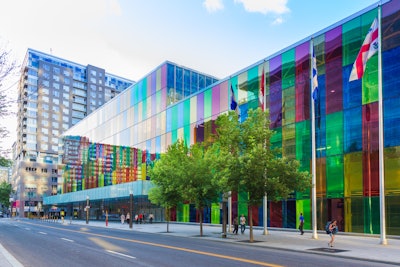 How will this affect my budget?
"Smaller in-person events mean the opportunity for new and alternative venues that wouldn't have been options before with a larger crowd," points out Stecker. "This should help reduce budgets, as well as offer creative methods for shifting the expense around budget categories."
But if you're trying to deliver a high-tech virtual experience, cautions Greg Jenkins, partner at Bravo Productions, prepare to spend a bit more. "You essentially have two venues—one traditional, [where] we as planners are used to staging events—and another which is a sophisticated platform for the virtual experience," he says, noting that there may also be extra in-person costs due to enhanced safety and sanitization considerations. "The A/V and equipment rental bill will be higher than in previous years. You have a designer for the in-person experience, and a tech designer to create dazzling visuals to retain the attention of that virtual attendee."
Add on expenses for items such as catering—are you providing meals for in-person guests? Restaurant gift cards or deliveries for virtual guests?—and your hybrid event budget may be higher than you expected, Jenkins adds. The old budgeting models you're used to may need to be reconsidered.
Should ticket prices vary?
While the virtual experience should ideally be as strong as it is for those attending in person, you may want to reconsider your pricing model. Jenkins believes that virtual admission prices should be about 25- to 40-percent less expensive than in-person attendance.
But, he cautions, it should not be marketed as if in-person attendees get extra perks. "It conveys to the virtual viewer that you are just an afterthought. The hybrid event should provide quality and equal perks in the eyes of the attendee, whether experiencing in-person or through your tablet, computer, or iPhone."
How can I recreate the networking component?
The networking challenge is a big one for virtual events—and it becomes even bigger when some guests are in person, notes Merrell, who thinks the technology is not quite there yet to create a truly seamless networking experience for all attendees. "I think within months to a year, they'll have really great technology to continue to create a hybrid model better," he predicts.
Kleinhaut echoes that point. "We must go beyond the Zoom and beyond the chatbox. That is not an event, that's a webinar. Interaction, excitement, connection with others—that is an event. And it is up to us who are passionate about this space and experts in creating experiences ... [to] lead the way into creating what a virtual event truly is," she says.
But until those ideas and technologies are fully developed, there are some ways to create real and authentic connections now, argues Stecker. "The small Zoom sessions can quickly devolve into simply status updates from each person, or that awkward feeling from the eighth-grade dance where you're all standing in a circle not really doing anything. Help address this with strong moderators and creating a buddy system where attendees can talk and share freely," she says. "It's feasible that you could pair attendees based on tracks and gently nudge to interact." The key is to build in planned networking opportunities between all attendees, rather than just relying on the spontaneous conversations that take place in person.
One potential benefit to a hybrid model is the concept of "regional watch parties," adds Panepinto. Rather than having one in-person event with virtual attendees around the world, flip the idea on its head: Have attendees in the same city gather in small groups to watch a live-streamed keynote and other content. "This is going to take planning upfront in terms of what is safe and available," he says. "Are people on campuses? Are hotels beginning to open up? Do restaurants begin to do this more frequently, because there's an opportunity for revenue for them?"
Related: How Can I Network During Stay-at-Home Orders?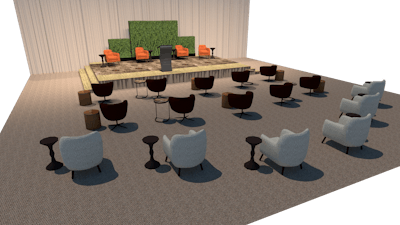 What kinds of challenges should I prepare for?
For the in-person element, "Everything we knew before has been turned upside down because of the COVID-19 measures," notes Bihet. "A venue where we could put 150 before, we now have to do all-new layouts for half the number of attendees. Same thing with transportation: Where we usually had motorcoaches for 50 passengers each, we now need more of them so we can leave space between people. You also are challenged with communicating the safety measures to be sure people feel safe."
On the virtual side, meanwhile, keeping audiences engaged is key. "You don't have the same tools as your disposal as you do by seeing them in person and gauging their attention and activity," says Bihet, adding, "You also need to really have the most secure and high-speed Internet access. The last thing you want is to have your Internet connection for your broadcast slow down. That will immediately kill your engagement, and you could lose people from the rest of the event to the in-home distractions."
Bihet recommends sourcing a new set of vendors to meet these new technology needs. "You may not have had these contacts in the past, but now you really need them," she notes.
Kleinhaut challenges all event professionals to sharpen their technical skills. "Don't leave it up to the tech team to understand platforms and how to create virtual events. Have at least a working knowledge of both live and digital experiences. That is what we believe at AGENC, as we offer both to clients, and think it would be a good idea for those just starting out or those re-entering the industry now to have those skills."
Related: From A to Zoom: Tips on Planning Virtual Events From Tech-Savvy Industry Pros
Should I keep this model going into a post-COVID-19 world?
"I personally believe the hybrid experience is here to stay for at least a couple of years," predicts Jenkins. "Those who would prefer to venture out can, and those who are inclined to be more cautious can obtain a similar and safer experience by staying home. Hybrid events can be a win-win."
Once the threat of COVID-19 has passed, attendees will likely be eager to gather in person again. But the lessons learned from virtual and hybrid events will likely remain as a way to extend an event's reach—and be more realistic to your audience's needs.
"We're finally being respectful of people's time, energy, and other responsibilities," says Stecker. "Not everyone can commit to a five-day conference because of family, pets, daily work responsibilities, their own personal health, or the actual financial commitment needed by attendees. Not only are we missing the input and feedback from all the people who can't attend for whatever reason I listed above, but we're then homogenizing our attendees. Then you fall into the trap of 'doing what we've always done' for the same people."
She adds, "With hybrid events, you're able to serve a larger population and have their opinions and experiences contribute to the event. Diversity benefits everyone. That's how you learn and grow. Planners need to take into account both audiences and how to make them feel engaged."
For more on this topic, tune in to BizBash's June 23 webinar, where McNeel Keenan, vice president of product management for Cvent, will share insights into creating an effective hybrid experience. Click here to register.