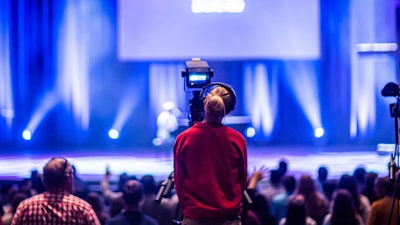 Photo by Caleb Oquendo from Pexels
John Capano is the senior vice president of client development at Impact XM. The New Jersey-based experiential marketing agency produces trade shows, conferences, and live events, in addition to specializing in program management and strategy, fabrication, and more. Impact XM also has a presence in Toronto, Las Vegas, Los Angeles, Washington, D.C., and Zurich, Switzerland.
Though it's impossible to accurately predict when we will fully come out of the current situation and get back to "normal," we can predict that our "new normal" will be one in which hybrid events are the norm.
We define a hybrid event as one in which there is at least one on-site live component in conjunction with a strong virtual overlay that connects the overall experience. Effective marketing happens at the nexus of a brand's needs and an audience's needs. When a brand can provide something of value (access, information, entertainment) and a consumer does something of value (engage, learn, buy), marketing value is created. Often, these are at odds. The one place where this isn't the case is in B-to-B live events, where the reason audiences participate is the content being offered by the brand. The information sought is the information delivered.
Here's why hybrid events are poised to take this dynamic to the next level by solving many problems at once:
1. Hybrid events are inclusive to all eventgoers, creating even more value for both organizers and attendees.
As we get back to normal, potential attendees may be reluctant to show up at a live event with thousands of other people. Those that are willing can show up on-site. Those that aren't can attend virtually. Even now we are seeing this impact as virtual events attract two to three times the number of attendees of their pre-COVID counterparts. This increase in attendance goes beyond just those that don't want to travel or attend a live event for safety concerns. It also takes into consideration all those participants that may have stayed home due to scheduling or budgets. With an online extension, hybrid strategies will drive a large increase in attendance over live-only. Imagine the value that can create for both buyers and sellers.
2. Hybrid events provide more measurement and analytics than ever before available, ultimately boosting the effectiveness of event marketing and ROI.
Traditional B-to-B events are relatively data-poor environments. Beyond registration, badge swipes, and lead capture, live events did not have a lot of data sources that were easy to implement. Event marketing is known to be effective, but it was difficult to prove with data. With hybrid events, the online component creates a much more data-rich environment that can help brands test and track the effectiveness of various actions right down to generating sales and an ROI. This represents a huge leap forward for event marketing.
3. Hybrid events allow for content generation on a machine-like level.
We live in a digital-first, content-focused world. Hybrid events, by their very nature, generate more portable and extensible digital content than live-only events. Smart marketers will repurpose this content beyond the date—and audience—of the event. Instead of having your content team produce content for use in your live event program, your live event program will now function as a content generation machine that can drive value across all your marketing channels and touchpoints.
4. Hybrid events, though more work and costs upfront by nature, are worth it in the end.
Hybrid events will naturally be more complex than traditional single-location live events. Simply by the fact that you will still have all the complexity of a primary live location, and then you will potentially be adding multiple secondary locations, as well as an online component. Planners will have to take this into consideration and find partners that have expertise in areas that are not traditionally under their purview. Also with hybrid, there may be budget pressure because adding multiple locations and a digital overlay will cost more. However, the extended reach and amplification of hybrid versus traditional single-location live events will more than justify the added costs and drive increased ROI.