Virgin's All-Red Brand-a-thon
July 31, 2002
If
Virgin Group
CEO
Richard Branson
could have his way, the world would probably be painted in his company's signature red, white and black color scheme. He has already put the Virgin logo on an airline, record stores and a music label, and event producers
US Concepts
put the mega-brand's signature colors all over
Whitespace
at an event designed to launch the latest extension of the brand,
Virgin Mobile
cellular phone service.
The venue's entrance was drenched in red light shooting from every angle of the ceiling and floor by
Stortz Lighting
, and
MX Works
projected a psychedelic array of graphics, including images of Virgin recording artists, onto the studio's white walls. With this dramatic backdrop, red and white retro lounge furniture from
Modprop.com
offered guests a place to sit, mingle and appreciate the atmosphere.
The party continued upstairs, where larger-than-life characters Branson,
Donald Trump
and
Kiss
frontman
Gene Simmons
managed to be upstaged by a troupe of performers dressed in red spandex jumpsuits who danced around the crowd and passed out Virgin-branded condoms. They also encouraged guests to check out an assortment of interactive stations including a photo booth
—
decked out in the Virgin colors, of course
—
from
Photo-Me
, and a massage table on the outside deck where masseuses from
Just Calm Down
spa gave back rubs and massages.
A sign on an old red telephone booth (a reference to Virgin's English heritage, rented from
Eclectic/Encore Props
) encouraged guests to "Talk cheap and dirty," and
MannoMedia
had wired the booth so guests could have risque chats with drag performer
Hedda Lettuce
. Meanwhile,
Miss Understood
and her troupe of drag queens from
Screaming Queens
perched themselves by the booth to keep the mood light and cheerful. London-based DJ
Mark Ratcliff
and
Stefan Prescott
, an artist on Virgin's
V2
label, played dance music.
Caterer
Olivier Cheng
's menu included a Moroccan-spiced shrimp served on sugar cane, wild mushroom pizzettes with hazelnut and ricotta fresca, and seared steak served on potato cakes. To match the ubiquitous color scheme, the hors d'oeuvres were served on custom-made opaque white trays that were illuminated by red neon lights inside. Cocktails were served with red
Litecubes
(plastic ice cubes with battery-operated lights inside from
Nexus Promotions
), which contributed to the event's red glowing look and Virgin's pervasive approach to a lifestyle monopoly.
—Paul Ohan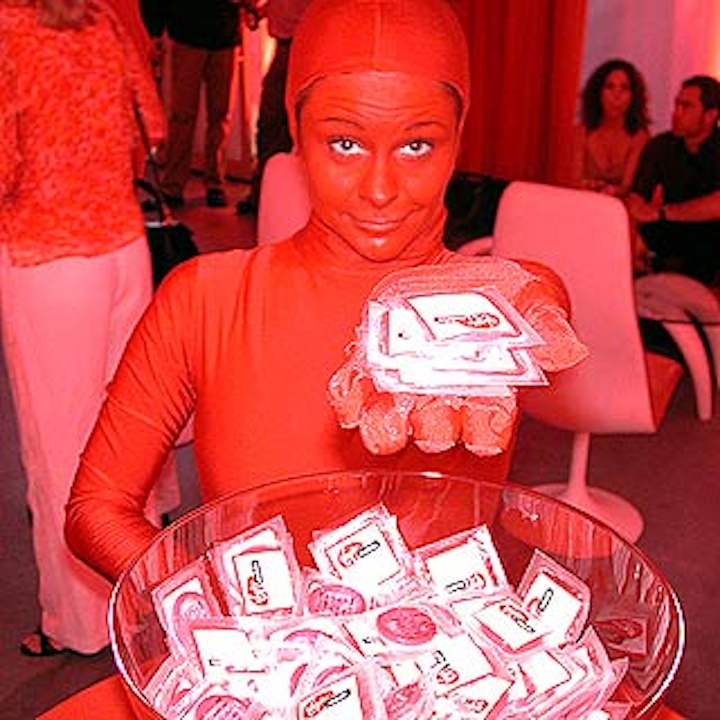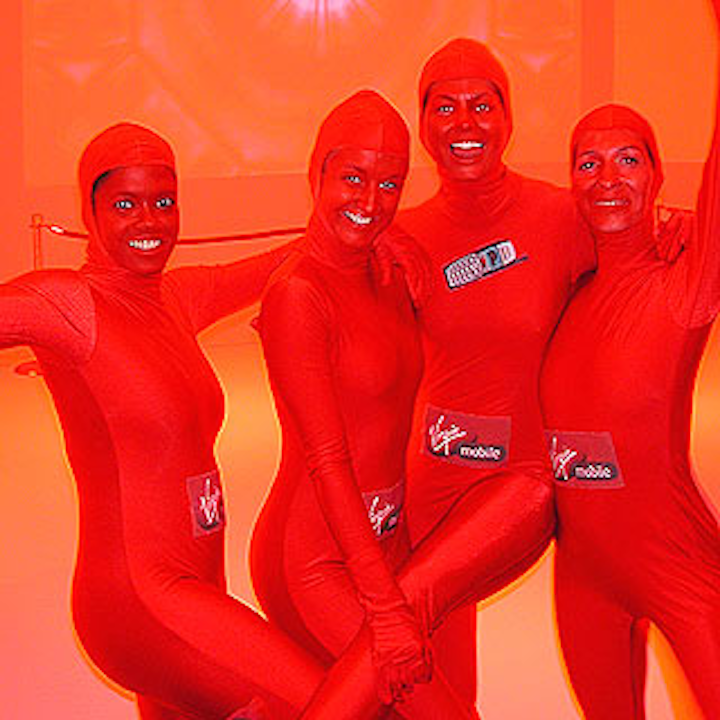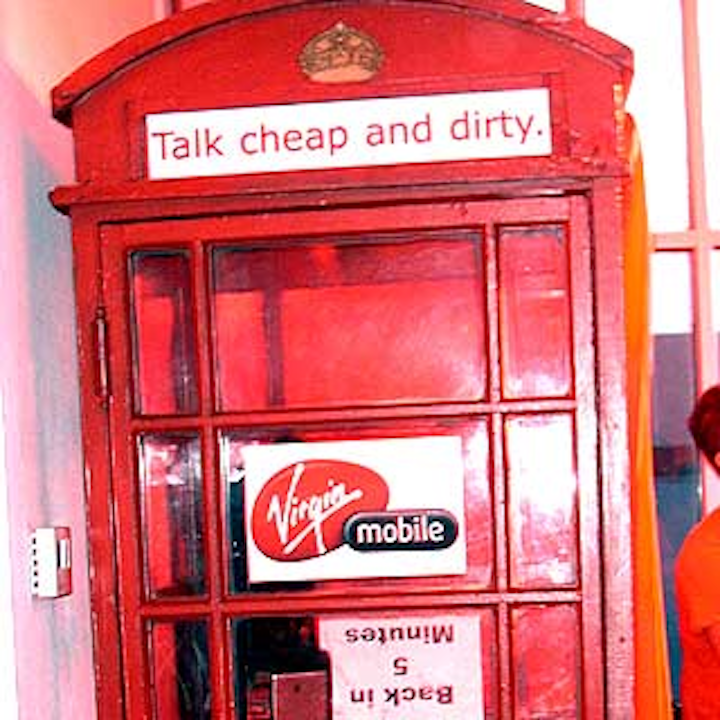 Featured Venues/Suppliers: