New York\'s Top Trade Shows & Conventions 2009
February 16, 2009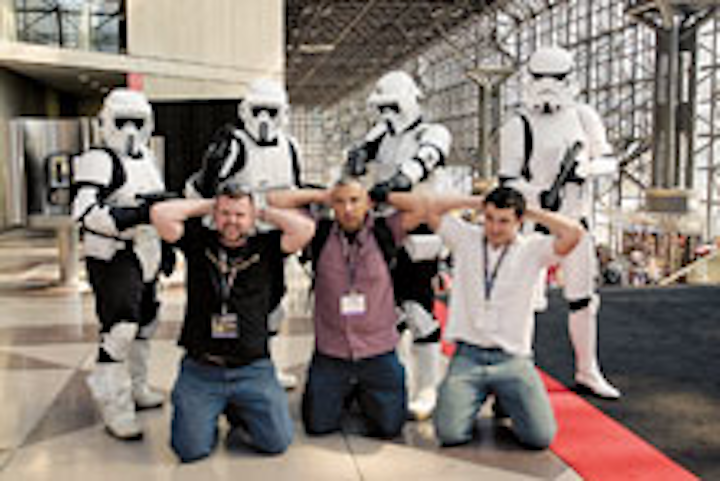 Photo: Courtesy of NY Comic Con
1. New York International Auto Show
America's ailing car industry hopes for a pick-me-up at this April 10 to 19 event, which fills the Javits Center with more than 1,000 new vehicles. Although slumping auto sales made the 2008 show a little less festive than usual, the event still drew more than one million attendees.
2. New York National Boat Show
Traditionally held in early January, the world's longest-running boat show moved to the pre-holiday season for the first time in 2008. More than 80,000 marine maniacs took over the Javits Center from December 13 to 21, and similar numbers are expected (for the 105th year) in December 2009.
3. New York International Gift Fair
This twice-annual event drew 36,000 attendees and 2,900 exhibitors to the August 2008 edition and expected similar numbers at the January 25 to 29 outing, which took over the Javits Center and Piers 90, 92, and 94.
4. New York Comic Con
Enthusiastic pop-culture fans are drawn to this celebration of comic books, video games, anime, movies, and more. Since debuting in 2006, Comic Con has steadily increased attendance each year, attracting 64,000 in 2008. The fest returned to the Javits Center February 6 to 8.
5. The Greater New York Dental Meeting
Some 56,000 dental professionals and 500 exhibitors gathered at the Javits Center in November. The country's largest dental meeting returns for the 86th time November 27 to December 2, 2009.
6. American International Toy Fair
Whoopi Goldberg and Sherri Shepherd of The View joined 20,000 industry professionals and kids at heart for the 2008 Toy Fair. The Toy Industry Association's big event returned to the Javits Center February 15 to 18.
7. National Retail Federation Annual Convention and Expo
Wal-Mart C.E.O. Lee Scott delivered the keynote speech at the 98th annual meeting of the world's largest retail trade association, when more than 600 exhibiting companies and 18,500 attendees gathered at the Javits Center from January 11 to 14.
8. PDN PhotoPlus International Conference and Expo
The country's biggest photographic industry event drew 27,000 participants to the Javits Center in 2008. Sponsored by Nielsen Business Media and PDN magazine, the show displayed more than 10,000 photo products. The 2009 edition is scheduled for October 22 to 24.
9. International Vision Expo East
More than 21,000 industry professionals attended the April 2008 outing of this expo, where 260,000 square feet of exhibit space showcased the latest in eyewear and vision care. The show returns to the Javits Center March 26 to 29.
10. National Stationery Show
Stationery, giftware, crafts, books, and invitations will fill the Javits Center for the 63rd edition of this trade show, slated for May 17 to 20. The largest of its kind in the nation, the show includes 1,100 exhibiting companies and attracts 13,500 buyers.
Featured Venues/Suppliers: