South Florida's Top Fashion Events 2010
March 29, 2010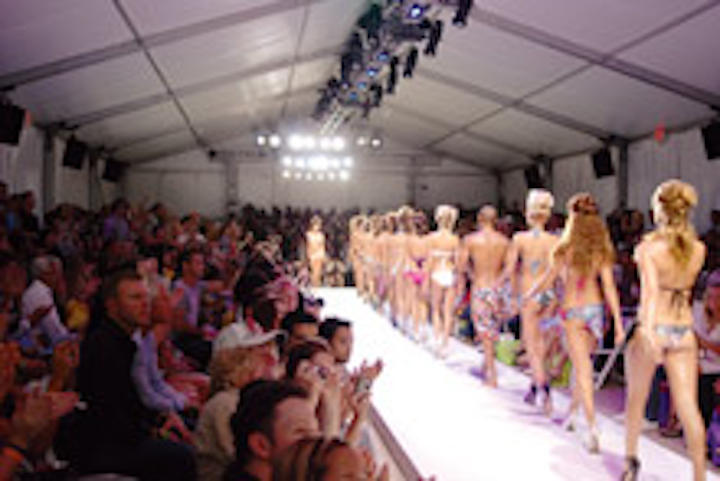 Photo: Elizabeth Renfrow for BizBash: Eliza
1. Mercedes-Benz Fashion Week Swim
Coordinated by IMG Fashion, this collection of runway shows takes place at the Raleigh Hotel on South Beach each July. The fifth annual event attracted 20 swimwear designers—25 percent more than in 2008. Nearly 12,000 people attended the shows, and sponsors American Express, DHL, and Lycra returned.

2. Funkshion Fashion Week Miami Beach
This semiannual four-day event combines fashion and music with runway shows. Founded by the owners of 3B Productions and EventStar, Funkshion attracted designers such as Nicole Miller and Custo Barcelona and 11 sponsors, five more than previous seasons, in October 2009. The fall/winter 2010 collections will show March 23 to 28 in the tents at Lummus Park.
3. Miami Fashion Week
Founded by Sobol Fashion Productions Inc., this six-day run of runway shows takes place each March at Soho Studios in Wynwood and attracts more than 10,000 buyers, designers, and media. The 2009 event added the International Culinary Arts Pavilion, where local chefs cooked, and the International Buyers Salon, a forum for talks between buyers and designers. The 2010 shows will take place March 18 to 21 at the Shops of Midtown Miami.

4. SwimShow
Produced by the Swimwear Association of Florida, this largest swimwear trade show is concurrent with Mercedes-Benz Fashion Week Swim. The 27th annual exhibition took over 250,000 square feet at the Miami Beach Convention Center with 350 exhibitors. This year's 28th showcase is scheduled for July 17 to 20.

5. Shecky's Girls Night Out
This shopping tour stopped in Miami for the third time April 30 to May 1. On the heels of six sold-out events in other markets, the semiannual traveling promotion at the Moore Building in the design district drew 3,000 people and another 3,215—a 14 percent jump—for its fall event in Miami Beach. The tour will return to Miami in the fall.

6. Rock Fashion Week
This alternative series of fashion shows takes place twice a year, in March and October. The October 2009 run at the Eden Roc attracted twice as many people as the March shows—about 5,000. (Due to a legal dispute between 3B Productions and the event planners, the event has been canceled for March, but is supposed to return later this year.)

7. Gen Art's Shop Miami
This shopping event returned to the Moore Building on June 18. The event attracted a steady 1,000 guests and 48 designers, eight more than previous years. Smartwater, Citi, and Degree sponsored. The 2010 boutiques are being planned for summer.
Featured Venues/Suppliers: