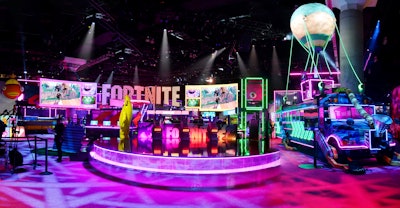 Photo: Courtesy of FGPG
If you've spent any time with a teenager or pre-teen in the last couple years, you've probably heard of online video game Fortnite. The wildly popular battle royale game has taken the industry by storm since its 2017 debut and now boasts more than 200 million players around the world. To build on its success, developer Epic Games has hosted a series of both virtual and in-person events that regularly draw millions of attendees.
Yes, millions. The company's most notable live event to date has been 2019's inaugural Fortnite World Cup, which hosted its multi-day finale at New York's Arthur Ashe Stadium in July. The esports competition, which NBC News playfully dubbed "the Super Bowl of Fortnite," was the culmination of 10 weeks of in-game competitions, held from April to June. Some 40 million players vied for spots, and 100 solo players and 50 duos continued to the main event.
While a reported 2.3 million viewers watched the live-streamed finals on Twitch and YouTube, the stadium's 23,700 seats were also filled with in-person fans. To capitalize on this, Epic Games set up a number of fan events and activations surrounding the Queens venue, including a concert by EDM DJ Marshmello. Ultimately, 13-year-old Odin Wilkinson took home a $3 million grand prize, and other competitors were all awarded pieces of the $30 million prize pool.
That $30 million is just part of Epic Games' new $100 million investment in esports, which the developer announced at E3 in 2018. In addition to the World Cup, Epic Games hosted a variety of other in-game tournaments—with cash prizes—throughout the year, and even offers event guidelines for players to host their own tournaments.
Another headline-grabbing moment from 2019 took the form of a live, in-game concert from Marshmello. At 2 p.m. the day of the concert, all gameplay was paused and weapons were temporarily disabled. Players were transported to a virtual stage to watch the DJ, who performed in real-time while wearing a motion-capture suit, give a 10-minute set. The stage featured large holograms of Fortnite characters, and players could make their characters dance with each other. Ultimately, a reported 10.7 million people tuned in, and Forbes called the event an "absurd triumph."
That's not to say that Epic only hosts in-game gatherings. At E3, held in Los Angeles in June, Fortnite staged one of the convention's largest and most eye-catching booths, taking over a 15,000-square-foot space on the show floor. Paying homage to the game's use of neon during season 9, design and production company FGPG used miles of neon lighting, covering everything from shopping carts to the famous Fornite bus.
Booth highlights included the "Boogie Down Stage," which was wrapped in disco ball mirrors and featured in-game dance performances, trivia game tournaments, and appearances from cosplay characters. A social sharing activation, dubbed the "baller" green screen experience, had a custom-made ball-shape chair inspired by one of the game's vehicles. Another immersive activity was a spinning inflatable that attendees had to jump over.
By all indications, Epic Games has more tricks up its sleeve. Its most recent viral moment came from its in-game "black hole" event in October—which intentionally shut down the video game for two days to unveil a redesigned map and launch its 11th season. The promotion, officially titled "The End," is now one of the biggest gaming events in history; more than seven million people tuned in across Twitter, Twitch, and YouTube.