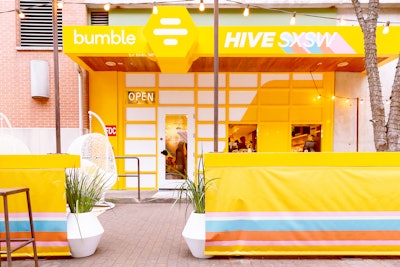 Photo: Laura Delacruz
As it continues to evolve from a buzzy dating app to more of a lifestyle brand, Bumble has truly embraced its female empowerment mission, developing partnerships and hosting events that provide a safe IRL space for its community of over 72 million users.
"Since the early days of Bumble, our team has valued being a digital brand with a physical presence," explains Chelsea Maclin, Bumble's vice president of marketing.
"When we launched in 2014, we focused heavily on guerilla marketing and would hand out Bumble merchandise at bars and stickers at college football tailgates. With the growth of our platform around the world, we've been able to create events that bring the Bumble brand to life in a way that's engaging to the communities where we operate. This means that every time we bring our users together through IRL events, we try to create a localized experience that's most relevant to their interests."
For example, Maclin says the Bumble Bizz Hive pop-up during New York Fashion Week in February was "intended to encourage creative collaboration and offline networking among our guests." The lounge, decorated in the brand's signature sunny yellow, featured experiential art installations, hair and makeup touch-ups, photo opportunities, and more.
And at South by Southwest this year, the brand took over local Austin favorite Jo's Coffee to create the Bumble Hive, which attracted more than 20,000 visitors, including influencers plus actress Olivia Wilde and the cast from her directorial debut Booksmart. "Not only did the Bumble Hive draw a high volume of foot traffic, it also received a lot of buzz on press and social media including over 160 million media impressions," Maclin says.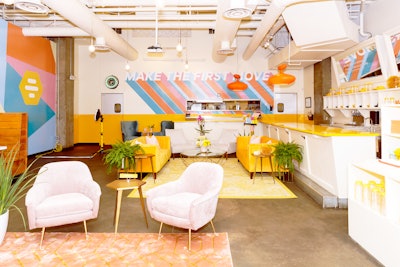 But the brand isn't content with simply activating at festivals; it's now setting out to change them. Bumble Bizz partnered with C3 Presents and Superfly to launch a program to rectify gender disparity within the music industry, including in festival lineups. The "Empowered by Bumble Bizz" initiative offered up-and-coming female musicians the chance to be mentored by artists such as Bebe Rexha, Kacey Musgraves, and Hayley Kiyoko at fests like Lollapalooza, Outside Lands, Music Midtown, Austin City Limits, and Voodoo Music & Arts Experience. The selected female artists will then score on-stage performance slots at festivals in 2020.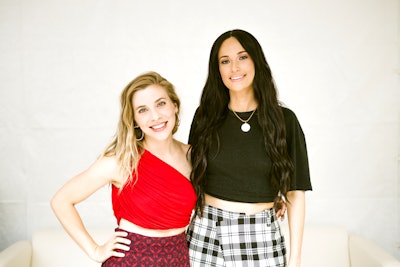 "The goal of Bumble Bizz is to provide access to professional opportunities that our community wouldn't have had otherwise," Maclin says. "We want to shed light on industries where women still need support, including the music industry, which is ripe for more equal gender representation. At Bumble, we truly believe that one connection can change the course of your life, professionally…. Music is culture-shaping, so it is important for Bumble Bizz to help this industry take steps towards fostering a more inclusive and equitable landscape."
Maclin explains that since the launch of the program Bumble has learned that there's an "appetite for access to mentorship and growth opportunities not only for women in music, but across all industries," adding that the brand hopes to expand its efforts to provide opportunities across different career fields in 2020.