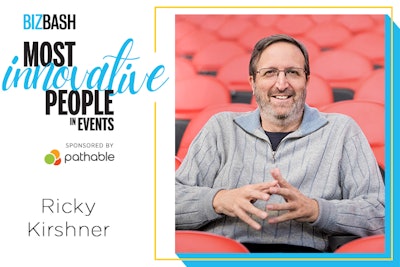 Headshot: Christa Neu
The Basics: Ricky Kirshner is one of the entertainment industry's preeminent event producers, working on a wide range of high-profile television specials, conventions, galas, and corporate events each year. The nine-time Emmy Award-winning producer—who has also won both a Peabody and Edward R. Murrow Award—is the founder of New York-based RK Productions, where he's perhaps best known as the longtime producer of the Democratic National Convention, the Tony Awards, and the Super Bowl halftime show.
While his father was a music publisher and TV producer, Kirshner has an accounting degree—which he credits for helping himself run a successful business and keep budgets on track. He started his career in the accounting department at ABC News, before working his way into the special events division and then joining the event team at Radio City Music Hall. "In 1992, the Democrat National Convention came to New York and I worked on that, and I've been with them ever since," he explains, noting that he started as the line producer for that and the Tony Awards before moving into a more creative role a few years later. "So I've been around big shows for a long time, and we've been producing our own for more than 15 years."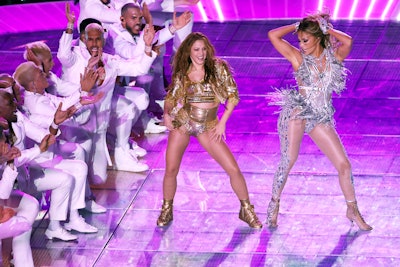 2020 Highlight Reel: Kirshner started the year by producing the Super Bowl halftime show with Jennifer Lopez and Shakira—which resulted in four Emmy nominations and a win for outstanding lighting design. "I think it was probably the last time [in 2020] that there was a big event where we were all together," he remembers. "It's the most-talked-about show of the year; it's a lot of work, and we're super proud of it."
But Kirshner's 2020 experience is perhaps most defined by the Democratic National Convention in August, which drew buzz for its innovative virtual format—requiring a whopping 800 video feeds and 64 set designs. "In April or May we started thinking, maybe we need to scale it down and go into a convention center where maybe we'd only have 1,500 people. By June, it was down to 350 people, and by July, we said, 'Okay, we need to go virtual,'" he says, noting that his main goal was to make it feel like a well-produced TV special rather than a giant Zoom call.
A highlight of the convention was a much-praised roll call, which featured small business owners, essential workers, politicians, and other representatives from each state casting their votes for then-nominee Joe Biden—leading to a diverse series of videos that showcased what's unique about each region. "We had made the decision earlier on that this was going to be a convention about bringing America together and not just the 5,000 delegates that were supposed to show up in Milwaukee," Kirshner says. "We wanted to reach out to America, and that's where the roll call came from."
What This Year Has Taught Him: Kirshner thinks that the human element of bringing people together will never go away—but that there are plenty of lessons learned from the shift to virtual that he hopes to apply to the future, like elements of the virtual roll call.
Another lesson learned? Keep it short. "No matter who you are—except maybe if you're Barack Obama—no one wants to hear you talk for half an hour. The conventions used to be these 20- or 30-minute speeches, and we forced even some of the biggest politicians to speak for five minutes," he notes. "In many instances, less is more."
Event Philosophy: "Events are a team sport," Kirshner says. "Anyone who thinks I did any of this alone is seriously mistaken. You need to rely on your team. If anything broke down in our communications [during the DNC], we would not have been able to even be on the air."
Working with a large team also allows for more ideas; the virtual roll call, for instance, was a mix of ideas from multiple people. "A good idea comes from everywhere," he says. "It's never just me saying, 'This is what we're going to do.' There are so many people behind the scene that make up a great team, whether you're a graphics person, a music person, a creative person, a writer—there are so many ways to contribute."
Back to the Most Innovative People in Events 2020 list, sponsored by Pathable