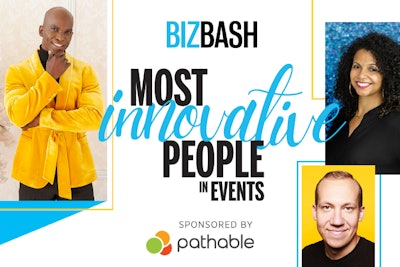 This year's Most Innovative People in Events feature is sponsored by Pathable, a global virtual events solution for immersive content, seamless networking, interactive exhibitor elements, and more.
In 2020, innovation is everything. The event producers, tech strategists, venue owners, and thought leaders on our 10th annual list of event innovators is an eclectic group, but they each have on thing in common: They used the disruptions of 2020 as a way to adapt, pivot, and even thrive, finding new methods of bringing people together in unique and dynamic ways.
Click the links below to meet this year's class—which ranges from an audiovisual expert building immersive virtual events for top entertainment brands, to a venue owner who moved forward with a cutting-edge complex during the pandemic, to a corporate planner who took bold strides to increase the industry's diversity initiatives.
Alexandra Rembac, Sterling Engagements
Andrew Roby, Andrew Roby Events
Bonnie Smith, Studio B Entertainment
Dana Arsenault, BC Cancer Foundation
Jay Rinsky, Little Cinema
Jordan Kentris, A Good Day Inc.
Ricky Kirshner, RK Productions
Sam Eitzen and Joe Eitzen, Snapbar
Simon Miller, Brand Activation Services
Winston Fisher, AREA15