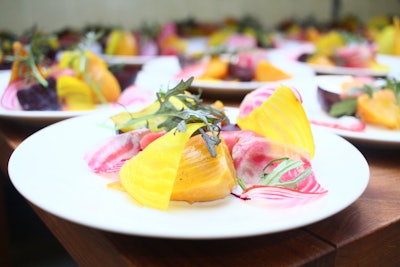 Photo: Lazaro Llanes Photography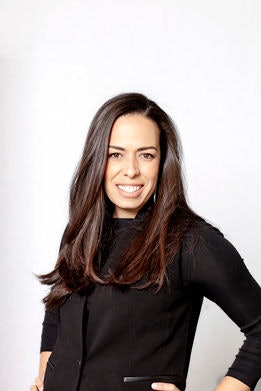 Adelee Cabrera is the vice president of operations at Elior North America, the parent company of such hospitality firms as Constellation, Design Cuisine and Abigail Kirsch. She's based in Miami.
How she got her start: Cabrera has spent her entire career in the hospitality industry, and discovered her love of the culinary arts at a young age.
"While attending Johnson and Wales University in Providence, R.I., I stumbled across work for an off-premise catering company—an industry I had never heard of—and fell in love with catering, which married my highly logistical mind with food," she says. "After graduating, I returned home to Miami, where I started my career in catering and have never looked back. I spent 14 years with one company, growing within the ranks and when the time was right, I made the leap into my current role to set the foundation for Constellation's Florida business."
The best thing about her job: "The people that I work with and the people that we serve are by far the best things about my career," Cabrera says. "There is a tremendous amount of satisfaction from the instant gratification of a job well done."
She also enjoys working with food every day—"which means lots of sampling and tasting and analyzing how food comes together to finish an amazing event experience," she says.
What innovation means to her: Cabrera defines innovation as the act of making changes to something that's established—something that is far from easy, she adds. "In our business, we create experiences that touch people in ways that are hard to measure because of the memories they evoke. Innovation is fundamentally extremely important, because we are at the front line of creating those experiences—either for personal or commercial reasons—and the expectation from our clients is to constantly provide new ideas."
Cabrera finds inspiration through travel, discovering new foods, reading publications and "in my desire to take in each moment, really focusing on feeling my feelings about the experience that I am living," she explains.
A memorable recent event: Cabreba describes a three-day wedding in 2019. "We served 500 guests, waterside at a mega-yacht marina in Miami, for a 12-hour event in which our menus—which consisted of nine stations that 'flipped' (caterer lingo meaning the menu changed) three times," she remembers. "All of the food, with the exception of the traditional Thanksgiving Day buffet, were inspired by the Mediterranean in which our culinary team executed live-action cooking with wood-burning grills and ovens. It was a spectacular display of our teams' talents, and every dish was exactly how I like to eat—recognizable food, presented in a natural way, allowing the wonderful ingredients to shine."
Her all-time favorite food: "I love ethnic food—it is my comfort food," she says. "I gravitate towards Thai, Peruvian, Indian and Japanese." But, she adds, "a great meatball has always held a special place in my heart."
Her biggest hope for the F&B industry: "My biggest concern for our industry is that while the demand is as high as ever, the desire for people to join our industry seems lacking," Cabrera says. "I hope that the younger generation sees that this is an industry in which we get to touch people's lives in meaningful ways."
Back to the full list: "Industry Innovators 2022: 10 Caterers and F&B Pros Making Their Mark on the Hospitality Industry"