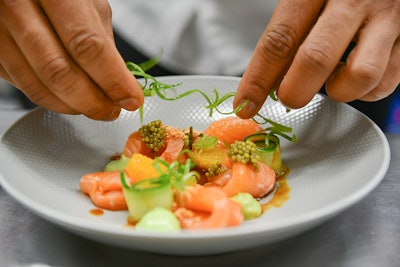 Photo: Courtesy of Kashif Browne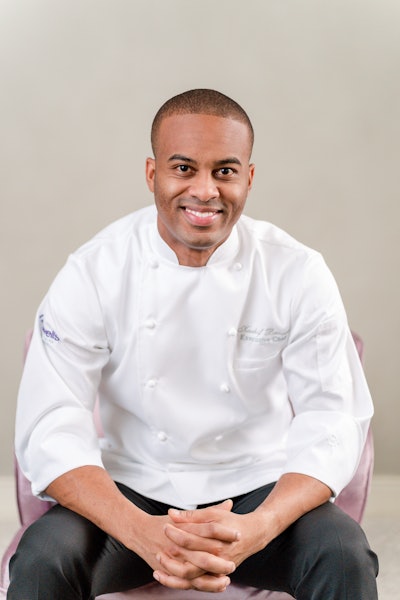 Kashif Browne is the executive chef at Ridgewells Catering, and a former chef at the White House. He's based in Washington, D.C.
How he got his start: For Browne, catering is a family affair. "My sister, Alicia, inspired my career path as she was the pioneer of achieving culinary education in our family," he notes. "After culinary school, joining her side in the same kitchen was inescapable. We worked at one of the most exquisite restaurants in New York: Mercer."
From there, Browne embarked on opportunities in Las Vegas, Ohio, Washington, D.C., and even internationally—ultimately culminating in a position of sous chef to the residence of the First Family at the White House. "Subsequently, I was offered the highest culinary hierarchy at one of the leading event companies in the DMV: executive chef at Ridgewells Catering," he says.
The best part of his job: "The opportunity to experience and teach food as a way of life, through all five senses, is a privilege," Browne says. "However, the ability to satisfy all humanity through gustatory pleasures makes any chef feel superhuman."
What innovation means to him: Browne notes that without innovation, food is just a means for survival. "Innovation brings out the artistry in food," he says. "My mission is to always create dishes that are unique with my signature touch of a soigné appearance. If I am not blown away by my dish, it will not be served. That alone, pushes me to travel, read and explore the world of food in its entirety."
His signature dish: Ora King Salmon, served sashimi style. "This dish was first created one evening at my home while I was hosting a tiny group of friends," he remembers. "What made this dish special was its simplicity but slight sophistication, which had the perfect balance of acidity, salt, spice, crunch and creaminess. It truly took you to a place of euphoria. I can safely say that this dish has become my signature wherever I go."
His all-time favorite food: "Tuna or salmon, sashimi-style. I just love their freshness and simplicity," he says."
His biggest hope for the F&B industry: "For us to keep pushing beyond our boundaries, become limitless as we continue to create, innovate and inspire each other."
Back to the full list: "Industry Innovators 2022: 10 Caterers and F&B Pros Making Their Mark on the Hospitality Industry"