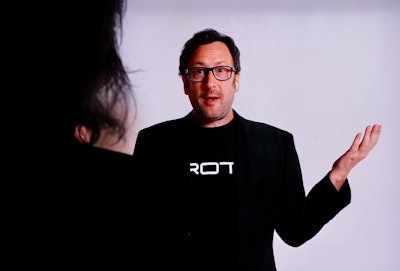 Photo: Courtesy of David Nussbaum
David Nussbaum is the inventor and CEO of Proto Inc., the buzzy holographic display company formerly known as PORTL. He's based in Los Angeles.
How he got his start: "I was in radio, TV, and podcasting when the Tupac hologram at Coachella changed everything," Nussbaum remembers. "The company I was working for bought the patents to that tech, and we started creating stadium-sized shows of stars. What I realized pretty quickly was that it's much more exciting to connect the living via hologram than resurrect the dead. After successfully beaming Jimmy Kimmel, the Band Perry, Jack Black, Julian Assange, and more around the world, I started my own company to advance and perfect this idea of holoportation, now called Proto."
Proto has appeared at events and activations for some of the world's biggest events, major sports leagues, and entertainment companies, and has won awards from the likes of CES, SXSW, Fast Company, and The Wall Street Journal.
What innovation means to him: "Even though I invented Proto, my co-founder Doug Barry and backers like Tim Draper helped us set a course for constant innovation," Nussbaum says. "It's not enough to just have an amazing new piece of hardware. We invested in developers and engineers to improve every part of the experience—and continue to do so."
Nussbaum adds that he's always in what he calls an "innovation lab" with clients, working to figure out new ways to make their ideas a reality. "We did this recently with Christie's auction house, with Sean 'Diddy' Combs and his tequila brand, with Ellen Degeneres, and the NFL Draft and Asia's giant Star Awards live broadcast, and so many others."
He and his team also recently developed a smaller version of the Proto called the "M," which will be released this fall and intended for smaller spaces. "Our whole thing is to connect as many people as possible with Proto," he says.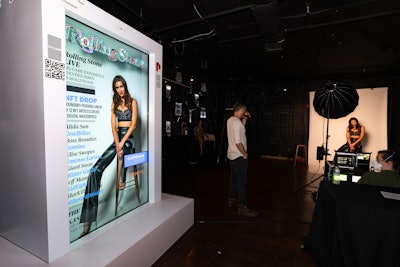 Career highlights: "Developing my first prototype into a sellable unit was pretty exciting for me," Nussbaum says. "I knew we were about to seriously change how some people connect with each other and also how different kinds of organizations—teams, schools, brands, attractions—interact with their audiences."
As for specific case studies he's proud of, Nussbaum cites moments that go beyond the high-profile events the company has become known more—like when the University of Central Florida's School of Medical Professions used Proto to present patients with rare diseases to students, and beam in doctors from as far away as Australia. "It showed a use that could really change how people get healthcare, no matter where they are," he explains.
Other highlights include a recent use from Christie's, which "beamed masterpieces up for auction, like Edgar Degas' Little Dancer and others, in order to avoid the expense and risk of shipping them," he says. "This also shows a sustainability use I'm proud of. We can provide the experience of seeing a priceless object without the C02 damage of jet transportation." After Proto beamed the Degas piece from New York to London, San Francisco, and Hong Kong, it sold for a record $40 million.
Vision for the future: "One of the things about Proto that people respond to is that it's a communal experience. No one is isolated by boxy head gear," Nussbaum notes. "I think as hybrid experiences become the norm, that's going to be key—feeling like you're with other people sharing the same emotional responses."
He adds, "I also think our holoportation can play a big role in making global events connected both to the metaverse and each other. Networked Protos can make eventgoers in multiple cities share the experience. It's all about bringing more people together in ways that are exciting, memorable, and that really work."
Back to the full list: 12 Event Tech Experts Pushing the Industry Forward