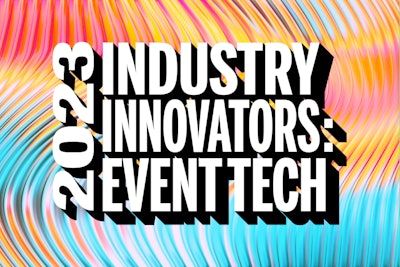 Even though in-person events have returned following the uncertainty and restrictions of COVID-19, that doesn't mean the events industry is done with event technology. In fact, this list of events profs will lead you to believe quite the opposite. The talented trailblazers you'll read about below are all leveraging their event tech expertise to change the way we plan events for the better. Our new class of Industry Innovators: Event Tech are creating products and processes to help event profs do things like streamline the planning process, aid event attendees in better navigating trade shows and destinations, and create wow-worthy event moments with drones.
Click through the profiles below to learn how they each got their start in the tech industry, their vision for the future, and what the concept of "innovation" means to them.
Courtney Jeffries
CEO, Virtual Tables
Emeric Noël
Co-Founder and President, Planned
Martin Codd
Vice President of Sales, Pixis Drones
Matt Reynolds
Head of Customer Success and Innovation, Humanitix
Rachel LeRoy
Founder and CEO, HipMaps
Taryn Harris
Strategic Event Manager, Slack
Dr. Theo Papatheodorou
Founder and Director, Random Quark
Vinicius Neris
Co-Founder, InEvent
Vinnu Deshetty
Founder and CEO, EVA Event Tech Hub
Virginia Frischkorn
Founder and CEO, Partytrick
---
About the list: Our Industry Innovators features are compiled by our editorial team. The idea is to go beyond the biggest names in the biz—though it has plenty of those too—and dig deep into the industry professionals who are using truly innovative thinking to push the boundaries of live experiences. While our features may be sponsored by standout companies, to ensure the list remains impartial, sponsors do not have the ability to review or curate any part of the list themselves.
If someone has previously been named a BizBash Innovator, they are not eligible for the list. Check out our full Industry Innovators Hall of Fame here!