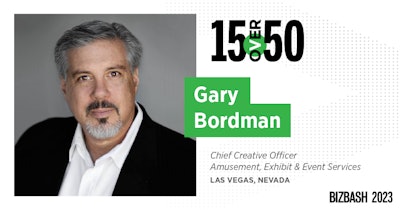 Photo: Courtesy of Gary Bordman
Gary Bordman, 60, is the chief creative officer of Amusement, Exhibit & Event Services, a Las Vegas-based company that creates interactive and immersive experiences for events nationwide. He sat on the board of ILEA Las Vegas for 10 years, including a year as president, and currently serves on the board of NACE.
A quote from his nomination: "He's been an industry leader and innovator for over 24 years, designing and crafting attention-grabbing, engaging, and visually appealing activations and games for corporate events and event planners."
How I got here: "I have a very unorthodox path to the event world: I actually grew up in the carnival business. I traveled every summer until I graduated high school, and loved that life. We had a variety of games we operated with a ragtag crew my dad put together. I remember all the things I learned from my mom and dad growing up, and now found ways to incorporate their teachings in how I run my business.
I have always been an avid dancer of all kinds of music and loved to lip-sync at the clubs back in the early '80s. I always wanted to do something in entertainment, but didn't know how to get there. I tried college but enjoyed running a family business more and felt I still needed more. So I joined the U.S. Air Force and traveled to Germany in 1986. I found myself helping to organize events while in the Air Force in my off time. I met my wife, Lori, through a friend, who also was stationed at Rhein Main AB. After being injured in April of 1990, Lori said yes to marrying me in October of 1990. We then got orders to Abilene, Texas, and she got pregnant with our twins, Brandon and Aryn.
We moved to Las Vegas in 1994 with newborn twins and a 14-year-old son. We did not know anyone, and I needed to make extra money, so I got into the events world with a set of sumo suits. From there, I added more inflatable games to my inventory and found myself working for DMCs and hotels on the Las Vegas Strip. After getting out of the Air Force in 1999, I merged my little company with Absolute Amusements and really dove into the corporate events world. I met so many people that became mentors and helped me really learn what it takes to do large-scale events. I would not change any of my time with them.
In 2014, I decided to go on my own and see what I can do—and we have not looked back. So many of my friends, clients, and mentors would tell people, 'Oh, you're going to Vegas? You should just call Gary.' What started as a comment became our social media battle cry and then it became a website, JustCallGary.com. This year, we will be celebrating 10 years in business, and I am so blessed to have so many friends, colleagues, clients, and mentors still in my life."
Greatest career accomplishment: "I am so proud of so many events that I have worked on over the past 25 years that I cannot select just one. But I can definitely say that the year 2023 would have to be at the top of my list. Our company has been selected as one of the 200 Diverse Small Businesses to be a supplier for this year's Super Bowl, and we were also selected by Elias Events to be their game and photo supplier for the Final Four in Houston. I thank my team for helping to get us to the level that is needed to be on these types of programs."
A specific improvement I've made: "I think the specific improvement we have made at AE&ES is how we look at client events and help guide them to being more immersive and interactive with the items we recommend and help them select for their events and parties."
The biggest change I've observed in the industry: "The internet is a true game changer—from people seeing items on social media, or seeing something that was created digitally and now they want it for their next event in one or two weeks."
What I do outside of work: "Spending time with my wife and the Veteran Social Club members, and traveling to see our family, kids, and grandkids."
The career advice I'd give my younger self: "Be open to new opportunities and embrace failure as a steppingstone to success. Don't be afraid to take risks and explore different paths. Keep learning and developing new skills, as the job market is constantly evolving. Remember that your career is a journey, not a destination, so enjoy the process and be adaptable to change. Stay true to your values and passions, and seek out mentors or role models to guide and inspire you along the way. And, most importantly, believe in yourself and your abilities, because with determination and perseverance, you can achieve your dreams."
Connect with Bordman on LinkedIn and Instagram.
---