Event Innovators 2019: Alexa Meade
The mixed-media artist uses her unique style to create memorable, interactive experiences for brands.
November 12, 2019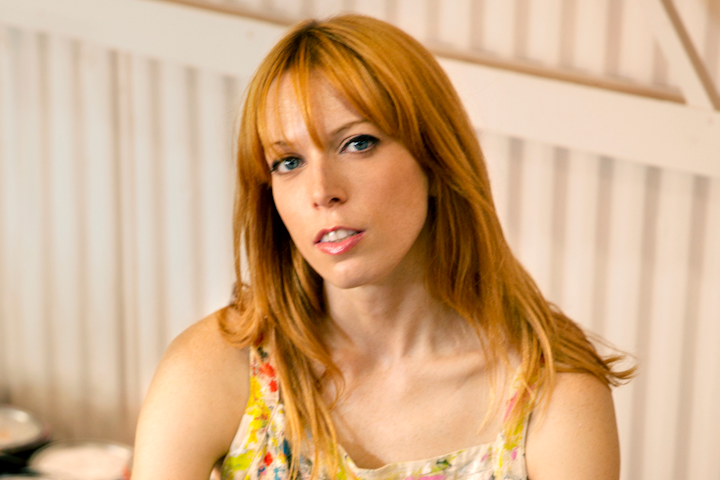 Photo: Courtesy of Alexa Meade Art
Alexa Meade has made a name for herself by painting whimsical, 3-D spaces that create the appearance of a two-dimensional painting. According to Meade—who grew up in Washington, D.C., and now resides in Los Angeles—she developed the technique by accident. 
"I wanted to know what it would look like to put black paint on shadows, and I kept pushing it and realized they could make this three-dimensional world," she explains. "Over time, I've figured out ways to make it more installation-based … to allow the audience to become a part of the artwork."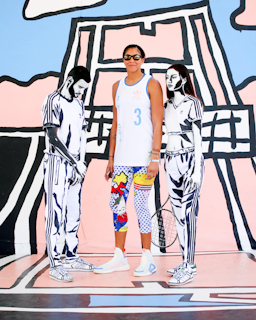 At the Coachella Valley Music & Arts Festival in April, Meade did a live painting performance at the Adidas Sports Club. Athletes such as W.N.B.A. star Candace Parker posed with painted models.Photo: Virisa Yong/BFA.com
In addition to studio work and commissions, Meade has created event activations for brands such as Refinery29, Adidas, and Ralph Lauren. (She also memorably collaborated on Ariana Grande's viral music video for "God Is a Woman.")
Meade chooses her collaborations carefully, working only with companies that give her creative control. "I've been really fortunate that I've been able to have partners who allow me the creative freedom and flexibility to enact my vision," she says. "It does take some trust from brands to be able to put that in my hands and let me just do what I do best."
Event producers in particular are drawn to Meade's work because of the interactive nature—and the resulting memorable (and highly shareable) keepsakes. "For a live event, I know people are going to be heavily interacting with [the art]—touching, feeling, playing with everything. I have to make sure that everything looks good from all possible angles," Meade explains. "[I make] painted garments that are flattering for all shapes, genders, and styles, so people really feel invited to be part of the artwork because it feels like it was created with them in mind."
One of Meade's proudest career moments was "Immersed in Wonderland," her first solo exhibition on the west coast in late 2018. The 4,000-square-foot, holiday-theme gallery in Beverly Hills drew about 40,000 people over its six-week run. "I not only had this large environment, but I also had performances," she notes. "[For example,] I painted a baby grand piano that was played by a professional pianist—and he was also painted."
And her success continues to grow: In September, Meade was named Google's new artist in residence; she's working with the tech brand's virtual- and augmented-reality teams to reinterpret her artwork using Google DeepView technology. She also gave a TED Talk, called "Your Body Is My Canvas," that has been viewed almost three million times.
Meade attributes some of this success to the "otherworldly" nature of her approach. "It's painted in a way that is just so far outside of the every day of what you would encounter," she explains. "It's not every day that you get to walk inside of a painting and be immersed in that world."
Back to the Most Innovative People in Events and Meetings list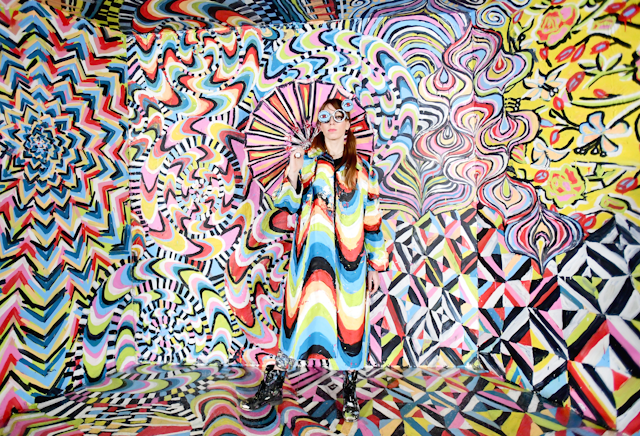 At Refinery29's 29Rooms in 2017, Meade's "Become the Masterpiece" allowed guests to turn themselves into art with painted props like coats, sunglasses, and umbrellas.Photo: Emma McIntyre/Getty Images for Refinery29